RIM Caps Dismal Year with Another Profit Warning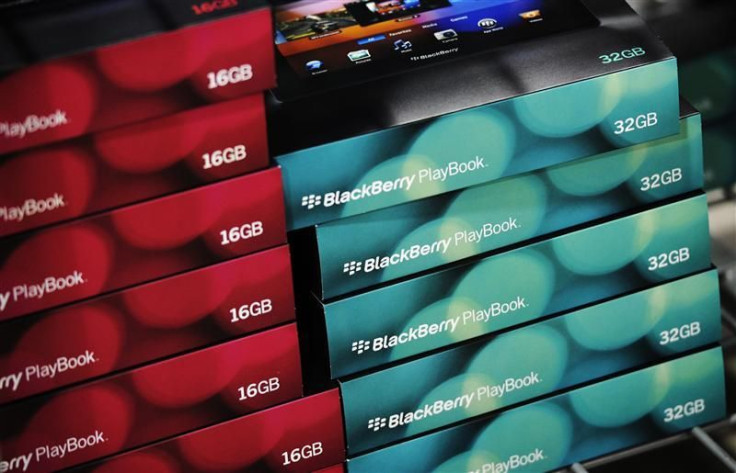 (Reuters) - Research in Motion booked a huge charge to write down inventories of its underwhelming PlayBook tablet on Friday, capping a dismal year with a steep profit warning that sent its shares tumbling more than 8 percent.
Waterloo, Ontario-based RIM, the company whose now ubiquitous BlackBerry created the concept of on-the-go email, said it now no longer expects to meet its full-year earnings forecast, due to weak sales, the PlayBook writedown and a charge related to a damaging service outage in October.
RIM, which launched its first BlackBerry device in 1999, has fallen out of favor with investors as it has struggled to keep pace in the rapidly evolving smartphone market it pioneered. In recent years, Apple's iPhone and Google Android devices have gobbled up RIM's once mighty market share.
Bernstein Research analyst Pierre Ferragu said the warning itself was not a surprise. But he was alarmed that RIM management apparently fails to see the writing on the wall for its products and for its corporate structure.
What is more worrying, of course, is the profound denial the tone of the release reflects. Although it appears obvious to us that RIM's current strategy is bound to fail rapidly, the company continues to support it vehemently, he said.
We can only hope that this increasing dissonance will accelerate necessary changes at the top of the company.
The success of the PlayBook, launched to unfavorable reviews in April, is crucial for RIM, as it plans to new smartphones based on the same QNX-based operating system in 2012.
But the woes of the tablet, a late arrival in a new market segment where Apple's iPad has established an overwhelming dominance, are just one of a string of problems for the one-time technology darling.
Many analysts have lost patience with RIM after a series of product missteps and profit warnings. RIM also faced an embarrassing global outage in October, when customers were stranded without e-mail and the popular BlackBerry messaging service for several days.
If RIM cannot convince developers to build apps for the languishing PlayBook, its new smartphones will struggle to gain traction against the iPhone and Android devices that already boast a huge library of applications.
Seeking to boost anemic PlayBook sales, RIM recently slashed prices on the device and it now plans to expand the promotion to help increase its market share in the segment. RIM sold only about 150,000 tablets in the quarter to November 26, down from 200,000 in the previous quarter - a tiny fraction of the 11 million iPads that Apple sold in its latest quarter.
RIM is continuing to suffer from its Playbook endeavors, said CCS Insight analyst Geoff Blaber. It hurt RIM initially by diverting focus, but muted demand is now becoming clearly visible in the financials.
The severe outage in October did little for consumer confidence and undoubtedly dented sales during that time.
RIM's Nasdaq-listed shares fell 8.7 percent to $16.96 by mid afternoon and the stock is down more than 70 percent this year. Its Canadian-listed shares fell 8.2 percent to C$17.27 and continue to hover around seven-year lows.
The meltdown in RIM's stock price has actually prompted some analysts to raise their ratings on RIM, with Goldman Sachs contending that the current valuation already fairly captures the fundamental concerns. Speculation has also been rife that RIM could be the target of a strategic buyout.
FULL YEAR EARNINGS
In the latest of several profit warnings, RIM said it no longer expects to meet its full-year forecast of $5.25 to $6 per share because of weaker than expected smartphone shipments, a $360 million after-tax writedown on PlayBook inventories and a $50 million charge related to the October outage.
It had previously forecast full-year earnings of $7.50 a share, but it backed away from that in mid-June, following product delays and lackluster sales.
Excluding the two charges, RIM now expects adjusted earnings in the third-quarter to be at the low to mid-point of its previously forecast $1.20 to $1.40 per share range.
Revenue, excluding the outage charge, is expected to be slightly below the previously forecast range of $5.3 billion to $5.6 billion, in part because of the PlayBook discounting.
RIM, which reports third quarter results on December 15, said it shipped about 14.1 million BlackBerry phones in the quarter, in line with its earlier forecast of between 13.5 and 14.5 million.
It said it was confident the PlayBook promotion will help boost sales and reduce its inventories.
RIM is committed to the BlackBerry PlayBook, Co-Chief Executive Mike Lazaridis said in a statement. Early results from recent PlayBook promotions indicate a significant increase in demand across most channels.
But RIM also said it expects to ship fewer smartphones in the current quarter than in the recently-ended third quarter.
We do not see any sign that RIM's downward spiral is about to bottom out, Nomura analyst Stuart Jeffrey said in a note for clients. The company has a number of new phones on the market, yet guidance for Q4 suggests that their momentum is already starting to stall.
© Copyright Thomson Reuters 2023. All rights reserved.