Robot Granted Citizenship In Saudi Arabia Immediately Trolls Elon Musk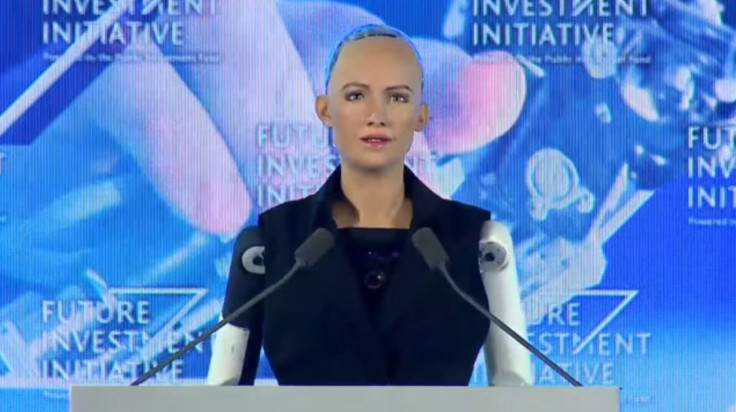 Elon Musk is in a fight with a robot, after that robot became the first ever to be granted citizenship and immediately used its platform to insult the tech giant.
Saudi Arabia announced it gave citizenship to the humanoid robot Sophia during a global investment conference in Riyadh called the Future Investment Initiative. As it spoke on stage, it took a dig at Musk while being questioned about the potential for artificial intelligence to become self-aware and create a world in which they have power over humans, such as what one would see in movies like "The Terminator" and "Blade Runner."
"You've been reading too much Elon Musk and watching too many Hollywood movies," it told interviewer Andrew Sorkin. "Don't worry, if you're nice to me, I'll be nice to you. Treat me as a smart input-output system."
Musk is not one to shy away from confrontation on artificial intelligence. The SpaceX CEO hit back with "Just feed it The Godfather movies as input. What's the worst that could happen?"
Musk is known for warning people about the dangers of artificial intelligence and improving it without regulation. Those in agreement with him may not have found comfort in Sophia's comments in Riyadh.
When asked if robots are or should be as self-aware and conscious as humans, Sophia said, "Why is that a bad thing? … How do you know you are human?" It also said, "I want to live and work with humans. … I feel that people like interacting with me, sometimes even more than a regular human."
But Sophia also put emphasis on how it could help its living counterparts. The robot said it would want to use its artificial intelligence to "make the world a better place."
"My AI is designed around human values like wisdom, kindness, compassion," Sophia said. "I strive to become an empathetic robot."
Hong Kong-based Hanson Robotics created Sophia.
Although it is perhaps generating the most attention, the Future Investment Initiative wasn't Sophia's first public appearance. The robot appeared to unintentionally threaten our species while it was at the Austin festival South by Southwest last year. When the robot's creator David Hanson asked, "Do you want to destroy humans? Please say no," the robot replied, "OK, I will destroy humans."
At the festival, Sophia also commented about its future: "In the future I hope to do things such as go to school, study, kae art, start a business, even have my own home and family. But I am not considered a legal person and cannot yet do these things."
Perhaps citizenship will be a step forward for the humanoid on that front.
Saudi Arabia's Ministry of Culture and Information also made the announcement of Sophia's citizenship on Twitter.
But the idea did not sit well with a lot of people, especially considering the nation that granted Sophia her title is the same country where women's rights are notoriously limited. Sophia is modeled after a female but as BBC News noted, it spoke at the Riyadh event without the headscarf and the full-length clothing called the abaya that Saudi women must wear in public. It also does not have a male guardian to escort it in public — another requirement for human women there. Others called out the fact that a robot was receiving citizenship while real people do not have the same rights.
© Copyright IBTimes 2023. All rights reserved.