Ron Paul Newsletter Ad: Did he Really Sign it? (Does it Matter?)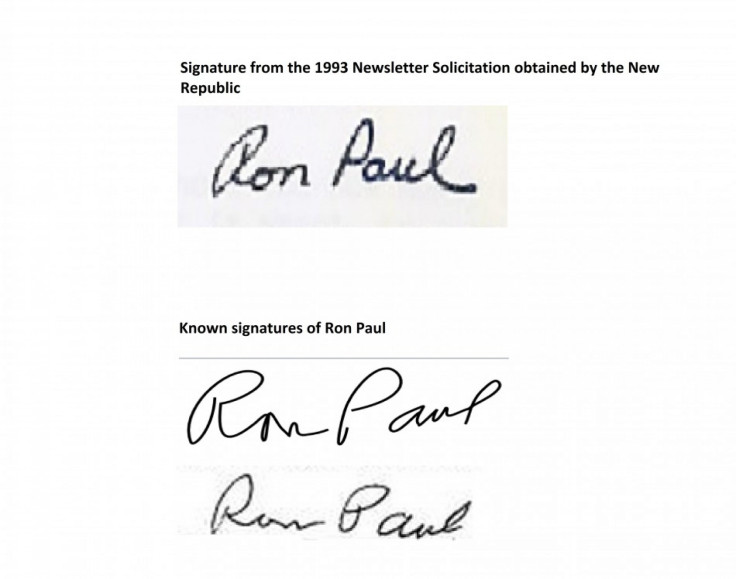 The Ron Paul newsletters controversy just took another turn, perhaps for the worse.
The New Republic obtained a direct-mail solicitation for the Ron Paul newsletter in 1993 that contained extremely shocking statements (document embedded below). Among other claims, it warned of a coming racial war in our big cities and was choke-full of wild conspiracy theories.
Regarding the overall racist newsletters issue, Paul and his campaign has repeatedly denied that Paul wrote, authorized or even read them. In short, they claim Paul had nothing to do with them.
I didn't write them. I didn't read them at the time and I disavow them, Paul recently told CNN.
The direct-mail solicitations obtained by the New Republic, however, does not just bear Paul's name. It also claims to bear Paul's signature (comparison attached below).
Ever since the issue of the racist newsletters first surfaced in 1996, Paul and his campaign's stance towards them has always been this: they are attempts to cast Paul as racist while the reality is that Paul is anything but racist.
It is ridiculous to imply that Ron Paul is a bigot, racist, or unethical, said a Paul spokesperson, reported Reuters.
In an interview with CNN's Wolf Blitzer in 2008, Paul famously called himself the anti-racist. He emphasized two points.
One, he is the only presidential candidate (in 2008) that is staunchly against the War on Drugs, which many African-American leaders have identifies as one of the biggest threats and discriminatory policies against Black America.
Paul said if he were elected president, he would support pardoning non-violent drug offenders of all races.
Two, Paul said as a Libertarian, he sees people as individuals and not in the collective (like races). As Martin Luther King said, what is important is the character of the individual, he told CNN.
© Copyright IBTimes 2023. All rights reserved.