Rosa Parks Bus Boycott Arrest Anniversary Facts: 60 Years Have Passed Since Historic Montgomery, Alabama Act Of Civil Disobedience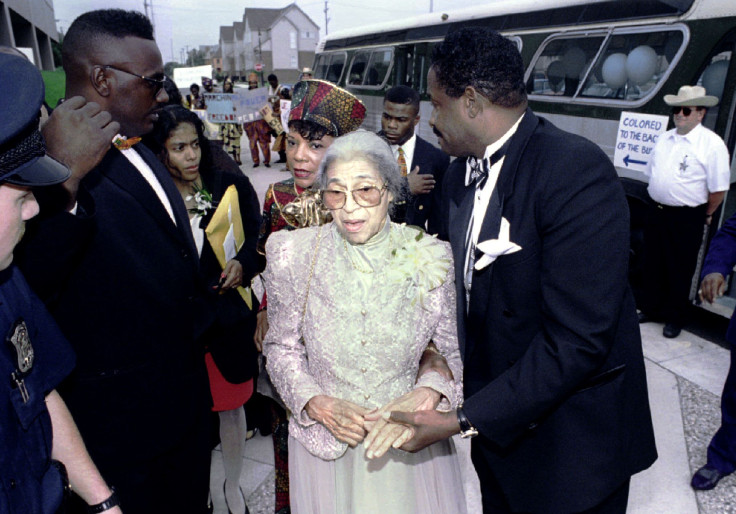 The world will mark Tuesday the 60th anniversary of the Montgomery, Alabama, Bus Boycott, which was called after civil rights pioneer Rosa Parks was arrested for violating segregation laws by refusing to give up her seat in the front of a bus to a white man. What started as a one-day boycott of the bus system stretched on for more than a year as 50,000 people, led by the Rev. Martin Luther King Jr., carpooled, used church vehicles and walked to work. The boycott ended in June 1956 after the U.S. Supreme Court ruled bus segregation unconstitutional.

Rosa Parks died of natural causes in Oct. 24, 2005. She became known as the "mother of the civil rights movement."
Below are 10 things you may not know about Rosa Parks.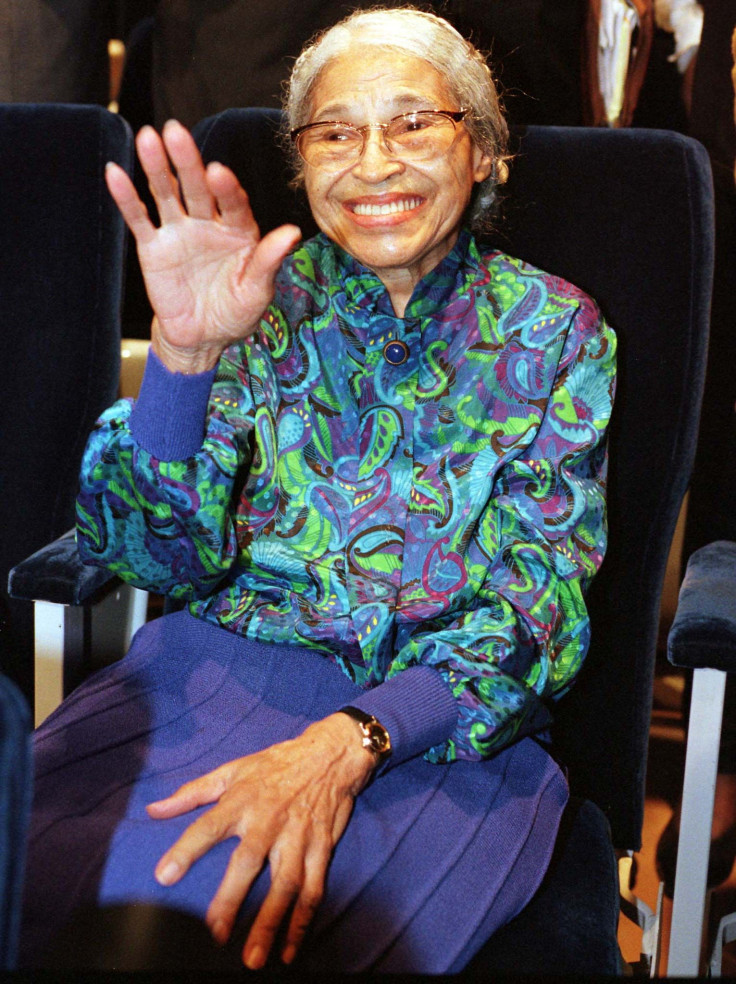 1. Parks didn't sit in a whites-only section. She sat in the front row of the bus's seats that were open to African-Americans if seats were vacant. After the white section filled on subsequent stops and a white man was left standing, the driver demanded that Parks and three others in the row leave their seats. She refused to move.

2. Parks was forced to leave Montgomery soon after the boycott. Not long after she was arrested, Parks and her husband both lost their jobs. In 1957 she moved to Detroit with her husband and mother.

3. Her act of civil disobedience was not premeditated. While Parks knew that the National Association for the Advancement of Colored People was looking for a lead plaintiff in a case to test the constitutionality of the Jim Crow law, she did not set out to be arrested on Bus 2857.
4. Parks was not the first African-American woman to be arrested for refusing leave her seat. Months before Parks was arrested, 15-year-old Claudette Colvin was the first Montgomery bus passenger to be arrested for refusing to give up her seat for a white passenger. Three other black women — Mary Louise Smith, Aurelia Browder and Susie McDonald — also refused to move prior to Parks. They were all plaintiffs in the case that led to the Supreme Court decision.
5. Parks was the first woman to lie in state at the U.S. Capitol. After she died at 92, her body was brought to the rotunda of the U.S. Capitol, a place normally reserved for political leaders. More than 30,000 people paid their respects.
6. Parks was a civil rights activist before her arrest. Parks was a member of the Montgomery chapter of the NAACP, which she joined in 1943. At the time of her arrest, she was a secretary of the chapter, and the previous summer she had attended a workshop for social and economic justice at Tennessee's Highlander Folk School.
7. Parks had a prior encounter with James Blake, the bus driver who demanded she vacate her seat. In 1943, Blake threw Parks off his bus after she refused to re-enter the vehicle through the back door following paying her fare at the front. "I never wanted to be on that man's bus again," she wrote in her autobiography. "After that, I made a point of looking at who was driving the bus before I got on. I didn't want any more run-ins with that mean one."

8. Parks did not refuse to leave her seat because her feet were tired. Parks said in her autobiography that she refused to leave her seat because she was tired after a long day at work. "I was not tired physically," she wrote, "or no more tired than I usually was at the end of a working day. I was not old, although some people have an image of me as being old then. I was 42. No, the only tired I was, was tired of giving in."
9. Weeks after her arrest, Parks was jailed a second time for her role in the boycott. On Feb. 21, 1956, a grand jury handed down indictments against Parks and dozens of others for violating a state law against organized boycotting. She and 114 others were arrested.
10. Bus seats were left empty to honor Parks on the 50th anniversary of her arrest. On Dec. 1, 2005, transit authorities in New York, Washington and other U.S. cities left the seats behind bus drivers empty to commemorate Parks' act of civil disobedience 50 years before.
FOR FREE to continue reading
✔️ Unlock the full content of International Business Times UK for free
offer available for a limited time only
✔️ Easily manage your Newsletters subscriptions and save your favourite articles
✔️ No payment method required
Already have an account?
Log in
© Copyright IBTimes 2023. All rights reserved.