Roy Moore Blames 'Forces Of Evil' For Sexual Misconduct With 14-Year-Old Allegations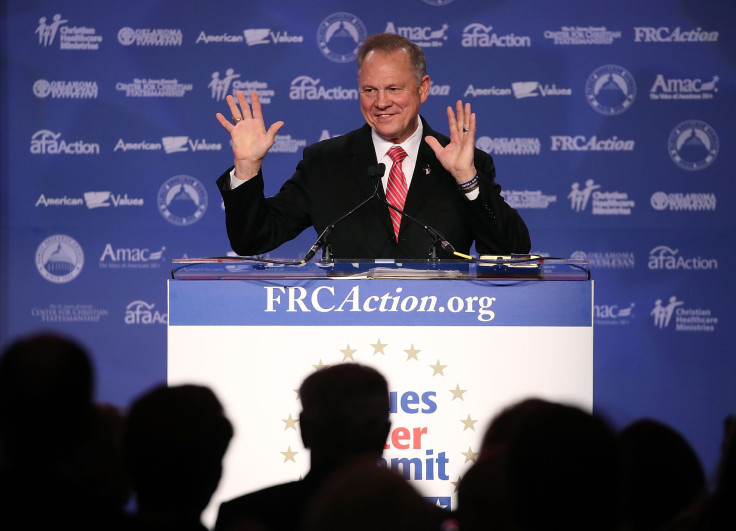 Alabama Republican Senate nominee Roy Moore responded Thursday to what he called "the Obama-Clinton machine's liberal media lapdogs" after a Washington Post report accused him of having inappropriate sexual conduct with a 14-year-old girl when the former judge and staunch social conservative was 32-year-old.
In a series of tweets Thursday evening, Moore claimed: "The forces of evil will lie, cheat, steal — even inflict physical harm — if they believe it will silence and shut up Christian conservatives."
Amid calls from several politicians from both sides for him to drop out of the race, Moore said: "Our nation is at a crossroads right now — both spiritually and politically. Our children and grandchildren's futures are on the line. So rest assured — I will NEVER GIVE UP the fight!"
Moore, who is running to fill Attorney General Jeff Sessions' old seat, has been accused of allegedly assaulting Leigh Corfman. She told the Washington Post that the former judge approached her and her mother at an Alabama courthouse in 1979 and reportedly convinced her mother to let him watch her while she was in court.
Corfman said while they waited, Moore allegedly asked her for her phone number which was said to have been used later to fix a time in order to pick her up and bring her to his apartment where he misbehaved with her.
Denying all the accusations against him, Moore said: "These allegations are completely false and are a desperate political attack by the National Democrat Party and the Washington Post on this campaign."
In a subsequent statement, his campaign said if the allegations were true they would have surfaced during his previous campaigns, adding "this garbage is the very definition of fake news," the Independent reported.
Politicians were quick to condemn Moore's act and there were calls for him to withdraw from the race if the allegations proved to be true.
Vice President Mike Pence's office released a statement on Moore.
Sen. Ted Cruz, who had been supporting Moore, said:
"If these allegations are true, he must step aside," Senate Majority Leader Mitch McConnell said Thursday, according to the Independent.
According to the Washington Post report, three other women also accused Moore of making sexual advances towards them when they were teenagers- aged 16 to 8 years, however, they indicated he did not attempt to initiate sexual contact.
While several Republicans spoke about Moore asking him to step down from the race, Alabama state auditor Jim Ziegler, a Moore ally, came to the Republican's defense and told the Washington Examiner: "There is nothing to see here."
Ziegler went on to compare the allegations to biblical stories saying, "Also take Joseph and Mary. Mary was a teenager and Joseph was an adult carpenter. They became parents of Jesus."
Fox News host Sean Hannity also defended Roy Moore while speaking with Lynda McLaughlin on his radio program, "The Sean Hannity Show."
"How do you possibly tell, know the truth, except - Okay, so, the two other girls were older in this case. He was apparently, like, 32, and he dated - one girl was 18, one girl was 17." Hannity said. "There was no sexual - there was kissing involved, and then they're saying this one encounter with a 14-year-old."
Hannity also agreed when his co-host McLaughlin commented calling the alleged acts between the 17- and 18-year-old girls and Moore "consensual."
"Consensual, that's true," Hannity said, the Washington Examiner reported.
© Copyright IBTimes 2023. All rights reserved.