Is Roy Moore Broke? Former Senate Candidate Issues Plea For Legal Funds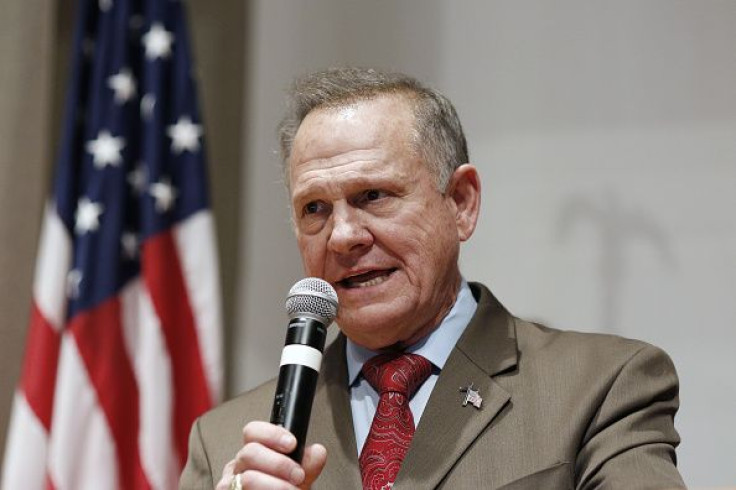 Former Senate candidate Roy Moore made a plea for funds on Thursday, to support his legal battle against Alabama woman Leigh Corfman, who filed a defamation lawsuit against him in January.
In November 2017, the Washington Post broke a story with explicit details of an incident between Moore and Corfman. The report said, Moore, when he was a 32-year-old district attorney in 1979, took Corfman — who was 14 at the time — to his home, undressed her and touched her sexually.
Moore denied the allegations, saying it's a ploy to thwart his political ambitions. He repeatedly said the statements made by Corfman were untrue. Corfman found statements made by Moore, repeatedly denying the accusations in the media, defamatory.
"My resources have been depleted," Moore wrote in a statement on Facebook, Thursday. "And I have struggled to make ends meet, but I have not lost my faith in our God, who is our true source of strength and will never leave or forsake us."
Moore said he hired lawyers to help fight the lawsuit, however, he finds himself without funds to fight it.
"I have lawyers who want to help but they are not without cost and besides their fees, legal expenses could run over $100,000. I have had to establish a legal defense fund, anything you give will be appreciated," he wrote.
In the statement Moore blamed gays, lesbians, and transgenders for his predicament, saying: "Gays, lesbians, and transgenders have joined forces with those who believe in abortion, sodomy, and destruction of all that we hold dear. Unless we stand together we will lose our Country."
The allegations leveled against Moore first surfaced in November during his campaign for the Alabama Senate seat, which he lost to Democratic candidate Doug Jones. It was the first time in years a Democrat won the Senate seat for the state of Alabama.
The defamation lawsuit stated, Moore and his campaign committee "have defamed Ms. Corfman, repeatedly and in all forms of media, calling her a liar and questioning her motivation for publicly disclosing that Mr. Moore sexually abused her in 1979 when she was a 14-year-old high school freshman and he was a 32-year-old assistant district attorney," AOL reported.
After reports surfaced, Moore vehemently denied the allegations, calling it a ruse and said it was politically motivated.
In a statement Thursday, he still stood by his claims made during the elections in November, maintaining his innocence. In the statement he alleged "The liberal media, in association with some who want to destroy our Country do not want my influence in the 2018 elections and are doing everything they can to stop me."
In a report by the Washington Post, Corfman's lawyers said, with the exception of an apology from Moore for defaming her character, Corfman was not seeking any financial compensation in the case beyond its legal costs.
"Please help me fight this battle for the heart and soul of this Nation. Your financial contribution to my legal defense fund is crucial," Moore added.
© Copyright IBTimes 2023. All rights reserved.