'A Royal Corgi Christmas' Hallmark Movie Premiere: Trailer, Synopsis, Cast
Hallmark Channel's merry holiday season continues with the newest "Countdown to Christmas" holiday premiere, "A Royal Corgi Christmas." The film, starring Hunter King and Jordan Renzo, premieres Friday night.
The film will be a treat for Hallmark fans, as they have yet to be introduced to either of the stars before when it comes to the network. Of course, they are both well-known for other projects. Renzo is best known for his role as Charles Brandon in "The Spanish Princess." King, meanwhile, is best known for her long-running role as Summer Newman on "The Young and the Restless," as well as the role of Clementine Hughes on "Life in Pieces." This will be the first Hallmark project for both, however, marking a special moment for fans as a result.
Susannah De Wrixon ("Striking Out") also stars.
So what can fans expect from this all-new film with all-new faces? Let's find out.
"Crown prince Edmond (Renzo) is a reluctant royal who returns home just before Christmas in anticipation of being named successor to the throne," a synopsis reads. "To ingratiate himself to his mother the Queen (De Wrixon), he gifts her with Mistletoe, a rambunctious Corgi pup in need of some serious training. After several doggy disasters, Edmond turns to Cecily (King), a canine behavior expert from America for help."
Cecily has a unique method for training the dog, however, leading the two to work together in their mission to get Mistletoe ready before the annual Christmas Ball, but along the way, they also find themselves falling for each other in the most unexpected ways."
"To his great surprise, Cecily insists that he take an active part in the daily dog training sessions. As Prince Edmond and Cecily work together to get Mistletoe ready to present at the annual Christmas Ball, sparks begin to fly between them," the synopsis reads. "Just as the previous pup captures their hearts, they discover that love can grow in the most unexpected places, leading each of them to question what they really want in life."
"A Royal Corgi Christmas" premieres Friday, Nov. 26 at 8 p.m. EST on Hallmark Channel.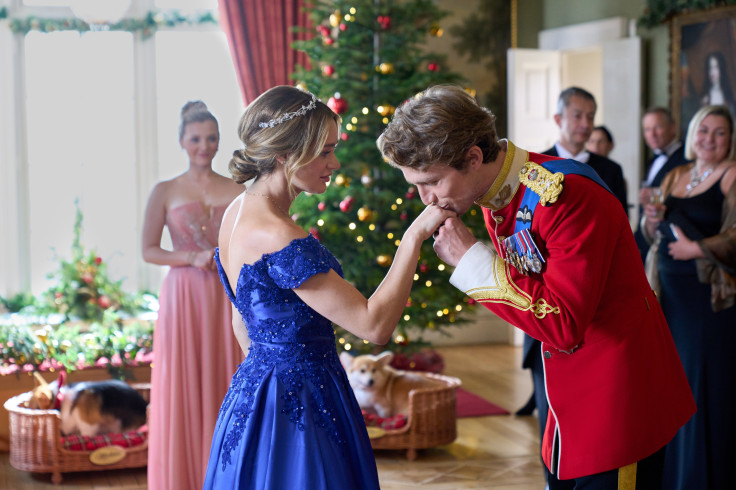 © Copyright IBTimes 2023. All rights reserved.
FOLLOW MORE IBT NEWS ON THE BELOW CHANNELS