Rupert Murdoch's anti-web stand: The Daily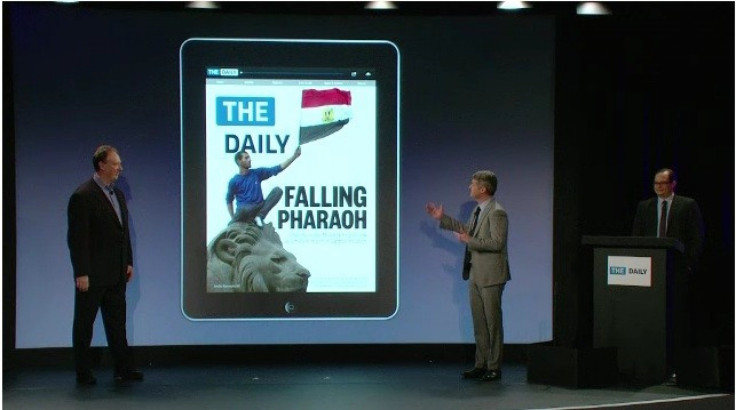 The iPad-only digital newspaper from News Corp., The Daily, touted to usher in the age of subscription-based revenue model on the web space, has been launched by Rupert Murdoch and Apple Vice President of Internet Services Eddy Cue at a press event at New York's Guggenheim Museum.
The crux of the strategy is encapsulated in a statement by News Corp. CEO Rupert Murdoch: New times demand new journalism. The devices that modern engineering has put in our hands demand a new service, edited and designed specifically for them.
However, questions remain as to whether a print daily in its tablet avatar, at 99 cents a week, with all its multi-media schmaltz can glean online newsreaders accustomed to free real-time online news.
A report published by Congressional Research Service titled The U.S. Newspaper Industry in Transition notes that the triad of declining advertisement revenues, recession and internet has bled the traditional print media to death. The traditional advertising model for years generated healthy revenues to subsidize investigative, global coverage and also keep subscription and news-stand prices low. But the advertising model suffered heavily during the recession as companies went on a cost-cutting spree. Also the industry is experiencing a structural change as readership and advertising moves towards the internet.
Until now the newspaper industry has failed to deliver a viable web-based subscription or advertising model. Attempts made so far include micro-payments model - whereby newspapers charge for select content, revenue sharing model with search engines and ratcheting efforts to curb plagiarism and to clamp on content farms.
The Daily, is an attempt to re-kindle the old print-based newspaper on a different platform, the tablets. However, The Daily lands in the midst of a dynamic play field where readers are accustomed to choice at no cost.
The Daily offers 100 pages per issue of original content, edited, formatted and structured by an editorial team. The digital newspaper's strategy of an edited layout stands against the web approach were a user decides what he wants to read. Most of the users reach the desired destination or an article through a search engine - indirectly rather than directly. Peter Kafka of All Things Digital described the Daily as almost defiantly anti-web alluding to its non-aggregation abilities and not so frequent updates.
Moreover, the web offers a user the ability to glean through news by way of setting RSS feeds. On the iPad, the Daily will have to fight against an app called Flipboard that allows users to create their own customized magazine from social media sources like Twitter, Facebook and also source information from other news outlets, which are displayed in an attractive magazine-like layout. Thus, the choice before the user is to create their own customized content experience or to rely on a group of editors to define their experience.
Also, the Daily has to stand against the might of news aggregators like Huffington Post and Drudge Report that rely on links from major newspapers.WSJ reported that The Daily will also carry links but shockingly few, which goes against the grain of online news dissemination.
While the Daily app allows users to incorporate Twitter for instant feed, the otherwise static nature of its news delivery will have to compete against real-time updates which the web offers. The app is limited in its capacity to offer real-time updates with an army of 100 or so journalists. Also it does not offer any form of content migration from News Corp's other brands like Foxnews or New York Post.
The thrust from News Corp is towards packaging, as seen in its partnership with Apple, to design the digital newspaper to appeal to a touch-screen audience. However, the competition it faces comes from the inherent web-browser on the iPad which is the other medium for users to surf for news.
Another caveat in The Daily's strategy is that there are many apps for iPad and iPhones from various dailies that are for free like the New York Times app for iPad. Thus the price tag of 99 cents, though meager, still fails to compete against free stuff.
However, the apps like New York Times for iPad's do not facilitate offline reading as they are limited by connectivity. Thus when there is no Wi-Fi available the apps stream content using the cellular networks connection thus the download is more expensive. The Daily addresses this issue as it delivers the digital newspaper directly to the iPad, thus, making offline reading more effective.
While the industry waits with bated breath to see whether the iPad-targeted daily newspaper will be a success or not, what is certainly sure is that this will not be the last of such an experiment.
FOR FREE to continue reading
✔️ Unlock the full content of International Business Times UK for free
offer available for a limited time only
✔️ Easily manage your Newsletters subscriptions and save your favourite articles
✔️ No payment method required
Already have an account?
Log in
© Copyright IBTimes 2023. All rights reserved.