Russia Faces Its First World Trade Organization (WTO) Trade Dispute, Brought By EU, Over The Nation's Import Tariffs On Cars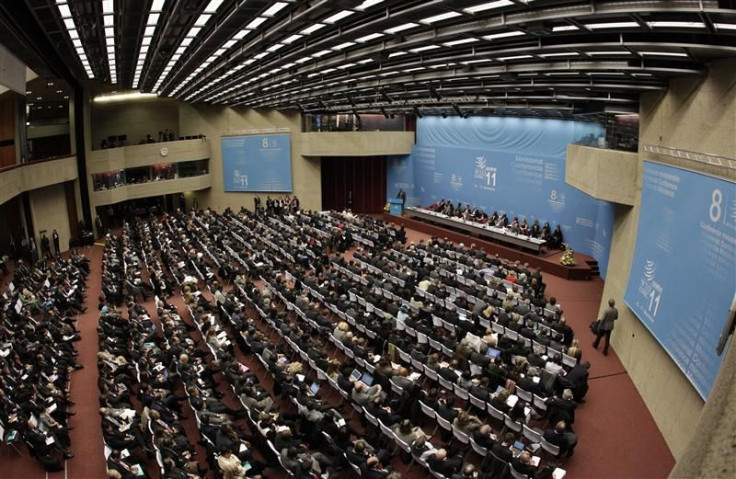 The European Union on Tuesday filed the first World Trade Organization trade dispute complaint against Russia, over tariffs on imported cars, less than a year after Russia joined the influential trade organization.
EU Trade Commissioner Karel de Gucht said that European Commission officials sought an amiable solution with Russia in negotiations for almost a year, but added that the negotiations ultimately failed.
The dispute centers around a recycling fee Russia imposes only on cars that are imported into Russia, and not on cars manufactured domestically. The EU complains that this fee, which purportedly covers the cost of recycling the car in the future, amounts to an unfair and discriminatory import tax.
"The fee is incompatible with the WTO's most basic rule prohibiting discrimination against and among imports," said de Gucht, in a statement. "It is severely hampering trade in a sector which is key for the European economy."
EU vehicle exports to Russia run to about 10 billion euros ($12.7 billion) annually, according to the EU. The EU said Russia falsely promised to remove the fee last year, and actually introduced it merely days after joining the WTO in August 2012.
Russian trade official Yekaterina Mayorova told the Wall Street Journal that the move wasn't unexpected. The Russian Economic Development Ministry didn't immediately return a request for comment.
According to the EU, Russia nets about 1.3 billion euros in revenue annually from the fee alone.
International trade lawyer Scott Lincicome, from White & Case LLP, told the International Business Times that Russia could adopt an environmental defense of its policy, which prima facie violates basic WTO rules on fair trade.
"Governments don't file WTO disputes lightly," said Lincicome, who declined to comment on the specific arguments of the two parties. "There's a pretty high success rate for complainants, in WTO disputes."
"The exceptions under article 20 [the environmental exception] are not easy hurdles," to meet, he continued, speaking of one potential defense Russia could take. "It's designed not to be just an easy out."
Still, EU leaders have signaled in recent weeks that they'd like a closer economic relationship with Russia, which remains outside the 28-member bloc. The two are top trading partners, and Europe relies heavily on Russia for oil and natural gas.
Brussels and Moscow have 60 days to negotiate in this tense scenario before the next stage in the lengthy WTO dispute resolution begins. Lincicome thinks a negotiated solution before then looks fairly unlikely.
"When the Russian Duma passed the vehicle utilization fee, there were some concerns expressed pretty quickly, about the fee," he said. "Those concerns didn't dissuade Russia from implementing it, so the idea that now the EU's request for consultations will cause a change – that seems unlikely."
In another EU trade dispute filed at the WTO, against China over its alleged dumping of solar panels, EU trade spokesman John Clancy told IBTimes that confidential negotiations over a mutually agreeable settlement are ongoing.
© Copyright IBTimes 2023. All rights reserved.