Russia Investigation Update: Susan Rice Says Vladimir Putin Is Lying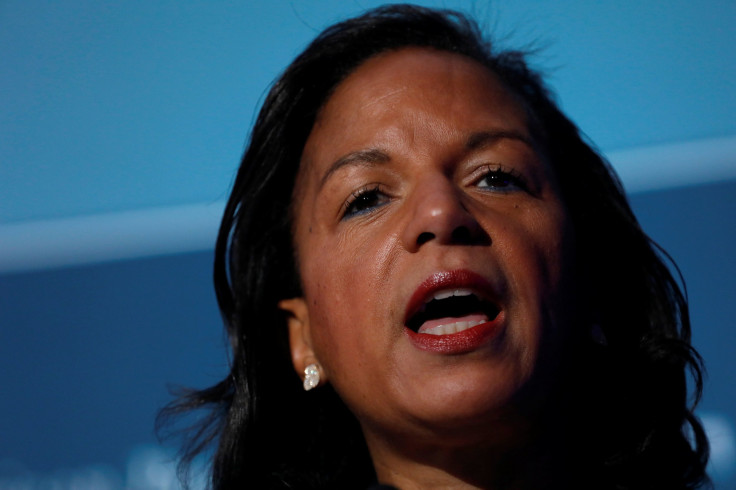 Former U.S. national security adviser Susan Rice on Sunday accused Russian President Vladimir Putin of "lying" when he denied interfering with the U.S. election.
The comment came just days before former FBI Director James Comey was scheduled to testify before the Senate Intelligence Committee Thursday about his meetings with President Donald Trump to discuss the investigation into Russian meddling and possible collusion with the Trump campaign. Trump fired Comey last month, admitting in a broadcast interview that the Russia investigation was on his mind when he did so.
U.S. intelligence agencies concluded Russia was behind the hacking of the Democratic National Committee's email and the planting of false stories on the internet, one of which linked Democrat Hillary Clinton to a child trafficking ring out of a pizza parlor in Washington. Intelligence officials have said a disinformation operation of this magnitude had to have been orchestrated by Putin.
The Russian president, however, has said though Russian hackers may indeed have been involved, the government had nothing to do with it.
"Frankly, he's lying," Rice, the former U.S. ambassador to the United Nations, said on ABC's "This Week." "The reality is, as all of our intelligence agencies have come together to affirm with high confidence, the Russian government, at the highest levels, was behind the very unprecedented effort to meddle in our 2016 presidential election."
Rice said it is unfortunate the Obama administration's warnings about Russian interference were lost in the general din of the campaign. She said it would be a mistake to return control of compounds seized in Maryland and on Long Island in the wake of the intelligence revelations.
Read: Pruitt Says Paris Agreement Ineffective; Gore Says Pullout Reckless
"Let's be clear. Russia is an adversary," Rice said, adding, "President Obama rightly imposed strong sanctions in December for the election meddling. Those sanctions should remain because Russia hasn't changed its behavior. It has just denied and obfuscated and continued to behave badly. So there's no reason to ease the sanctions. Indeed, I think, as some in Congress have suggested, it's time to consider strengthening sanctions."
The White House has been trying to deflect attention away from the Russia investigation.
Sen. Mark Warner, D-Va., appearing on CNN's "State of the Union" said so far the investigation has produced a lot of smoke but no definitive answers.
Read: Is Kushner Russia Story Fake? Republicans Say Maybe, Dems Say Doubtful
"Clearly, it would be very, very troubling if the president of the United States is interfering in investigations that … affect, potentially, the president and his closest associates," Warner said. He said he would ask Director of National Intelligence Dan Coats and National Security Agency Director Michael Rogers if they felt pressured by Trump to downplay the investigation.
Warner said on CBS's "Face the Nation" he wants Comey "to reinforce, one, the fact that the Russians directly intervened in our elections, which everybody accepts except for the president and maybe Vladimir Putin," and for Comey to detail his conversations with Trump.
Reports have indicated Comey wrote memos after his meetings with Trump, detailing that the president asked him to go soft on his investigation into whether former national security adviser Michael Flynn colluded with the Russians. Flynn was forced to resign his post just weeks into the Trump administration for misrepresenting his contacts with Russian Ambassador Sergey Kislyak to Vice President Mike Pence.
Sen. Susan Collins, R-Maine, said she wants to understand the tone and context of the conversations between Trump and Comey.
© Copyright IBTimes 2023. All rights reserved.