Russia Telling 'Outright Lies' To Hide Kremlin's Involvement In Ukrainian Crisis: US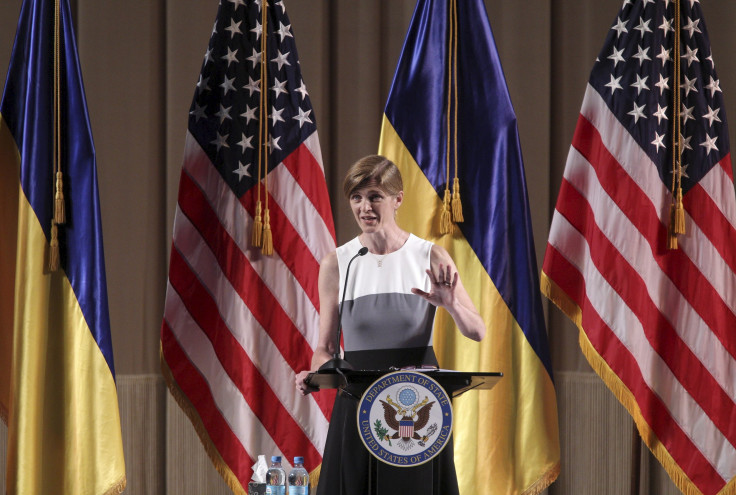 Russia has been resorting to "outright lies" on Ukraine to hide the Kremlin's direct involvement in the conflict between Kiev and pro-Russian separatists in the country's east, Samantha Power, the U.S. envoy to the United Nations, said Thursday. The statement is considered to be one of Washington's toughest rebukes to Moscow in recent times.
Power accused Russia of fomenting the war in Ukraine's vital eastern region 14 months ago to destroy Kiev's financial resources and weaken it in the eyes of the public. She also said that Moscow has tried to disguise its agenda through media propaganda and a series of fraudulent speeches at various global venues, the Agence France-Presse (AFP) reported. The West, mainly the U.S. and the European Union, has slapped crippling sanctions against Russia for annexing the Crimean peninsula last year and for its involvement in the Ukraine conflict, which Moscow has consistently denied.
"The focus on Ukraine in the Security Council is important because it gives me the chance -- on behalf of the United States -- to lay out the mounting evidence of Russia's aggression, its obfuscation, and its outright lies," AFP quoted Power as saying, during her address in Kiev.
Russian President Vladimir Putin has repeatedly denied sending special forces into Ukraine's contested regions of Donetsk and Luhansk. While Kiev has claimed that Russian troops fight alongside separatist forces in these regions, Putin has described Russian nationals involved in the conflict as "volunteers" and off-duty soldiers answering to "a call of the heart," AFP reported.
The U.S. and the European Union remain unconvinced and, on Monday, U.S. President Barack Obama and his French counterpart Francois Hollande reached an agreement to maintain economic sanctions in place until Russia fully implemented the Minsk peace accords, which call for a total ceasefire in eastern Ukraine and the withdrawal of heavy weaponry.
Power's strong remarks followed media reports that pro-Russian rebel leaders in Donetsk and Luhansk were now willing to remain part of Ukraine, but under a special arrangement that would recognize the self-proclaimed "people's republics" in these regions. Putin also reportedly supports the move to keep both regions within Ukraine.
"Incidentally, the leaders of the self-proclaimed republics have publicly stated that under certain conditions – meaning the implementation of the Minsk Agreements – they are ready to consider themselves part of the Ukrainian state," Putin reportedly said, during an interview with the Italian newspaper Corriere della Sera, according to the Kremlin. "This is a fundamental issue. I think this position should be viewed as a sound precondition for the start of substantial negotiations."
© Copyright IBTimes 2023. All rights reserved.