Russian Economy On The Edge Of Recession, The MH17 Incident Won't Help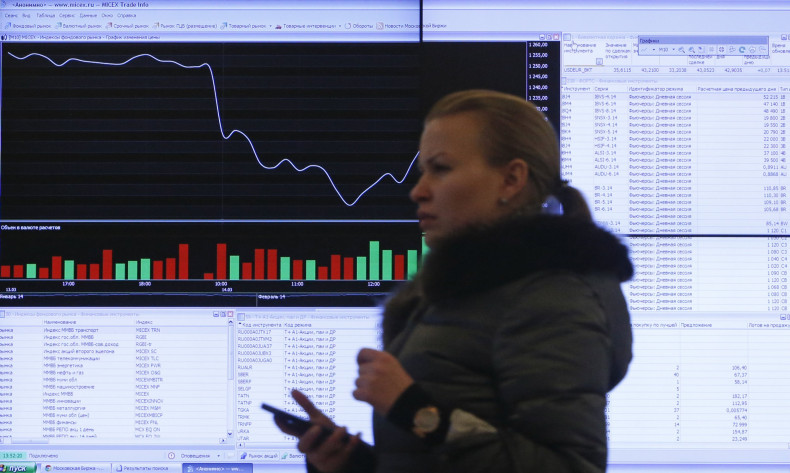 As the world reels from news of Malaysia flight MH17 being down over eastern Ukraine and the Israeli Defense Force moving in on Gaza, economists worried about the effect of these geopolitical tensions on global markets. There probably won't be a sudden drop (or jump), experts said, but the week's news only increased a general feeling of unease that may show itself in the global economy.
"I think it could have long-lasting consequences," said Robert Kahn, Senior Fellow for International Economics at the Council on Foreign Relations. "I don't think it'll be dramatic, but it does reflect a nervousness that's probably going to creep into markets."
Equity prices dipped soon after the MH17 crash, but global markets calmed down on Friday.
"The limited response made some sense," wrote Capital Economics analyst Julian Jessop in a note, adding that it's reasonable to think the event was a one-off incident. However, it is a signal that the situation in Russia and Ukraine may soon get worse.
"Western sanctions on Russia were already being ratcheted up before the news, and the pressure for a tougher line only seems likely to increase," he wrote.
Analysts are most interested to see what happens in the next few days and weeks. While markets tend to shrug off isolated events like the Malaysia crash, this might be different.
"The incident also heightens the already elevated geopolitical risk temperature, higher than it has been in some years and likely to remain so given intensifying prospects for further conflict in Gaza and ISIS occupation of Iraq," wrote Citigroup analysts in a Friday note.
Many fear that the incident will call more attention the the situation in Russia and further U.S. sanctions on the country. This may push the already slow Russian economy into a recession, which could impact trade with its European neighbors and even China, one of its largest trading partners.
Russia's markets were hardest hit following news of the MH17 incident. Dollar-traded stocks in Moscow were down 2.3 percent, losing 8 percent for the week.
Economists disagree about what's next for Russia. Its economy is already having a bad year, and grew just 0.9 percent in the first quarter of 2014, down from a 2.0 percent increase the quarter earlier thanks to falling investment.
The IMF and World Bank remain cautiously optimistic, expecting a short-term dip with slow but steady long-term upturn. Though the American sanctions are a factor in Russia's current economic struggle, there are deeper problems that make others, like Kahn, less optimistic.
"The sanctions are kind of the straw that breaks the camel's back," Kahn said. "The effects become slowly visible over time."