Russian Soldiers Were In Debaltseve Fighting Against Ukrainian Military, Claims Russian Newspaper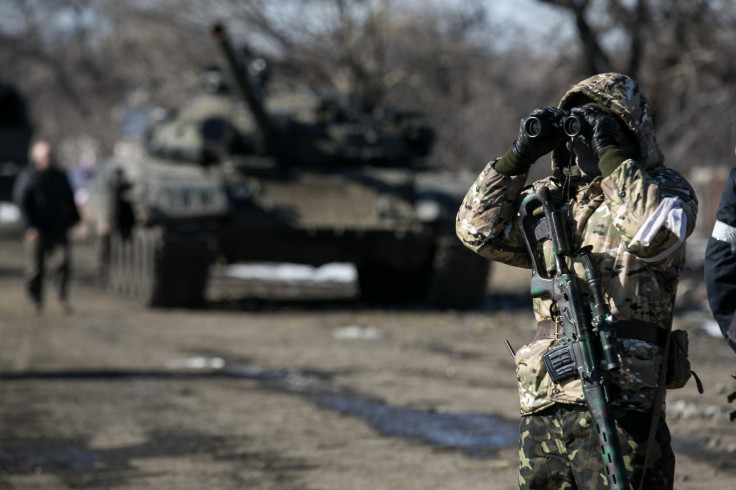 Just days after Ukrainian forces withdrew from the now rebel-held city of Debaltseve, a leading liberal newspaper in Russia claimed Friday that pro-Russian separatists were not just fighting with Russian weapons but also with Russian troops in their ranks. Kommersant, a national newspaper devoted to business and politics, said the troops came in small groups to avoid detection by Ukrainian border guards and were then assigned to various divisions within the rebel forces.
"They arrived in the Donbas not with one division, but in groups of three people," noted the Kommersant article, as it explained how Russian troops were able to join the rebels. "They were assigned to different military units of the DPR [Donetsk People's Republic]."
The report specifically mentions four Russian soldiers who had joined the DPR from the Russian Motorized Rifle Brigade, which corroborates past claims by Ukrainian soldiers that they were fighting against regular Russian soldiers.
"Thus, the fighting is carried out by those who really know how to fight, and after them it is carried out by the local militants," the report says, while also mentioning that Russian soldiers fighting in Ukraine were actively recruited by commanders in Russia.
The author of the report, Ilya Barabanov, also said that he spoke with a Russian soldier on the ground in east Ukraine, who claimed that his superiors predicted that Russia would go to war with Ukraine eventually.
The Ukrainian military, which had been in control of Debaltseve during the month-long siege by pro-Russian rebels, were ordered to withdraw by Ukrainian President Petro Poroshenko in the early hours of Wednesday morning. After government troops left, pro-Russian rebel forces began to enter the destroyed town.
It was thought that the end to full-scale fighting in the strategically located city might give fresh hope to the ceasefire that was signed in Minsk on Feb. 12 and went into force on Sunday. However, as fighting in Debaltseve began to scale down, shelling was reported in the port city of Mariupol in the south of Ukraine and in the city of Donetsk, a pro-rebel stronghold.
The conflict has claimed the lives of 5,692 people and left 14,122 wounded as of Wednesday, according to a United Nations report. The true figure is likely to increase as Ukrainian commanders account for the captured and missing troops.
© Copyright IBTimes 2022. All rights reserved.
FOLLOW MORE IBT NEWS ON THE BELOW CHANNELS