Ryback vs. CM Punk WWE Hell in a Cell 2012 Predictions [VIDEO]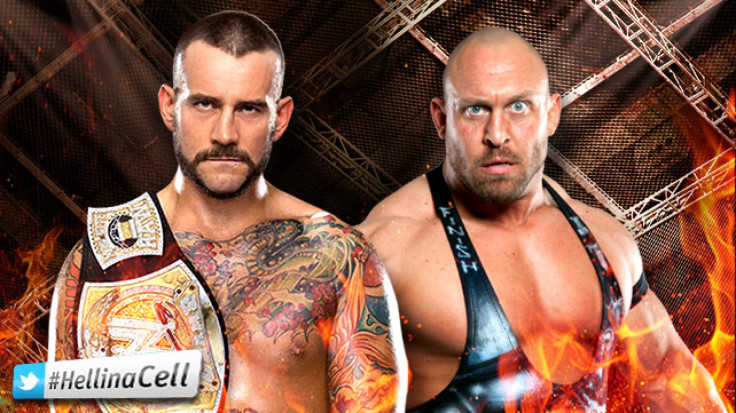 WWE "Hell in a Cell" is the second most important pay-per-view of 2012 for the world's largest wrestling organization. After WrestleMania 28 this past April featured matches like the Rock vs. John Cena, Triple H vs. Undertaker in a Hell in a Cell match and WWE Champion CM Punk vs. Chris Jericho for the title, Hell in a Cell has turned into a surprisingly important event due to the injection of Ryback into the main event.
Hell in a Cell Match
WWE Champion CM Punk vs. Ryback
The only match that has been announced to take place within the infamous, enclosed cage is the top draw of the night.
When John Cena was sidelined after undergoing elbow surgery last month, it was unclear whether or not the Cenation Leader would be able to perform at Sunday's pay-per-view. With WWE officials hesitant to set Cena up as the challenger for CM Punk's WWE Title when he might not have been medically cleared to perform, they decided to push Ryback from his position as a quickly rising mid-carder to main eventer.
The people at WWE have put themselves in an awkward position where they have to break a streak they have been building and intended to keep going. If CM Punk wins he keeps his WWE Championship until Survivor Series on Nov. 18 and would likely continue on with the belt until the Royal Rumble where he faces the Rock; If Ryback wins the WWE has created a new top star when they're desperate for a fresh talent, and also keep the Big Hungry's impressive winning streak going.
Prediction: CM Punk wins
It won't be a clean victory, but the Second City Saint will hold onto his belt until the Rumble to face the Rock. Ryback is the definition of inexperienced and the copany puts so much emphasis on Punk that he appears at least once an hour on every three-hour "RAW."
Stopping Ryback's streak won't destroy the big man's character either, and it could logically enter him in a feud. With CM Punk using Paul Heyman as a manger, WWE could have another "Paul Heyman guy" interfere in the match, like Big Show.
The World's Largest Athlete also took advantage of Hayman's managerial services in 2002, which brought him a World Title run. Whether Show, Sheamus or even Ziggler leave Sunday's pay-per-view with the World Title, the Giant could do a favor for his old business associate by taking out Ryback in the main event, setting up a colossal feud between Ryback and Big Show.
© Copyright IBTimes 2023. All rights reserved.