Saint West Pictured For The First Time? Kim Kardashian Laughs At Boob Size Post Pregnancy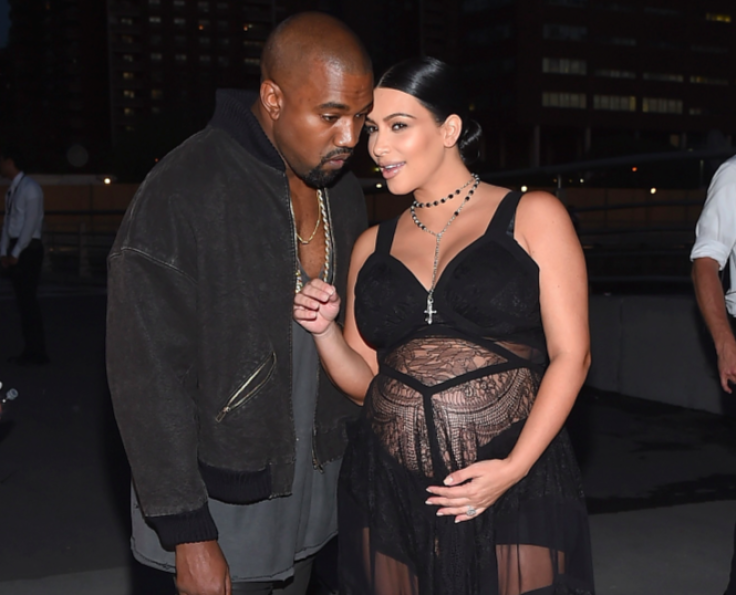 It's here! It's here! The first photo of Saint West has finally been snapped — the only problem is you can't see his face.
"Keeping Up With the Kardashians" star Kim Kardashian West and her husband, rapper Kanye West, were diligent about keeping their newborn son's face covered when they went out in public with him Thursday. The proud parents took their infant to a doctor's appointment for a checkup in Los Angeles, TMZ reported Friday, and they brought along big sister North.
Kardashian West carried the toddler, who rocked cornrows, and West carried their son in his car seat. To ensure paparazzi didn't get any pictures of their son at 12 days old, they placed a blanket over the car seat.
Despite giving birth less than two weeks ago, Kardashian looked as glamorous as ever. It didn't take long for the mother of two to get back into her stilettos.
Though she has live streamed on her app after her pregnancy, she turned the camera on herself for the first time Thursday. She joked about the size of her breasts and said she loved staying at home with her son.
"My boobs look enormous -- which they are," she said once she got in front of the camera, according to Hollywood Life. "I have been loving life, just staying home and not going anywhere." The 35-year-old also added she has been listening to West's new album on repeat because it's "crazy good."
Things for the Kardashian-West crew seem to have mellowed out now, but they had a scare Tuesday when a fan who pretended to be a part of the Christmas decorating team broke into Kris Jenner's house in Calabasas, California. It's an extra problem since that's where the Kardashian-West family has stayed since Saint was born. Jenner has reportedly fired her security team. West is reportedly overseeing the security for the house, TMZ wrote Thursday.
Follow me on Twitter @mariamzzarella
© Copyright IBTimes 2023. All rights reserved.