Same-Sex Marriage Is Legal, But Who Pays For The Engagement Ring?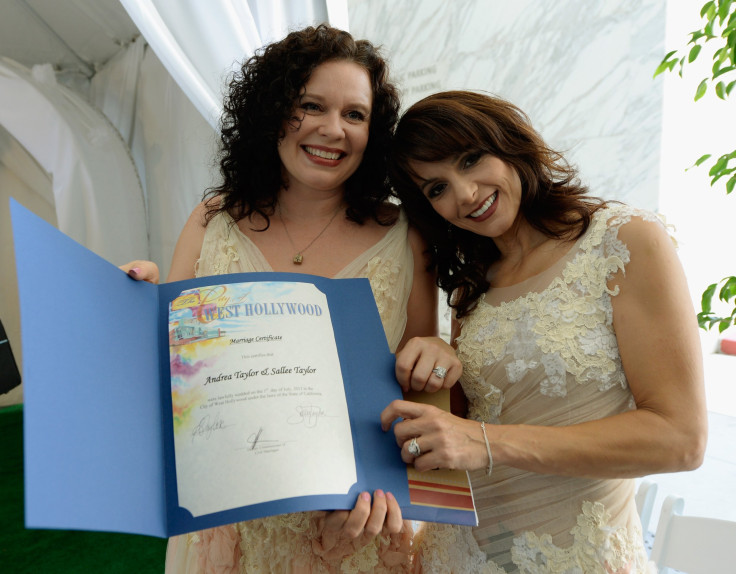 When California legalized same-sex marriage in June 2008, San Francisco resident Cristian Asher and his partner, Phil, immediately found themselves fielding questions about the future.
"All our friends started asking us, 'Are you going to get married?' 'Are you going to get married?'" said Asher, a 53-year-old marketing manager. "We just looked at each other and said, 'Are we going to do this?' and the answer was yes. It was just kind of obvious."
Soon, the two were shopping for "training rings" — just simple pieces of jewelry to sport while they planned the wedding. They spent about $100 on matching metal bands they wore proudly before getting married in a Palo Alto ballroom in September of that year. The bands weren't engagement rings, per se, but they were special.
"I don't think our engagement rings had exactly the same meaning they do to a straight couple. It wasn't like one of us was giving the other a diamond," Asher said. "But they were to get used to having that emblem. On our fingers, out in public, 24 hours a day. Just a way of sort of feeling out what that public statement felt like."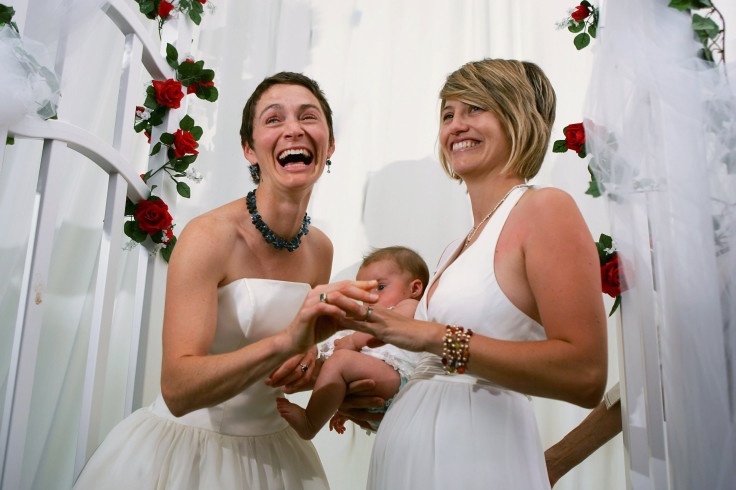 An increasing number of lesbian, gay, bisexual and transgender couples have been making that public statement over the past year, ever since the United States Supreme Court declared same-sex marriage a nationwide constitutional right on June 26, 2015. And the $58 billion wedding industry has been paying attention, adjusting business strategies to cater to LGBT customers even as the lovebirds themselves are changing American wedding rituals to fit their beliefs and personalities.
"For same-sex couples, it is absolutely a personal preference for how as a couple they go about doing this," said Kathryn Hamm, publisher of GayWeddings and an education expert with online marketplace WeddingWire. "We are influenced by the traditions that have been out there, but those do not define and shape every decision we make."
In the past year, roughly 123,000 LGBT couples in the U.S. have married, increasing by about a third the number of adult Americans in same-sex marriages, USA Today reported earlier this month. But how they actually wed varies by couple and is often different from how opposite-sex couples do it.
A recent WeddingWire survey found that same-sex couples spent, on average, about $11,000 on their weddings — about $4,000 less than opposite-sex couples did, in part because they didn't invite as many guests. Same-sex couples spent more on each individual guest, about $117, because they tried to offer customized experiences.
LGBT couples are still fronting the majority of their own wedding costs, though parents are becoming more accepting. Parental support of same-sex marriages has risen from 46 percent to 60 percent over the past few years, the WeddingWire survey found.
How Same-Sex Marriage Became Legal by State | Graphiq
For most, the wedding planning process starts with an engagement. Whereas the person proposing in a heterosexual relationship (generally the man) often spends about $5,000 on a ring, in LGBT relationships the figure is around $1,300. In two-thirds of same-sex couples, both partners get rings.
Jewelers know this, and some are tailoring marketing accordingly. Bernadette Smith, founder of the Gay Wedding Institute, trains leaders in the industry to support LGBT customers. She said she's done about 50 percent more seminars than before over the past year.
Smith mostly deals with private companies. She teaches employees not to make assumptions; for example, a sales clerk shouldn't automatically think that a woman walking into a jewelry store is marrying a man.
"There are more and more jewelers that recognize that this is a market," Smith said.
Other companies have altered their advertisements. In January 2015, Tiffany & Co. made headlines when it featured its first gay couple in an engagement ring campaign. The black-and-white graphic showed two men sitting on a stoop with the text, "Will you?"
"We want everyone who shops with us to feel welcome and appreciated," said the company's director of corporate communications, Nathan Strauss. Similarly, a spokeswoman for De Beers Diamond Jewellers said it's "delighted" to welcome same-sex couples to its stores.
But sometimes, Hamm said, LGBT couples don't exchange engagement rings at all. Same-sex couples tend to marry when they're older, in part because marriage wasn't legal until recently, while millennials have been delaying weddings until they're financially comfortable. If two people are in a long committed relationship or living together, they've often already given each other commitment bands. Gay men tend to swap watches, while women may exchange earrings or necklaces.
Many same-sex couples simply decide which wedding traditions they want to continue or skip. While 68 percent of same-sex couples embrace some form of traditional proposals, there's no standard.
"Double proposals aren't really uncommon," Hamm said.
Same-Sex Marriage Support Over Time | InsideGov
Emily Monus, a 34-year-old office administrator who lives in Jersey City, New Jersey, didn't have a proposal at all. She and her now-wife, Melissa, were sitting on the couch one day and decided, "OK, let's do it," she said.
Monus wears a family heirloom ring. Her wife wears a silver band from St. Marks' Place in Manhattan, a gift from Monus for their first Christmas together.
That's not the only tradition they changed: Monus and her wife got married in a barn in Woodstock, New York, in October 2013. They served vegan food, walked down the aisle together and named the guests' tables after farm animals. They read a scene from "The Golden Girls" to open the ceremony and had a bluegrass band play the reception.
"We really just wanted it to reflect us and who we are as a couple," Monus said. "We didn't want to do something just because it's supposed to be done at a wedding."
© Copyright IBTimes 2023. All rights reserved.
FOLLOW MORE IBT NEWS ON THE BELOW CHANNELS