The Samsung Galaxy Alpha Is US Bound; Metal Design Separates It From Galaxy S5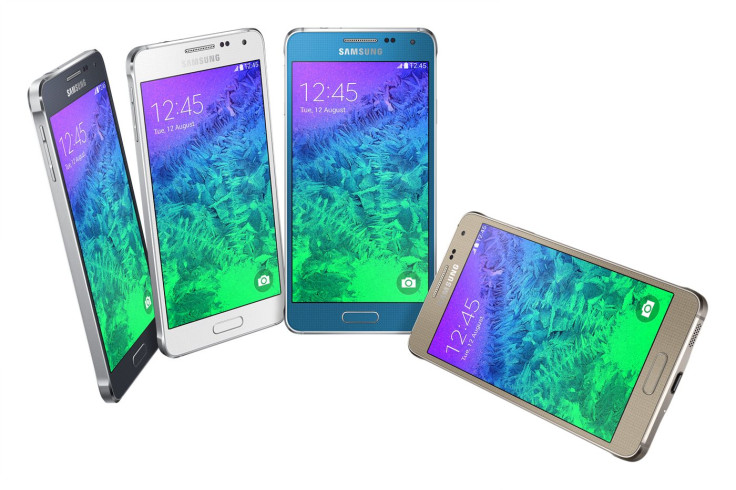 The Samsung Galaxy Alpha is making its way to the U.S. and will be available exclusively on AT&T. The new device by Samsung Electronics Inc. is the manufacturer's first smartphone to introduce metal into its design.
Prior to launch, Samsung was not expected to release the Galaxy Alpha in the U.S.; however, the device will be available on AT&T for $199.99 with a two-year contract starting Sept. 26. Customers can also purchase the Galaxy Alpha with AT&T Next installment plans, for $25.55 per month for 18 months or $30.65 per month for 12 months. Off-contract, the Galaxy Alpha will sell for $612.99.
The Samsung Galaxy Alpha is quite pricey for a device that is not a flagship, but its metal design and high-end specifications contribute to its price tag. The Galaxy Alpha includes a 2.5GHz quad-core chip, 32GB of internal storage, a 12-megapixel main camera and 2.1 megapixel front camera. Unlike the Galaxy flagships, the Galaxy Alpha includes a lower-resolution 4.7-inch 1280×720 Super AMOLED display, likely to distinguish it from Samsung's most premium Galaxy S and Galaxy Note lines. But the device does include heart rate and fingerprint sensors like other high-end Galaxy models.
The introduction of the Galaxy Alpha has sparked a change in strategy for Samsung. Its upcoming Galaxy Note 4 features a metal design, and many other impending devices are also expected to feature metal. Prior to the Galaxy Alpha, Samsung stubbornly released device after device with a polycarbonate plastic external design, which the manufacturer said has allowed it to release several flagship devices each year, each selling better than the last. But the Samsung Galaxy Note 4 is expected to suffer in sales in the wake of the iPhone 6 and 6 Plus by Apple Inc.
It is clear that Samsung is ramping up the design in its devices to compete with the iPhone 6 and 6 Plus, which launched on Friday and had a record-breaking weekend of sales, surpassing 10 million units purchased. Meanwhile, analysts predict that the Galaxy Note 4 may be the first device in the Galaxy Note line to underperform its predecessor.
But the Galaxy Alpha is expected to go head-to-head with the iPhone 6, in particular, as both devices include a 4.7-inch display. Reviews for the Galaxy Alpha have been relatively positive, with the device named among the best smartphones currently on the market. However, since the device will only be available on AT&T, it may not see extensive sales in the U.S.
The Galaxy Alpha may be just a taste of what Samsung has in store. Several device leaks have indicated that Samsung plans to continue developing metal devices through a new line called the "A series." A device called the Samsung Galaxy A5 is expected to be a low-end model in this line. Additionally, a Samsung executive detailed in July that the 2015 Sprint flagship, Galaxy S6, would be made of "new materials" -- however, there is currently no indication as to what those materials might be.
© Copyright IBTimes 2022. All rights reserved.
FOLLOW MORE IBT NEWS ON THE BELOW CHANNELS