Samsung Galaxy Buds Pro Rumor: Leaked Image Shows More Rounded Audio Device
KEY POINTS
Samsung is working on a new Galaxy Buds model, a report says
Documents indicate that it will be the Galaxy Buds Pro
A known leaker shared images showing how the device might look
New images of Samsung's new and upcoming next-gen wireless earbuds known as the Galaxy Buds Pro have been leaked online – and they look more rounded than ever.
Known tipster Evan Blass recently shared an image of the purported Samsung Galaxy Buds Pro that was reported a few days ago. The new device looks highly similar to the Galaxy Buds Plus but is different in several ways.
Previous reports indicated that the new Galaxy Buds Pro will combine some of the best features of the Galaxy Buds Plus and the Galaxy Buds Live. These reportedly include the Buds Plus' looks and form factor and the Buds Live's active noise cancellation feature. The image confirms at least one of the two details.
The alleged Galaxy Buds Pro, as seen in the photo, is a more rounded pair of earbuds that has an in-ear design similar to the Galaxy Buds Plus. It's smoother and appears to have less "edges" than the older device.
Take a look at the image in Blass' tweet below:
The Galaxy Buds Pro also looks like it will be a bit smaller than the Galaxy Buds Plus, at least based on the size of the overall accessory as compared to the silicone ear tips that users will need to place inside their ears to use.
The new accessory also has one big hole found in a depressed section in the upper area of the device. It also has some holes located at the bottom area. It's currently unclear what these will be used for, but it's not hard to imagine these could be for the device's active noise cancellation features.
Blass didn't share an image showing the Galaxy Buds Pro's inner side. The device's charging ports or terminals aren't shown as well.
The leaker, on the other hand, also shared an image of the Galaxy Buds Pro's alleged charging case, which more or less looks like the one indicated in the FCC filing that SamMobile reported earlier.
The charging case looks like the one used for the Galaxy Buds Live – a bit square-ish but with rounded corners. The size of the case seems to indicate a larger battery, but this is just speculation at the moment.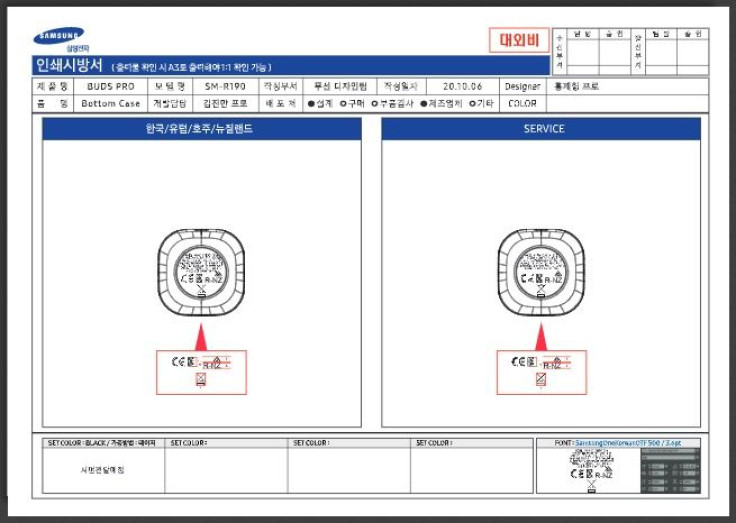 © Copyright IBTimes 2023. All rights reserved.