Samsung Galaxy Note 3 Release Date Bumped To July-August As Rumors Suggest Device Will Pack Qualcomm Snapdragon 800 Processor?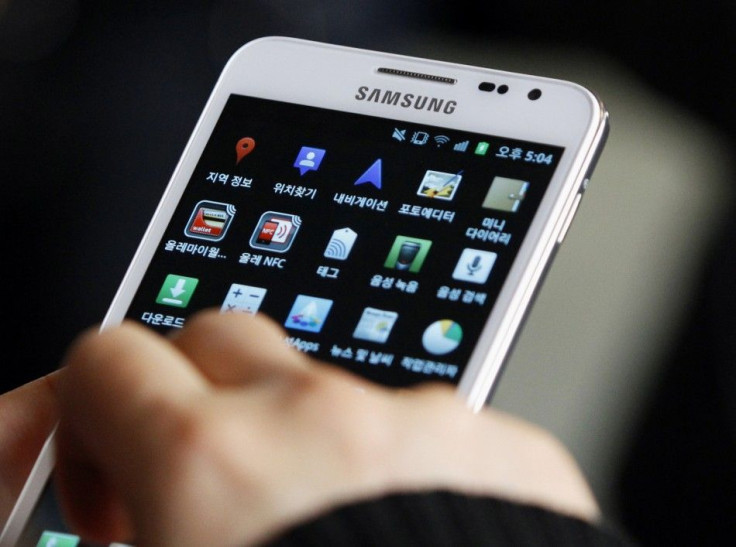 Months of speculation have suggested that the upcoming Samsung Galaxy Note 3 "phablet" would feature the eight-core processing powerhouse Samsung Exynos 5 Octa chipset, but a new report now predicts that the device may instead be powered by the Qualcomm Snapdragon 800 processor.
ZDNet Korea reports that rumors now indicate the Galaxy Note 3 will join the ranks of devices slated to use the Snapdragon 800 processor, including the LG Optimus G2, the Pantech IM-A880 and the Xperia Honami. The Snapdragon 800 is a sibling to the Qualcomm Snapdragon 600, which is featured in such popular devices as the Samsung Galaxy S4, the Google Nexus 4 and the HTC DROID DNA. Both processors were unveiled in January, but the Snapdragon 800 just recently began mass production, making it a shoo-in for inclusion in upcoming devices.
The Qualcomm Snapdragon 800 chipset features a quad-core Krait 400 processor clocking in at a whopping 2.3GHz, an Adreno 330 GPU and connectivity including Bluetooth 4.0, 802.11 a/b/g/n/ac. LTE, LTE cat.4. The chipset also powers UHD video playback (resolutions up to 2560 x 2048) and 7.1 stereo sound.
Samsung Galaxy Note 3: Variants with Difference Processors?
If the Snapdragon 800 chipset rumor is true, we may likely see the Samsung Galaxy Note 3 release in Exynos and Snapdragon processor variants, similar to the Galaxy S2, S3 and S4 smartphones. Long-standing Galaxy Note 3 rumors automatically paired the device with the Exynos 5 Octa chipset as Galaxy Note series devices are most commonly powered by Samsung Exynos processors. The Samsung Galaxy Note 2 is powered by the Exynos 4 Quad processor, as are the Galaxy Note 8.0 and 10.1 tablets. The plablet series is no stranger to processor variants, as the original Samsung Galaxy Note notably came in several versions featuring either the Samsung Exynos 4 Dual processor or the Qualcomm Snapdragon S3 chipset.
Samsung blames supply shortages for why its devices with Exynos processors are not as widespread as those with Qualcomm Snapdragon processors. Seventy percent of Galaxy S4 handsets notably shipped with Snapdragon processors during its initial late April release. The Samsung Galaxy S3 also shipped more of its Qualcomm Snapdragon S4 variants during its May 2012 release, while more Samsung Exynos 4 Quad processors became available later in the year for the September release of the Galaxy Note 2.
With the Exynos 5 Octa chipset beginning mass production in early April, many expected that the processor would be ready for the production of the Galaxy Note 3, which initial rumors suggested would be unveiled at the IFA Expo in Berlin in September. Despite being known for producing the majority of components for its devices itself, Samsung has admitted that shortages of its in-house components are forcing it to outsource parts to keep up with demand. There have been no further updates about the Exynos 5 Octa processor after it reportedly went into mass production, and with the Galaxy Note 3 being a highly anticipated device, it would make sense that Samsung would opt to have some or all of its variants powered by the Qualcomm Snapdragon 800 chipset to ensure constant availability.
Samsung Galaxy Note 3: Exynos 5 Octa Shortage Continues?
With the Samsung Galaxy S4 having sold a whopping 10 million handsets in just one month since its release, we consider that even with mass production, Samsung could be wrapped up in catering to the markets that do offer the Exynos 5 Octa variant of the Galaxy S4. Additionally, new rumors suggest that the Galaxy Note 3 may now be slated for a release on July or August, possibly to compete with a new iPhone or two that may also release within that period, according to Digitimes. If so, it could indeed be a tall order for Samsung to produce enough Exynos 5 Oct chipsets for its bestselling Galaxy S4 as well as the Galaxy Note 3. While Galaxy Note series devices have not been as popular as Galaxy S series devices, they do have a certain niche market that has allowed the Galaxy Note 2 to sell more than 10 million handsets, for example.
There are a number of impressive features expected for the Galaxy Note 3, including a 13-megapixel with an optical image stabilization technology update from the 13-megapixel camera seen on the Galaxy S4. The Galaxy Note 3 is also expected to feature a build similar to that of the Galaxy S, among other specs that all remain unconfirmed by Samsung.
© Copyright IBTimes 2023. All rights reserved.