Samsung Galaxy Note 3 Release Date Nears: Verizon Leads Carriers With Sept. 6 Pre-Order Date, Others Announce Pre-Orders Coming Soon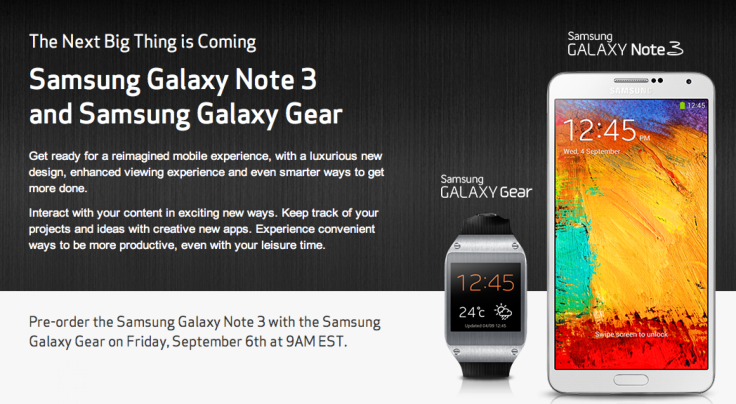 The Samsung Galaxy Note 3 is now official and will be heading to U.S. carriers including AT&T, Sprint, T-Mobile, Verizon and U.S. Cellular in October.
Shortly after the Samsung Galaxy Note 3 and its companion device, the Samsung Galaxy Gear smart watch, were unveiled at the Unpacked Episode 2 event in Berlin on Wednesday, carriers began announcing their plans for releasing models of the device on their respective networks.
Sprint and T-Mobile now have information sign-up pages for the Samsung Galaxy Note 3 and state that pre-orders for the device will be available soon. Verizon's splash page for the Samsung Galaxy Note 3 indicates that the network will begin accepting pre-orders on Sept. 6. AT&T has announced its plans to carry the Galaxy Note 3 but has not released pre-order details or an information sign-up page, while U.S. Cellular has not yet detailed its plans.
While we know the Samsung Galaxy Note 3 will release in the U.S. in October, we do not yet have an exact release date. It is likely that the Galaxy Note 3 will release on different dates on one or many of the carriers, which will power the device. It shouldn't be long before pre-orders are available on all carriers.
The Samsung Galaxy Note 3 will release internationally on Sept. 25 to 149 global markets. It's only the U.S. and Japan markets that have been designated for separate release dates. We consider that this may help curb supply shortages in the U.S., which were notably seen during the release of the Samsung Galaxy S4 in late April and May.
With the Galaxy Note 3 releasing in the U.S. later than in other markets, we may see a prompt release of the device on the Verizon network. Again, during the release of the Samsung Galaxy S4, Verizon released its model a full month after most other U.S. carriers launched the device. This time, however, Big Red has announced specific intentions to likely have the Galaxy Note 3 available at the same time as other carriers, if not before.
While popular, Samsung Galaxy Note smart phones are niche devices, which sell well but not as well their Samsung Galaxy S series cousins. This likely makes issues like supply shortages less pertinent, which could allow Verizon to release the Galaxy Note 3 as promptly as other carriers.
Currently, there is no word on pricing for the Samsung Galaxy Note 3, but the Samsung Galaxy Gear is expected to sell for $299. Customers may see a high price tag on the Samsung Galaxy Note 3 given its new implementation of 3GB of RAM and its primary internal storage option at 32GB. The device is also expected to sell in a 64GB ROM option.
In addition, the Samsung Galaxy Note 3 features a 5.7-inch Full HD Super AMOLED display, a 2.3GHz quad-core LTE processor for the U.S. market, a 13-megapixel camera, and a 1.9-megapixel front camera with 1080p/60 video recording and 4K video recording for some models. The Samsung Galaxy Note 3 also runs the latest Android 4.3 Jelly Bean operating system and a 3,200mAh battery and features boosted 24-bit and 192 KHz audio.
Software features include Samsung Knox pre-loaded on the Galaxy Note 3 and able to work for both personal and business capacities. The Samsung Galaxy Note 3 also focuses on improved multitasking with the Air command feature, which directs users to the Action Memo, Screen Write, S-Finder, Scrapbook and Pen Window applications. With an enhanced S-Pen, users can easily navigate their Samsung Galaxy Note 3 handset with simple dot, circle and box motions.
The Samsung Galaxy Note 3 will come in jet black, classic white and blush pink color options. It is not yet known whether the U.S. will receive the blush pink Galaxy Note 3.
Do you think the Samsung Galaxy Note 3 will see a prompt U.S. release? Let us know in the comments below.
Follow me on Twitter @FionnaatIBT.
© Copyright IBTimes 2023. All rights reserved.
FOLLOW MORE IBT NEWS ON THE BELOW CHANNELS