Samsung Galaxy Note 7 Burns Fingers, MacBook In New Report Despite 'Safe' Status Of Device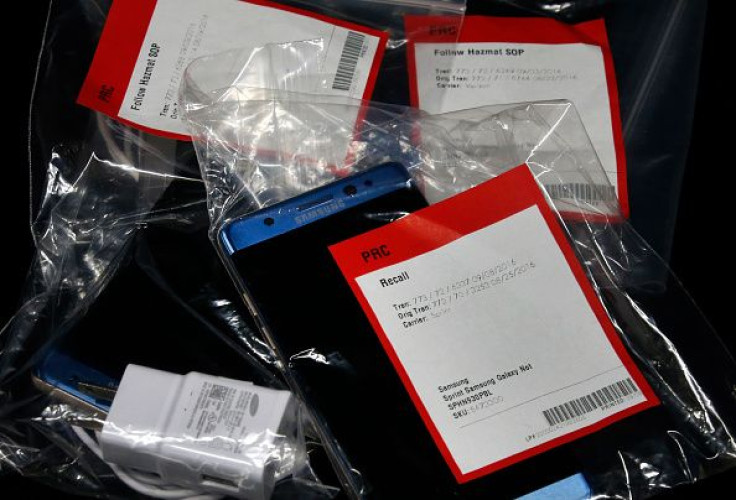 A new incident report involving a Galaxy Note 7 appears to show that even the "safe" units Samsung is selling in China have battery issues. The phone owner claims his handset exploded Monday morning.
Apple Insider has learned that no more than 24 hours since Chinese man Hui Renjie got his phablet from JD.com, it exploded in his presence, injuring two of his fingers and even burning a MacBook.
Following the incident, Renjie relayed what happened to Bloomberg Quint in hopes of publicizing the incident, which he feared would be censored by Samsung since a representative from the South Korea giant has asked him to surrender the burnt phone.
In response to Renjie's concern, Samsung told Bloomberg via email that it is in the process of communicating with the faulty device's victim and that it plans to conduct a "thorough examination" of the Galaxy Note 7 that exploded once Renjie hands it over.
According to CNN Money, Renjie's smartphone emitted black smoke after he left it connected to the charger overnight. The device eventually burst into flames.
The incident comes as a surprise knowing that Samsung has not recalled the Galaxy Note 7 units it is selling in China because the South Korea giant said that the batteries in the handsets sold in the country were from a different supplier, so they are not faulty like the ones found in the international version of the phablet.
Despite claiming that the models being sold in China are safe, four reports of devices catching fire in the country have been documented thus far. Samsung conducted an investigation in one of the reported cases, and the company insisted that the device caught fire due to an external heat source and not because it came with a faulty battery.
Apple's biggest rival is expected to lose between $1 billion and $2 billion due to the global recall of the Galaxy Note 7 that started early this month after it was found out that the battery of the international variant has a defect. However, as more incident reports are coming in, analysts are claiming that Samsung could lose more.
© Copyright IBTimes 2023. All rights reserved.
FOLLOW MORE IBT NEWS ON THE BELOW CHANNELS