Samsung Galaxy Note 7 Refurbished Release Date Set; Specs Include Original Color Options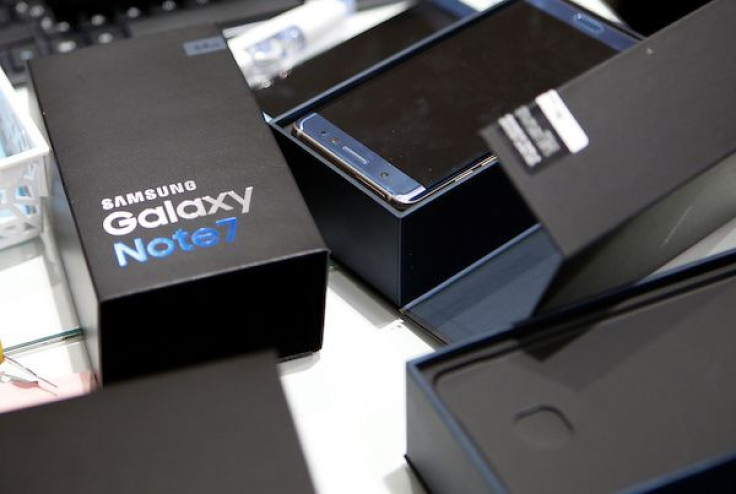 The Samsung Galaxy Note 7 will be called the Galaxy Note FE or the Galaxy Note 7R when it releases to the market for the third time as a refurbished device. However, its color option availability is expected to be the same as the original device, according to iNews.
The formerly ill-fated smartphone will be available Black Onyx, Blue Coral, Gold Platinum, and Silver Titanium color options, and it will include an "R" symbol on its back panel, designating it as a refurbished Galaxy Note 7 model.
Read More: Samsung Galaxy Note 7 Refurbished Price Rumored As Leaks Surface
Reports indicate the Galaxy Note FE will launch July 7 in Korea and may also soon be available to Latin American and European markets, according to a recent FCC certification. With the Galaxy Note 8 launch on the horizon, the Galaxy Note FE will not be available in the U.S.
The Galaxy Note FE will sell for KRW 700,000 ($618) once back on the market. Samsung is planning to introduce its AI assistant feature, Bixby Home to the device as a special feature. Much like the Galaxy S8 in several other markets, more advanced Bixby features, such as Bixby Voice won't yet be available on the Galaxy FE.
The smartphone is expected to have all of the same features included in the original Galaxy Note 7, with the exception of a smaller battery. The Galaxy Note FE will likely feature a 3,200mAh battery, as opposed to a 3,500mAh battery. Other specs include an Exynos 8890 chip, 4GB of RAM, 64GB of internal storage a 12-megapixel rear camera and 5-megapixel front camera.
There is no word on what operating system the Galaxy Note FE will run. The Galaxy Note 7 launched running Android Marshmallow, but Android Nougat is a good possibility for the refurbished device.
Read More: Samsung Galaxy S8: No Handset Has Exploded In First 50 Days Of Availability
Reports indicate that there are least 76,000 original Galaxy Note 7 models still in use in the U.S. Several dedicated users have found ways to bypass the life-ending software updates sent out by Samsung and U.S. mobile carriers. These Galaxy Note 7 fans cite being unable to find a suitable replacement smartphone as a primary reason for holding onto the Galaxy Note 7, despite safety issues.
Samsung announced its eight-point safety check system and the establishment of its safety board after the final recall of the original Galaxy Note 7. Every handset after the Galaxy Note 7 will be subject to rigorous safety tests and certifications before being deemed suitable for sale. The Galaxy S8 was the first device released under this protocol and there have been no reported explosions of Galaxy S8 handsets during its first 50 days on the market.
© Copyright IBTimes 2022. All rights reserved.
FOLLOW MORE IBT NEWS ON THE BELOW CHANNELS