Samsung Galaxy Note 7 Update: Company Offers Customers Gloves And Fireproof Packaging To Handle Devices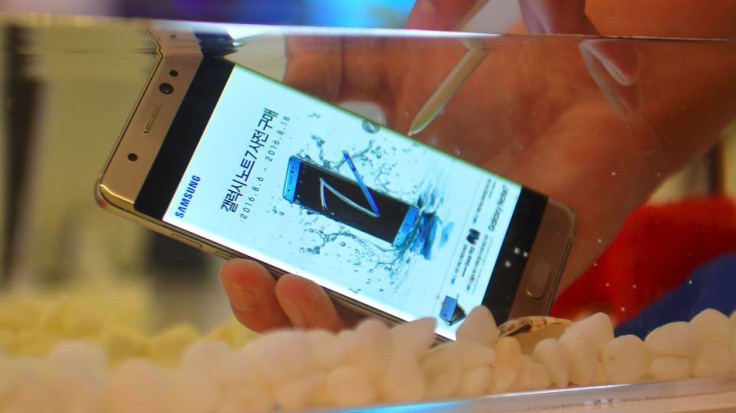 With Galaxy Note 7s catching on fire, Samsung is taking the handling and transportation of the malfunctioning devices seriously. The company announced Wednesday it will be providing owners of the controversial phone with fireproof packaging and gloves so they can safely return their Galaxy Note 7s.
"A device containing a lithium ion battery subject to a recall must be shipped in accordance with government regulations, and these special boxes are required by government regulations," said Samsung in a statement Wednesday.
Samsung rolled out the much anticipated Galaxy Note 7 in August, which gathered great reviews and was lauded for being a strong rival for Apple's iPhone. After reports of the device catching on fire, the company issued a voluntary recall—also known as their global exchange program— on Sept. 2 for 2.5 million devices across 10 countries. The self-imposed recall was followed by an official one by the U.S. Consumer Products Safety Commission, shortly before replacement phones hit the market.
But as Galaxy Note 7 owners got their new devices, new reports emerged claiming replacement phones were also exploding. Samsung permanently stopped production of its flagship smartphone on Oct. 11, less than two months after the phone's original launch.
At the time of the recall, Samsung cited "minor manufacturing flaw" in its battery production as the preliminary reason for some devices catching on fire. But The New York Times is reporting that, despite having hundreds of employees investigating the problem, Samsung has no idea why batteries are exploding.
Android developer news site XDA Developers posted a YouTube video of a "return kit" provided by Samsung, Reuters reported. In it are fireproof gloves, a thermally insulated fireproof box with ceramic fiber paper lining and instructions that the box is "forbidden for transport by aircraft."
U.S. customers have been advised to use the U.S. Postal Service, which is only transporting the gadgets via ground transportation, and UPS shipping services to send back their device. Samsung is also allowing Galaxy Note 7 users to schedule an appointment for pick-up services.
"No one should have to be concerned their phone will endanger them, their family or their property," said U.S. Consumer Products Safety Commission Chairman Elliot Kaye in a statement to USA TODAY. "Due to the ongoing safety concerns associated with Galaxy Note 7 phones, it is the right move for Samsung to suspend the sale and exchange of all Galaxy Note 7s."
Customers looking to swap the device for a different smartphone should contact their retailer to assess their options. Samsung is directing customers to visit samsung.com/us/note7recall or call 1-844-365-6197, and has mentioned that refunds are an option. "Consumers with an original Galaxy Note7 or replacement Galaxy Note7 should power down and take advantage of the remedies available, including a refund at their place of purchase," writes Samsung.
As per the Samsung website, owners or an original or replacement device have two options: they can exchange their Galaxy Note 7 for a Galaxy S7 or Galaxy S7 edge (and also receive a refund on any price differences between accessories for the different models) or reach out to the original vendor to get a full refund.
© Copyright IBTimes 2023. All rights reserved.