Samsung Galaxy S3 Still A Target For Apple; Courtroom Defeat Could Give Korean Tech Giant 'Big Problems,' Says Analyst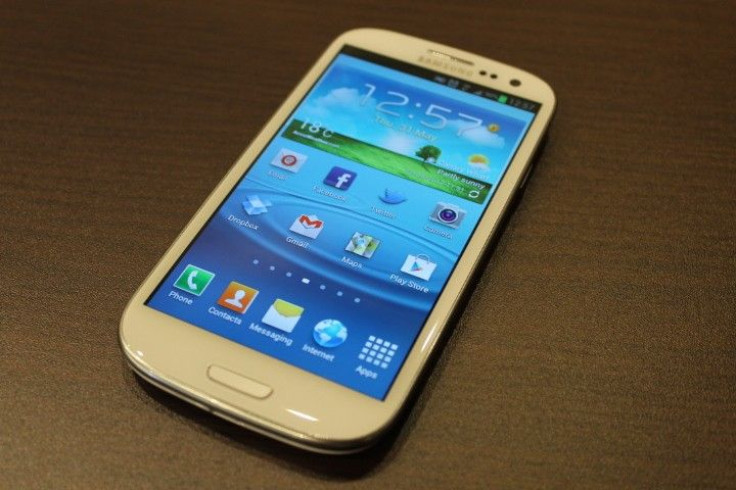 The wait is finally over for people in the U.S. who were looking forward to Samsung's latest flagship smartphone, the Galaxy S3. Sprint made the handset available for in-store purchases from July 1, while AT&T announced that it would be selling the phone in its stores from July 6. But if a recent note by one industry analyst is to be believed, it won't be an easy road for this successor of the S2.
Last month, the South Korean conglomerate confronted a serious hitch when Apple sought a preliminary injunction motion against the new Galaxy S3 smartphone in the District Court for the Northern District of California, raising threats of the phone's sales being banned in the U.S. Although the Cupertino outfit failed to halt the stateside debut of the Galaxy S3, the handset still remains a courtroom target for Apple. In a note to investors Monday, Brian White, analyst with Topeka Capital Markets remarked that a victory banning the Galaxy S3 sales in the country could cause big problems for Samsung.
According to AppleInsider, the iPhone-maker's most recent courtroom triumphs depend largely on four patents, though its recent success with Judge Lucy Koh against Samsung has stemmed largely from U.S. Patent No. 8,086,604, for a 'universal interface for retrieval of information in a computer system'. Koh believed that Apple could suffer irreparable harm for any violation on the '604 patent.
Below are the other three patents, cited by Apple, courtesy of freepatentsonline.com.
U.S. Patent No. 5,946,647 for a system and method for performing an action on a structure in computer-generated data.
U.S. Patent No. 8,074,172 for a method, system, and graphical user interface for providing word recommendations or predictive text.
U.S. Patent No. 8,046,721 for a system describing unlocking a device by performing gestures on an unlock image or the slide to unlock function found on iOS device.
Apple was granted injunctions against both the Samsung Galaxy Nexus smartphone and the Galaxy Tab 10.1 tablet last week. According to White, all these victories mean significant lead for Apple in its heated patent war against Samsung, and with net cash of worth $110.2 billion as of the second quarter of the fiscal year 2012, Tim Cook's company is well prepared for the face-off.
As Redmond Pie noted, the situation between Apple and Samsung is now being described as a saga and a debacle. Late Apple co-founder Steve Jobs himself once pledged to biographer Walter Isaacson that his company would destroy Android, which he called a stolen product. Jobs said that he was willing to go thermonuclear war and would have spent every penny to right this wrong.
Of course, the decisions to ban the Galaxy Nexus and Galaxy Tab 10.1 in the U.S. are very crucial for Apple. But these devices are not the key sellers for Samsung as compared to the Galaxy S3. In spite of the demand exceeding supply, the company has already announced that it expects global sales of the Galaxy S3 to top 10 million units by the end of this month.
Samsung Galaxy S3 features a 4.8-inch HD Super AMOLED display, which is surrounded by an ultra-thin bezel to maximize the viewing area of the handset. It weighs 4.7 ounces (133.24 grams) and is 8.6 millimeters thin.
The device sports Android 4.0 Ice Cream Sandwich, 4G LTE connectivity, 2GB of RAM, a dual-core Snapdragon S4 processor clocked at 1.5GHz, an 8MP rear-facing camera, a 1.9MP Front-facing camera and a 2100 mAh battery.
From the connectivity part, the smartphone comes with NFC, Bluetooth 4.0, DLNA, WiFi 802.11 a/b/g/n and MHL Video Out.
Must Read: Samsung Galaxy S3 Release Date: Verizon To Launch Phone On July 10 At $199.99
© Copyright IBTimes 2023. All rights reserved.