Samsung Galaxy S4 Release Nears: New Patent Filings Suggest 3D Video/Imaging And Panoramic Imaging Lens, Second Teaser Trailer Suggests Black Or White Phone [VIDEO]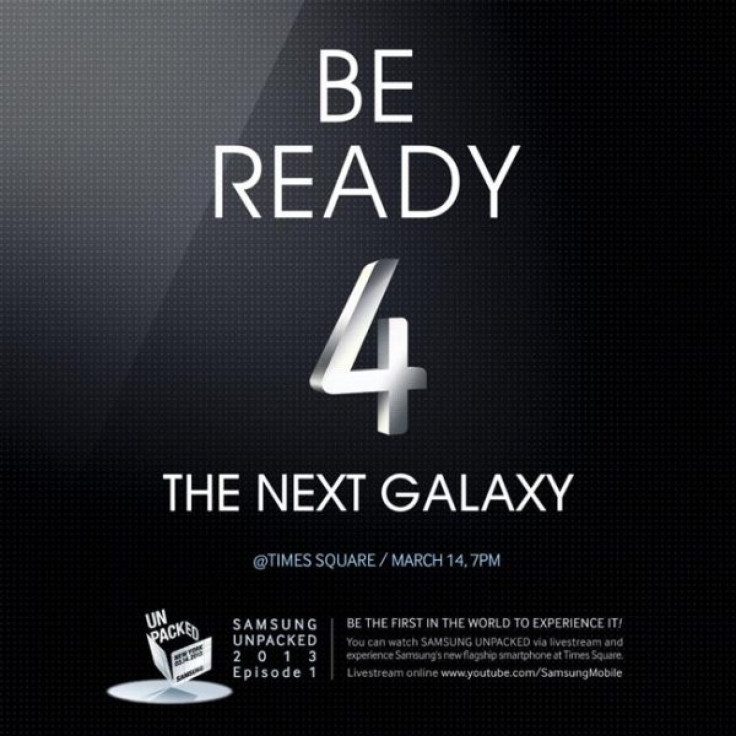 How many specs can Samsung cram into the Galaxy S4 before it's unveiled at the Mobile Unpacked event Thursday at Radio City Music Hall in New York?
According to the rumor mill, as many as possible. Recent reports suggest the Korean electronics giant filed patents for 3D Video/Image capturing and a new Panorama Camera System just days ago that may be seen on the highly anticipated Galaxy S4.
PatentBolt reported a 3D Movie & Still trademark filed by Samsung on March 5. According to the website, the trademark entails uses for: "Application software for smart phones; application software for tablet computers; digital cameras; USB flash drives; mobile telephones; portable media players; portable computers; rechargeable batteries; smart phones; tablet computers; wireless headsets; lenses for cameras."
In addition, PatentBolt shared a blueprint figure of Samsung Patent: 20130057971: Panoramic Imaging Lens & System, filing date unknown.
The patent falls in step with rumors that Samsung will implement its own Photo Sphere panorama mode mechanism into the Galaxy S4, probably called Samsung Orb. But talk of this feature has been sketchy.
Android Authority also suggests that the company may be taking a leap of faith with the idea of 3D video and imaging. While seen before on such phones at the HTC Evo 3D, the technology isn't particularly popular among mobile tech enthusiasts.
Android Community notes that this the first news we've received of Samsung developing 3D imaging and video -- just days before the Galaxy S4 unveiling, which may indicate that this rumor is not associated with this specific device. The tech site also suggests that seeing panorama capability on the Galaxy S4 is more likely, as that rumor been at least been previously mentioned.
Samsung Galaxy S4: Jeremy Returns
As Samsung released its second teaser trailer for Mobile Unpacked Monday, where we see Jeremy, the Galaxy S4 "secret messenger," describing the device as "beautiful," "unreal," and "totally amazing," as he takes even more sneak peeks, the company may in fact be gearing up to cram as many goodies into the phone as possible.
The first trailer was released on March 4 to mixed, and somewhat confused, reviews. Later, some suggested that the seemingly unassuming teaser actually does provide tidbits of information about the Galaxy S4. SamMobile considered that the chauffeur saying, "I know this is going to be one of the most amazing products to hit the market, since TV went color," may refer to the possibility of Samsung using "green" PHOLED materials in order to make its AMOLED screens more energy efficient.
In the latest trailer, Jeremy says that whatever is in the box -- likely the Galaxy S4 -- is his favorite color, as he holds two halves of an Oreo cookie. Many feel this may indicate that the smartphone will come in either black or white, or perhaps both, as has been suggested in rumors.
We also see a reiteration of the "Galaxy" concept, as Jeremy's mother calls him her "little star," and a small starlike orb of light shines from the uncovered box while Jeremy looks at the Galaxy S4.
Enthusiasts can expect to see more of Jeremy's adventure, as the trailer, also marked "to be continued," will follow our secret messenger into his "big day."
© Copyright IBTimes 2023. All rights reserved.