Samsung Galaxy S5 Release Date Coming? Rumors Suggest Rugged Water-And-Dust Proof Device Right Out Of The Box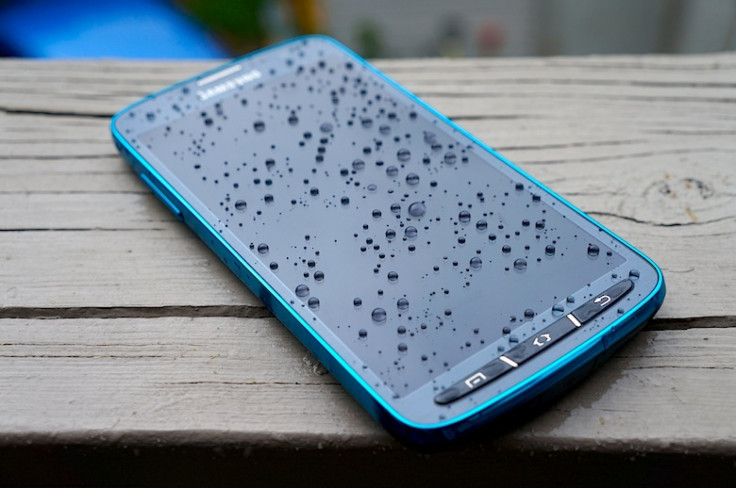 Samsung Galaxy S5 rumors indicate that the South Korean manufacturer plans on making some big changes to its premium line of smartphones with the upcoming Galaxy S5; the latest reports suggest the S5 will feature a rugged design right out of the box.
Sources have told Korean publication ETNews that the Samsung Galaxy S5 will be waterproof and dustproof, as is standard, similar to the Galaxy S4 Active. The Galaxy S4 Active debuted shortly after the original Galaxy S4, to rave reviews, much to Samsung's surprise reportedly. It appears customers appreciated the incorporation of metal into the Galaxy S4 Active design, which gives it a more premium look in comparison to Samsung's other polycarbonate-encased devices.
Murmurs indicate that a Samsung Galaxy Note 3 Active will also hit the market; however, Galaxy Note 3 Active will likely have a design slightly different from the original Galaxy Note 3, while the Galaxy S5 is expected to have a completely updated design and no Active version.
According to previous reports, Samsung is developing a new look for its premium handsets called "Design 3.0," in which future handsets such as the Galaxy S5 would feature an aluminum exterior. In addition, Samsung is reportedly shopping for suppliers to mass produce metal chasses for the Galaxy S5 prior to its rumored second-quarter 2014 release. More specifically, the Galaxy S5 is expected to be unveiled around March, similar to its predecessor the Galaxy S4.
Many have noted that a metal chassis would likely facilitate the incorporation of a rugged design on the Samsung Galaxy S5. On the Galaxy S4 Active, a metal rim around the polycarbonate casing aids in the ruggedness of the device. With an Ingress Protection rating of IP67, the Galaxy S4 Active is waterproof, dustproof and able to withstand various extreme conditions and is protected for up to 30 minutes in one meter of water. In addition, the S4 Active maintains specs similar to those seen on the original Galaxy S4 with the exception of having an 8-megapixel camera and TFT-LCD display as opposed to a 13-megapixel camera and Super AMOLED display.
Its similarity to the Galaxy S4 could indicate that Samsung's rugged devices have room for spec improvements. Other rumors suggest the Samsung Glaxy S5 will feature a 13-megapixel camera updated with Optical Image Stabilization and improved low-light photos. Rumors about future Samsung devices featuring curved and flexible displays have also been in heavy rotation.
It remains too early to determine the validity of the rugged Galaxy S5 rumor, and there has been no word from Samsung. But with many rugged rivals such as the Sony Xperia Z and Xperia Z1 already on the market, it would not be surprising if the Galaxy S5 also makes a water- and dustproof design standard.
Do you think the Samsung Galaxy S5 will be water- and dustproof? Let us know in the comments below.
Follow me on Twitter @FionnaatIBT.
© Copyright IBTimes 2023. All rights reserved.