Samsung Galaxy S6 Release Date: 10 Things To Consider Before Buying Your New Smartphone Friday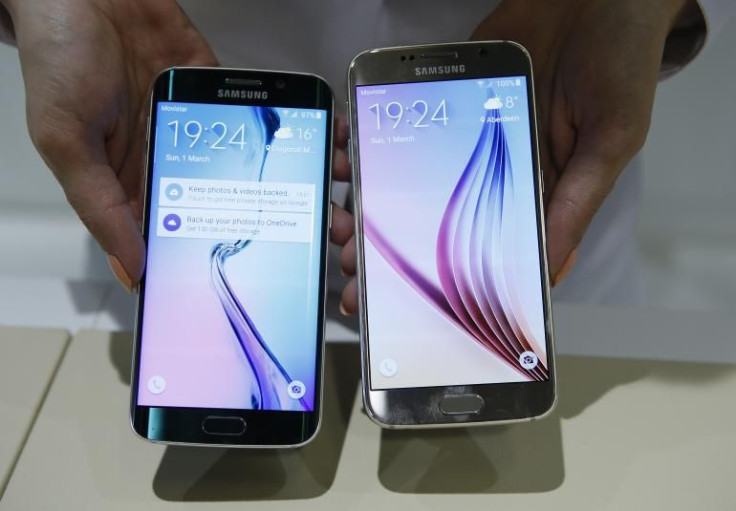 So you plan on buying the Samsung Galaxy S6 Friday. Before you head to your local retail store, get all the information you need to make a sound decision. First, check out the rundown of prices for the Galaxy S6 and its cousin, the Galaxy S6 Edge. Then see these other tidbits that will help you get the device you want on launch day.
There Won't Be Long Lines
Consumers are excited for the Galaxy S6 and Galaxy S6 Edge to go on sale, but this is no iPhone launch. There are no die-hard fans camped out in front of retail stores. If there is a line, it likely won't be very long. Customers purchasing on the first day should have no problem getting their hands on a Galaxy S6 and Galaxy S6 Edge handset.
Samsung Is Rolling Out The 'S-Carpet'
To commemorate the launch of its new device, Samsung is hosting an "S-Carpet" event at its flagship stores all over the world. In the U.S., fans can go to the Samsung Galaxy Studio in New York's SoHo district Friday at 12 p.m. to test out the S6 before buying, to get help setting up their new smartphones and to have a chance at winning prizes.
If You Preordered, It Should Be Arriving Now
Preordering the Galaxy S6 and Galaxy S6 Edge was the best way to ensure that you would receive your new smartphone before anyone else. In fact, many AT&T and T-Mobile customers have already gotten their handsets. Sprint Galaxy S6 models began shipping April 6, while Verizon models began shipping April 8, meaning those customers should receive their handsets between Thursday and Friday.
Don't Go Too Big
The Samsung Galaxy S6 and Galaxy S6 Edge will be available in 32GB, 64GB and 128GB storage options. However, the devices don't come with Samsung's usual removable back, which means they don't have expandable storage. That means customers should carefully consider how much internal storage they will need.
Most smartphone users would do fine with 32GB of internal storage, which is also the cheapest option for the Galaxy S6 and Galaxy S6 Edge. The 64GB and 128GB options do provide more storage, but they are also much more expensive. Depending on the carrier, the high-end Galaxy S6 and Galaxy S6 Edge approach or exceed $1,000. If you're going to splurge for one of the most expensive options, make sure you actually need the storage.
The Model You Want Might Not Be Available
There will be nine different models of the Samsung Galaxy S6 and Galaxy S6 Edge available in the U.S., varying by color and internal storage capacity. However, not all models will be available Friday. Many gold models, in particular, won't arrive until much later.
Currently, customers can preorder only the gold 64GB Galaxy S6 and Galaxy S6 Edge for AT&T, Sprint and T-Mobile, meaning the 64GB models will be the only gold models available on launch day. The gold Galaxy S6 and Galaxy S6 Edge for Verizon won't be available until May -- May 1 for the 64GB option and May 17 for the 32GB and 128GB options.
Don't Forget Your Rebate
The Verizon Galaxy S6 and Galaxy S6 Edge start at $199.99 and $299.99 respectively, but only after a $50 mail-in rebate. This means customers have to pay more upfront, starting at $249.99 for the S6 and $349 for the S6 Edge. Retailers that offer mail-in rebates are counting on customers' forgetting about them. So make sure to send your rebate in before it expires. Customers receive their rebates on a debit card, which may take up to six weeks to arrive. The rebate expires in 12 months.
Know The Deals
Carriers and retailers are offering many perks with purchases of the Samsung Galaxy S6 and Galaxy S6 Edge.
T-Mobile is offering a free one-year Netflix subscription to customers who order before Sunday. AT&T network is offering a $50 discount on a Samsung Gear Circle Bluetooth Stereo Headset with the purchase of either handset.
Verizon is offering a $130 discount on a Samsung Galaxy Tab 4 or a $250 discount on the Samsung Galaxy Tab S with the purchase of a Galaxy S6 or Galaxy S6 Edge. However, customers must sign a two-year contract for either tablet. Verizon is also offering a $100 credit to the customer's bill for any new smartphone activated on its Verizon Edge program, including the Galaxy S6 and Galaxy S6 Edge.
Best Buy is offering customers who preorder either the Galaxy S6 or Galaxy S6 Edge on AT&T, Verizon or Sprint a free Samsung wireless charging pad (regularly priced at $59.99). The offer runs until April 11.
Carriers Have Many Different Payment Options
For each mobile network, customers can choose among a two-year contract; an equipment payment plan, which allows them to pay off the value of a phone over 12, 18 or 24 months; or purchasing the device off-contract for its full retail price.
While a two-year contract is still an attractive option, many customers are lured to equipment payment plans because many of these offers include devices for no money down: T-Mobile has its Simple Choice plan, AT&T has its Next program, Verizon has its Edge program, and Sprint has its Easy Pay program.
Sprint also has its Sprint Unlimited Plus plan, under which customers can lease a device for 24 months, with the option to upgrade after 12.
Other New Flagships Are Releasing
You may have your heart set on the Samsung Galaxy S6 or Galaxy S6 Edge, but the HTC One M9 also goes on sale in stores Friday. The smartphone is $199.99 with a two-year contract and $649 off contract and also comes with HTC's "Uh Oh Protection." The warranty offers a one-time free phone replacement within the first 12 months in the event of a crack or water damage. It also covers replacements for a user who chooses to switch mobile networks and needs a compatible phone.
The HTC One M9 features a 5-inch full HD (1920 × 1080 resolution) display, a Qualcomm Snapdragon 810 chip, 3GB of RAM memory and 32GB of internal storage, as well as a 2840 mAh battery. HTC says the battery provides as much as 21.7 hours of talk time and as much as 402 hours of standby time on a 3G network.
Older Devices Are Getting Discounts
Now is also a great time to consider an older Galaxy model, like the Samsung Galaxy S5, which is now being discounted at several carriers and retailers. Many are offering the Galaxy S5 for between $79.99 and $99.99 with a two-year contract, but AT&T is currently offering the device for free and Amazon.com is selling it for 1 cent.
© Copyright IBTimes 2023. All rights reserved.