Samsung Galaxy S8 Unveiled Specs: Blue Color Leaks Ahead Of Release Date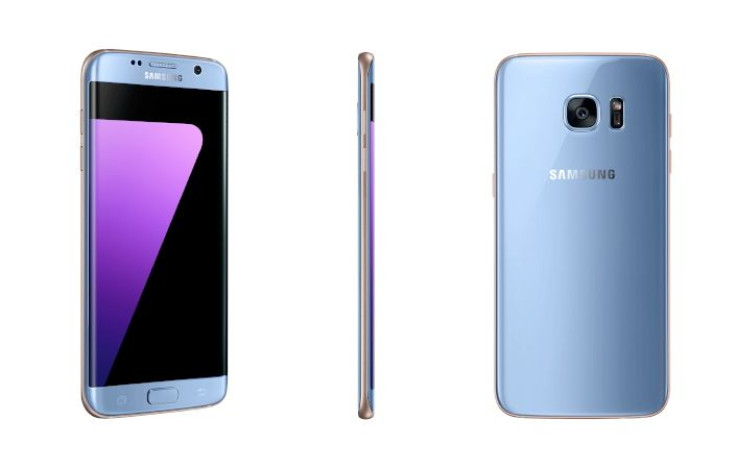 A new report suggests that the Galaxy S8 may release in a Blue Coral color option, despite indications of the contrary. A new leak shows the upcoming smartphone in a front-facing position, but even from this angle, the Blue edges are visible.
So far, rumors and leaks have indicated the Galaxy S8 might be available in black, silver and gray color options, and possibly also purple. However, there has been no word of a blue option until now.
The Blue Coral color option was introduced on the Galaxy Note 7 in August 2016; however, the smartphone was quickly discontinued in October 2016 due to battery defects. The shimmery light blue color proved to be a consumer favorite during its short time on the market. This prompted Samsung to release its Galaxy E7 Edge in a Blue Coral option. The Galaxy S7 Edge and Galaxy Note 7 are very similar in design, both featuring a dual-edge display and thin curvy frame, making the S7 Edge the perfect candidate to continue the color.
The Galaxy S8 and Galaxy S8 Plus are both expected to feature dual-edge displays and to be phablet-sized devices. The Galaxy S8 may have a 5.8-inch display while having the size of the Galaxy S7 Edge. The Galaxy S8 Plus may have a 6.2-inch display while having the size of the Galaxy Note 7. Samsung is expected to remove the home button from these devices and thin their bezels, to open up the display real estate and allow for a larger display on a smaller device.
The Galaxy S8 is expected to feature black front panel while having its specific color option displayed on its side and back panels. Sources indicate the new blue color options may be called Violet Blue. Other color options will be called Black Sky, Arctic Silver, and Orchid Gray. A rumored purple option may be called Amethyst Purple. Recent leaks and reports have also suggested a gold color option and a white color option. Both are typical colors for Samsung.
While no details are confirmed about the Galaxy S8, Samsung is expected to unveil the device Wednesday at an Unpacked event in New York City.
​
© Copyright IBTimes 2023. All rights reserved.