Samsung Galaxy A Series Announced: Metal Galaxy A5 And Galaxy A3 Tipped To Spearhead Samsung's Comeback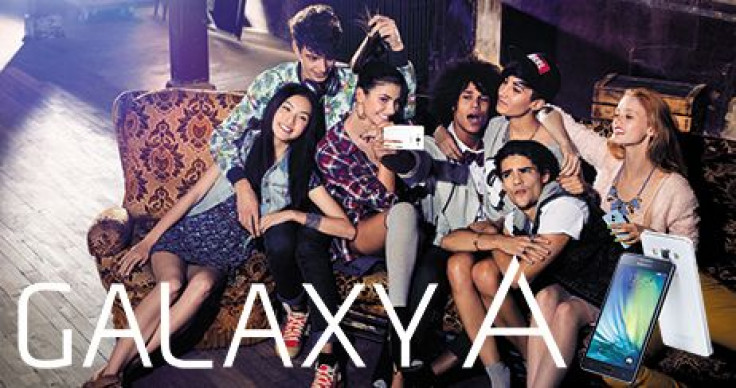 Samsung Electronics Co. rolled out two new metal-framed smartphones Friday, the Galaxy A5 and Galaxy A3 in hopes of turning around a sales decline -- particularly in emerging markets. The phones, aimed at young, photography and social media driven consumers, make liberal use of metal but they're priced for mid-range buyers, expected to be about $300 without a contract.
Faced with declining sales and competition from domestic Chinese and Indian manufacturers in particular, Samsung is looking toward the Galaxy A5 and Galaxy A3 to turn the market ties in its favor. Though price and availability details have not yet been announced, the Galaxy A5 and Galaxy A3 are expected to launch in November, likely launching first in China also emerging markets like India, Indonesia and Brazil, where up and coming smartphone makers like Xiaomi are already making headway.
The Galaxy A5 and Galaxy A3 are some of Samsung's slimmest devices, at 6.7mm and 6.9mm thin, respectively. The devices will be available in colors including Pearl White, Midnight Black, Platinum Silver, Soft Pink, Light Blue and Champagne Gold. Like the recently released Galaxy Note 4 and Galaxy Alpha, the devices include metal frames with removable plastic back panels.
Samsung has also jumped on the selfie phone bandwagon, equipping the devices with a 5-megapixel front camera and selfie-focused camera features including Wide Selfie, Palm Selfie, Animated GIF, Beauty Face Features, and Rear-cam Selfie. In addition, the Galaxy A5 has a 13-megapixel rear camera while the Galaxy A3 has an 8-megapixel rear camera.
Other hardware specifications are standard for Samsung's mid-range. The Galaxy A5 includes a 5-inch HD Super AMOLED display and 1.2GHz Quad-Core Processor, 2GB RAM and 16GB Internal memory and a 2,300 mAh battery.
The Galaxy A3 includes a 4.5-inch qHD Super AMOLED display and 1.2GHz Quad-Core Processor, 1GB RAM and 16GB Internal memory and a 1,900 mAh battery. Both devices run the Android 4.4.4 KitKat operating system.
<div style='width:100%;max-width:600px;margin:0 auto;'><iframe src='//smartphones.findthebest.com/w/iIoWL80Oo6x' width='600' height='400' frameborder=0 scrolling='no' style='position:static;vertical-align:top;max-width:100%;min-height:400px;'></iframe><div style='text-align:center;'><a target='_blank' href='http://smartphones.findthebest.com' style='font:10px/14px arial;color:#3d3d3d;'>Samsung Galaxy A3 vs A5 | FindTheBest</a></div></div>
© Copyright IBTimes 2023. All rights reserved.