Samsung Galaxy Watch Active 2 Could Feature Touch-Enabled Bezel, Bluetooth 5.0
Samsung's Galaxy Watch Active 2 is coming with a touch-enabled bezel in lieu of a rotating bezel, according to a new report. It is also believed to have Bluetooth 5.0, a first for Samsung.
Previous reports revealed how the upcoming Galaxy Watch Active 2 will compete with Apple's health-focused Apple Watch Series 4. It is expected to come with ECG and Afib notifications features. It is also expected to come in two sizes, 40mm and 44mm. As per usual, the smarwatch will have a WiFi only version and an LTE version.
There's a bezel after all
One key feature Samsung's smartwatches are known for isn't found on the Galaxy Watch Active 2: a rotating bezel. This rotating bezel allows users to navigate around the Galaxy Watch's apps and functions. Doing things with the Galaxy Watch would then be "considerably clunkier" without the rotating bezel, Engadget noted.
Thankfully, Samsung has an even better plan for the Galaxy Watch Active 2. According to Sammobile, the South Korea giant will use a "Touch Bezel" on the upcoming wearable device in lieu of the physical rotating bezel. With this, users won't have to rotate a wheel to navigate anymore — all they have to do is swipe their fingers on the device's smooth bezel to navigate the UI.
The new touch bezel, which Apple's major rival trademarked as "digital bezel," will allow the Galaxy Watch Active 2 to look different from Samsung's other Galaxy smartwatches while also providing users with an intuitive way to use the device.
Bluetooth 5.0
The Galaxy Watch Active 2 will also be the tech company's first smartwatch to feature Bluetooth 5.0, which has greater range compared to Bluetooth 4.2, consumes less power, and allows users to connect up to two Bluetooth audio devices.
These features will help users in a variety of ways. With its increased range (up to 240 meters), users will be able to receive calls or text notifications even when their smartphones are in the far side of the home or office building. Pairing the LTE version with two sets of wireless headphones will also allow the user to take and receive calls without having to put their smartwatch close to their head.
Samsung is expected to reveal the Galaxy Watch Active 2 soon. Stay tuned for more updates.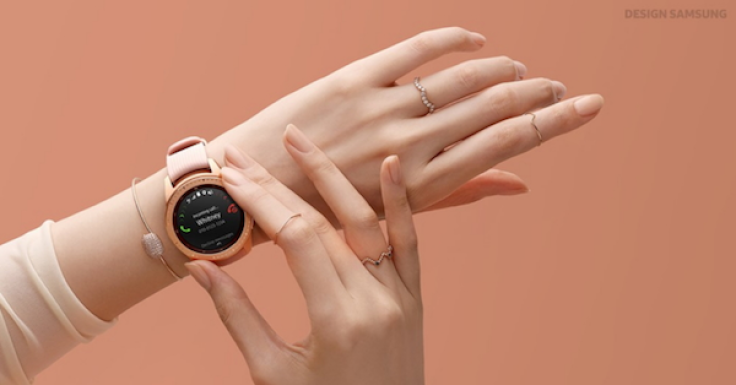 © Copyright IBTimes 2023. All rights reserved.