Samsung Pay Vs. Apple Pay Vs. Google Wallet: Why Magnetic Tech Gives Samsung An Advantage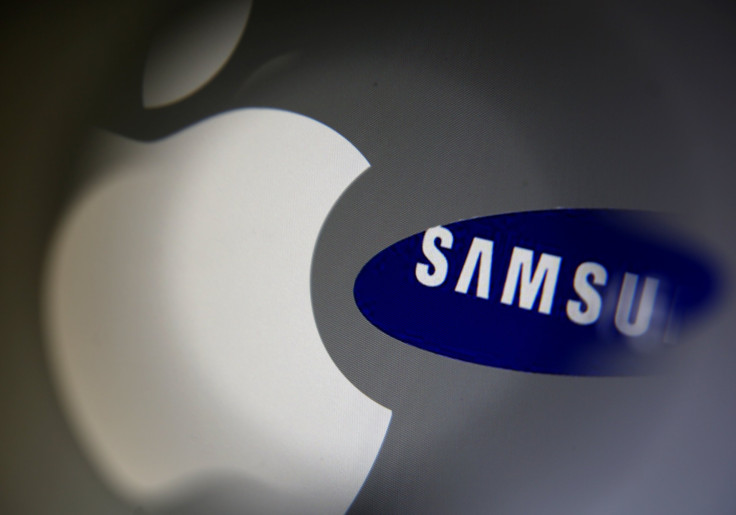 "Pick a card, any card." With the launch of Samsung Pay, along with the Galaxy S6, the Korean electronics giant joins Apple and Google with a competing system that will make paying for things with a smartphone easier than ever.
But Samsung's Galaxy S6 has an advantage: Its magnetic transmission technology allows the phone to pretend it's a credit card, meaning more merchants will be able to accept mobile payments.
Apple Pay, which accounts for 1 percent of digital payments, according to ITG Research, has a head start and the advantage of locking in millions of iPhone users around the globe. Android is a little tougher. Samsung, the largest maker of Android-powered phones, will pre-install Samsung Pay on its devices. But users can still chose Google Wallet, which will be pre-installed in the U.S. on phones sold by AT&T, Verizon and T-Mobile.
Barely a blip on the radar for years, the mobile payment market has grown to $50 billion in 2014 and is expected to reach $142 billion by 2019, according to research firm Forrester. But how will smartphone users decide what to use? Here's a primer:
Samsung Pay
With the launch of the Galaxy S6 and S6 edge, Samsung is getting into the payments game with Samsung Pay, which uses both near-field communication (NFC) and magnetic secure transmission (MST) technology. The latter was acquired by Samsung when it purchased LoopPay earlier this month.
By supporting NFC, Samsung Pay enables mobile payments through commonly found tap and pay terminals. And in cases where only older terminals are available, Samsung Pay can use MST to emulate a swipe made by a traditional magstripe credit card, potentially opening up its use to 30 million merchants worldwide, according to the company.
MST provides a stopgap solution for mobile payments by covering merchants that continue to use magstripe readers as their primary way for making mobile payments. But in the U.S., its actual need may be limited as retailers scramble to meet an October deadline to replace older terminals with ones that are "chip" EMV-compatible, a technology that has been in used in Europe and Asia for years. In addition to adding support for chip cards, many of these terminals come with NFC built in, negating the need for a magnetic mobile payment technology.
Where Samsung does have an advantage over Apple Pay is its wider support of payment cards. At launch it will have support from Mastercard and Visa, as well as Chase, Bank of America, Citi and U.S. Bank. In addition, Samsung Pay will support private-label credit cards, such as Pep Boys- and LensCrafters-branded cards issued through Synchrony Financial and First Data Corp.
Once it officially launches with the release of the Galaxy S6 and S6 Edge, Samsung Pay will be supported in the U.S. and South Korea, with an expansion to Europe and China slated for a later date. But unlike Apple Pay, which is the only NFC mobile payment system for iOS devices, Samsung Pay will also have to contend against Google and its new partnership with Softcard.
Apple Pay
Announced in September and officially launched a month later, Apple Pay is the iPhone maker's first foray into a mobile payment system for its iPhones, iPads and soon Apple Watch as well. Using NFC technology, Apple Pay enables users to pay for purchases by holding up their iPhones with a finger on the Touch ID sensor. This all happens without the need to open an additional app or even wake the display. In addition, the service can also be integrated into apps so users can use Apple Pay to make purchases just about anywhere within iOS.
Since the launch of Apple Pay, support for the service has steadily grown, with 750 banks and credit unions now looking to partner with Apple and its mobile payment service. And since October, it has accounted for two out of every three dollars spent through contactless payments on American Express, Visa and Mastercard, according to Apple CEO Tim Cook.
Currently available in the U.S., Apple Pay is expected to expand overseas to Europe and China later this year. But for the latter, the company has reportedly run into regulatory hurdles as well as stalled negotiations with China UnionPay, the country's credit card network.
Android Pay/Google Wallet
Introduced in 2011, Google Wallet was one of the first NFC payment systems on the market, but its adoption rate was slow as best, partly due to the lack of support from carriers, who actively blocked the service in favor of Softcard -- formerly known as ISIS.
Recently that dynamic has changed, with Google partnering with the carrier-backed service, while also purchasing some of its technology in the process. And with their support, Google Wallet will be pre-installed on Android devices sold by U.S. carriers, T-Mobile, AT&T and Verizon, starting later this year.
Beyond Wallet, Google is also looking to expand its presence in the mobile payment space through Android Pay. Announced at Mobile World Congress 2015 in Barcelona on Monday by Google SVP Sundar Pichai, Android Pay isn't necessarily a new product aimed at users, but rather an application program interface (API) that allows developers to build payment into their apps, similar to how Apple Pay works.
Not much else is known about the service at this time. But Google is expected to reveal more during its annual I/O developer conference in May.
© Copyright IBTimes 2022. All rights reserved.
FOLLOW MORE IBT NEWS ON THE BELOW CHANNELS