Samsung's Pay Cash And International Money Transfer: 5 Reasons Users Have An Edge After Update
Mobile phone giant Samsung rolled out its latest update for the Samsung Pay Cash app beta program with two new major variations, the Pay Cash card and international money transfer option, in the U.S. on Oct. 3. It looks as if Samsung is looking to rival Apple Pay Cash and Google pay with the move.
The Samsung Pay app is already known for its versatility as it supports Magnetic Secure Transmission (MST), NFC, PayPal, credit cards and also offers customers cashback and rewards. Along with that, Samsung has decided to update its payment app and introduce two new features in the beta version, the Samsung Pay Cash virtual debit card and integration of Travelex for international money transfer around the globe.
Samsung Care Ambassador Rydah announced the rollout of the update on Twitter, stating "Sending and receiving funds directly within Samsung Pay is now possible and easy to use! The best part is, Samsung Pay works almost anywhere you swipe."
Here are the five reasons Samsung users could be enjoying an edge over other payment apps:
1. Samsung charges $0.25 for transactions: Samsung users enjoy a clear edge in the payment apps segment as the company aims to charge a $0.25 fee whereas its rivals stick to a 3 percent charge.
2. Travelex Money Transfer: With the integration of Travelex, users can enjoy overseas money transfers and currency exchange in several countries around the world. Samsung allows users to choose between a direct bank transfer, a "premium" transfer service or start a cash pickup process and convert it to several supported currencies.
3. More tools: With rivals like Google Pay that enjoy a large base of customers due to sheer compatibility with all android phones, Samsung retaliates with more tools for the customers. Samsung Pay supports MST, NFC, PayPal and credit cards for payment and even gives cashback rewards.
4. Availability at places with a swipe machine: Samsung announced that its payment service app will be accepted at almost all places with a swipe machine aiming to provide ease of transaction at convenient locations for users. Additionally, more than a thousand banks and credit card unions support Samsung Pay.
5. Security: Samsung Pay's security features are based on the company's security enterprise Samsung Knox and ARM TrustZone Technologies. Customer information like credit card details is secured in a token specific to a person. The user end is secured with a passcode, fingerprint or Iris scan.
Samsung Pay Cash and international money transfers are available for Samsung Pay beta users in the United States. It is expected to be available in other territories eventually.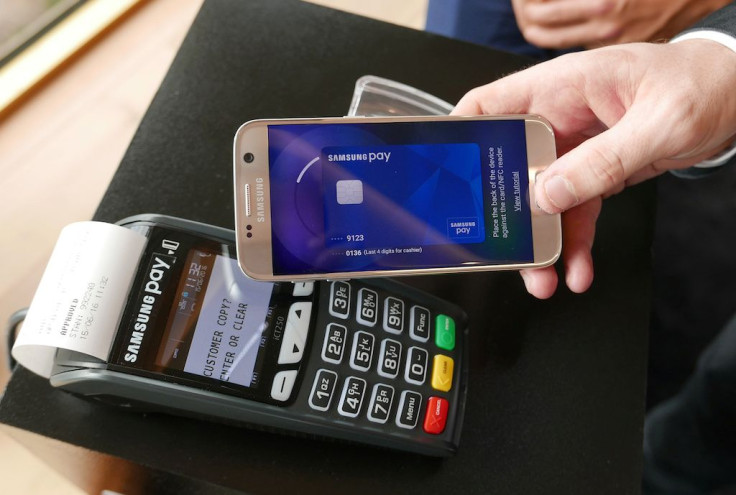 © Copyright IBTimes 2023. All rights reserved.