San Bernardino Shooting Update: FBI Raids House Of Syed Farook's Friend Who May Have Provided The Guns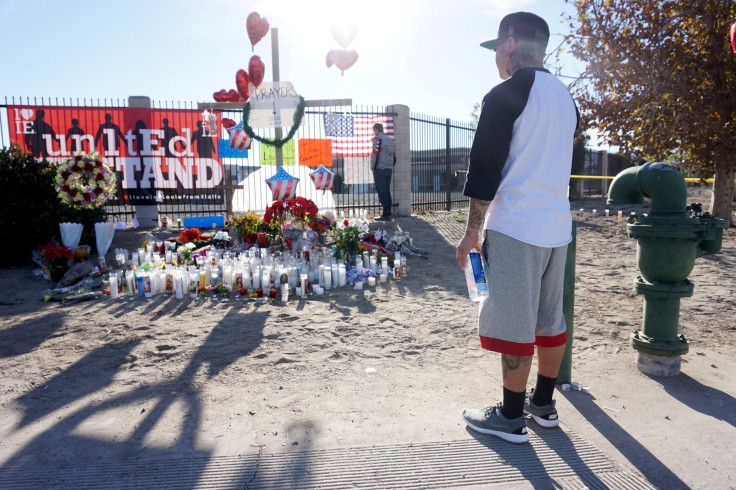 The FBI has raided a house of a man named Enrique Marquez, who is believed to have bought the assault rifles used by the suspects in the shootings at a San Bernardino government healthcare center, killing 14 people Wednesday. Marquez, who is believed to have been a childhood friend of suspect Syed Farook, was not present at the house during the raid and has not been charged with a crime yet.
The raid took place Saturday at the house on Tomlinson Avenue in Riverside, California, and next door to the house where Farook grew up. Farook and his wife Tashfeen Malik most recently lived in Redlands, a community that lies about 30 miles northeast of Riverside.
An FBI official also told NBC News that Marquez is not currently a suspect in the case, but during the raid, agents cut open the door to the garage with blow torches and used bomb-sniffing dogs. The officials also reportedly detained Marquez' father and younger brother, and according to NBC, the father told officials that he did not know the whereabouts of his son. It was not clear if Marquez had legal representation, the Wall Street Journal reported.
FBI officials reportedly said that the assault weapons were initially bought by Marquez in 2011 and 2012. However, officials don't know if Marquez acquired the guns on behalf of Farook. A neighbor, who witnessed the raid, told NBC that Farook and Marquez were childhood friends but had grown apart over the last few years.
"They weren't the kids that ran around with everyone else in the neighborhood," Sarah Allen, who lived on the same street as Farook most of her life, said according to the Journal. "They were a quiet family," Allen added, referring to Farook's family.
A law enforcement official told the Journal that Farook and his wife, who were shot dead by police after the attack that killed 14 people and injured 21, were armed with four guns they purchased over three years ago. Although the guns were bought legally, the alterations made to two of them are considered illegal in California.
Even as investigators attempt to get more details about Malik's personal life, the Islamic State group described the couple as "followers" of the organization. However, the group, also known as ISIS, did not say if it had ordered the attack in San Bernardino.
According to a report by the Guardian, the personal history of the 29-year-old Malik -- who entered the U.S in 2014 on a K-1 visa issued for fiancées -- is not transparent enough. A report Saturday cited Malik's relatives as saying that she and her father were radicalized in Saudi Arabia, and that they cut off connections with their family due to a feud over an inheritance. Malik and Farook have a six-month-old daughter together.
The latest shooting incident has triggered widespread debate over gun control laws in the U.S. and President Barack Obama is set to address the country Sunday over the investigation into the shooting.
"It is entirely possible that these two attackers were radicalized to commit this act of terror," Obama reportedly said Saturday, adding: "We know that ISIL (Islamic State) and other terrorist groups are actively encouraging people -- around the world and in our country -- to commit terrible acts of violence, often times as lone wolf actors.
"All of us -- government, law enforcement, communities, faith leaders -- need to work together to prevent people from falling victim to these hateful ideologies," Obama added.
© Copyright IBTimes 2023. All rights reserved.
FOLLOW MORE IBT NEWS ON THE BELOW CHANNELS