Sanduk Ruit: Nepal's Magic Surgeon Brings Light Back To Poor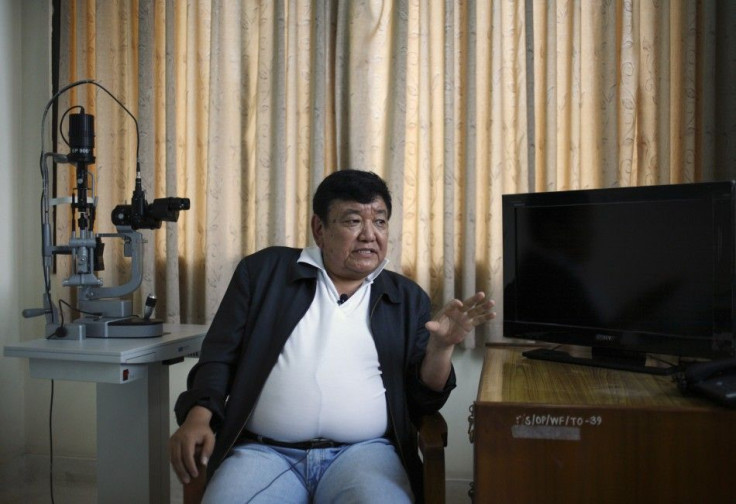 KATHMANDU (Reuters) - Dressed in his hospital scrubs, Sanduk Ruit looks into the eyes of a patient through a microscope hanging over an operating table.
He makes two tiny holes in one eye, takes out a jelly-like mass of natural lens and replaces it with an artificial one that fits snugly into the patient's eye, all in about five minutes, deftly moving his fingers clad in thin white gloves.
The patient is then moved away swiftly, without any stitches, and Ruit repeats the process to remove cataracts - a leading cause of blindness in Nepal - from the eyes of another person.
The simple operation pioneered by Ruit, a Nepali national, at the Tilganga Eye Centre in Kathmandu has benefited tens of thousands of people in Nepal and other countries in Asia and Africa, where surgical teams from the center provide much needed care in field camps.
We are trying to set up a model of how you can conduct a very high quality prevention of blindness program at low cost and make it sustainable, said Ruit, the center's founder and medical director. If you can do it in Nepal it can be done anywhere in the world.
Ruit said an estimated 20 million people were blind from cataracts globally. Another 60 million are at various stages of blindness, many of them in developing countries and unable to afford expensive surgery to restore their sight.
Ruit and his team of doctors at the center have developed a simple surgical technique involving little equipment and instruments that can be used manually. No stitches are needed, and the technique can be used on a simple table in field camps.
Low cost acrylic lenses - called intraocular lenses - are produced at the center's laboratory by workers wearing bio-safe masks, helping bring the cost down to $4 per lens from more than $100 apiece for the imported kind used previously.
The center produces about 350,000 lenses annually, selling them in other nations, with the income helping pay its costs.
WITHIN REACH OF ALL
One operation, which could cost up to $3,000 in the West, costs less than $300 even for the richest person in Nepal. The average cost is $115, and those who cannot pay get the same service for free.
The beauty of this is that it allows us leverage to cover the costs for the poor, a sort of cross subsidy, said Ruit, 56, who studied in India. I am trying to duplicate what we are doing here in other countries.
Doctors at the centre train foreign surgeons who, in turn, replicate the technique in their own countries.
Getting such training in developed countries is both expensive and difficult. But it is easy and nice here, said Ethiopian doctor Fikru Melka, 49.
Australia's Fred Hollows Foundation, which helped set up the lens production facility, and the Himalaya Cataract Project based in Salt Lake City, Utah, also support the center.
Ruit has personally conducted nearly 125,000 operations including in free field camps in Nepal and other countries like North Korea, China, Indonesia, India, Ghana and Nigeria.
Like a magician, he has given back my sight, said Krishna Kant Paudel, 81. It was the first time in four years that he could see.
I will come back to get my second cataract removed soon, he said.
About 150,000 of Nepal's 26.6 million people are estimated to be blind in both eyes, most of them with cataracts. But treating them is often a challenge given the country's poverty and people's superstitions.
Nearly one quarter of the Nepalis live on a daily income of less than $1.25 and the cost of the surgery - even as low as it is - can still be a burden.
Moreover, some people are also loathe to seek treatment, thinking that blindness is a punishment for something wrong they might have done in their previous lives.
Still, headway is being made and the results can be awe inspiring. Ruit recalled how he was moved by a woman who had given birth to a baby boy when she was blind but saw her son for the first time when he was 4-years-old after surgery in a field camp in eastern Nepal.
She looked at the child for a few moments, then jumped to grab him, wept tears of joy and began kissing him, Ruit said, eyes glinting with emotion.
I was totally moved by the expression of her face. This is the power of such a simple surgical intervention, he said.
(Editing by Elaine Lies and Bob Tourtellotte)
© Copyright Thomson Reuters 2023. All rights reserved.