SAT vs. ACT: Facts To Help Decide Which College Entrance Exam You Should Take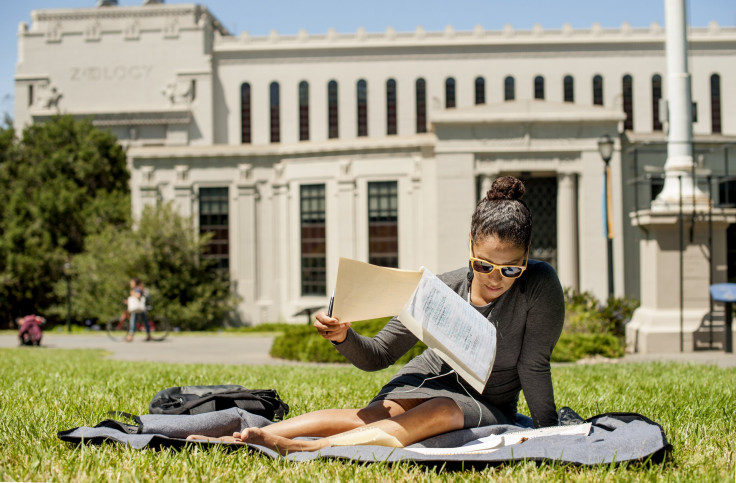 As many university admissions offices close their application periods this month, a new wave of students are starting the process. High school juniors typically take standardized tests like the ACT and SAT in the spring of their 11th grade year, and both have upcoming registration deadlines for their January exam dates.
"They are very different tests, and the important thing for parents and students is to consider both," said Christine Brown, the executive director of K-12 and college prep programs for Kaplan. "The SAT has historically been more of an aptitude test and less of an achievement test."
Do admissions officers prefer one over the other? "The answer really is no," Brown said. "They're viewed equally."
So which one should you or your child take? Here are the two tests broken down:
Cost
The ACT without writing costs $38. With writing, it's $54.50. That includes score reports for you, your high school and four colleges. It's free to view your scores online. The SAT costs $52.50 and includes reports for you, your high school and four colleges. Basic registration for SAT Subject Tests costs $26, according to the College Board.
Dates
The ACT will be offered on Feb. 7 (late registration through Jan. 16), April 18 (registration deadline March 13) and June 13 (registration deadline May 8). Upcoming SAT dates include Jan. 24 (late registration through Tuesday), March 14 (registration deadline Feb. 13), May 2 (registration deadline April 6) and June 6 (registration deadline May 8).
Length
The ACT takes 3 hours and 25 minutes with the writing test, while the SAT is slightly longer at 3 hours and 45 minutes. The ACT has four sections -- English, math, reading and science -- students take one at a time. The writing test, if you choose it, takes place at the end, according to the Princeton Review. The SAT covers three topics -- critical reading, math and writing -- but breaks them up into 10 sections.
Subjects
The ACT has a science section, and the SAT does not. The science questions don't require in-depth knowledge of biology or chemistry. Instead, they test your reasoning and analysis skills by having you read charts and graphs.
Both exams test basic math, algebra and geometry. The ACT adds trigonometry.
Both exams test vocabulary, but the SAT focuses more on it. The ACT is usually more straightforward in the wording of its questions. The ACT tends to be more centered around content.
Scoring
The ACT is scored on a scale of 1 to 36. There's no penalty for guessing. The SAT is scored on a 2,400-point scale (it will change back to a 1,600-point scale in 2016, but don't worry about that now). If you guess an incorrect answer, a quarter of a point is subtracted from your score.
Use by Colleges
Though the SAT was the more popular of the two for years, that's no longer the case. The SAT is widely accepted by schools, and as of 2007, all four-year colleges and universities in the U.S. take ACT scores.
Some Ivy League schools require SAT subject tests in addition to an entrance exam, said David Hawkins, executive director for educational content and policy with the National Association for College Admission Counseling. But those could be paired with an ACT score. So, again: Colleges don't care which you take.
Popularity
About 1.7 million students in the class of 2014 took the SAT. About 1.8 million took the ACT in 2014. The ACT's numbers overtook the SAT in 2012, the Washington Post reported, but both are growing. The trend of Midwestern students taking the ACT and East Coast students taking the SAT is long over. "There's no geographic boundary any more," Hawkins said.
A third of respondents to a 2014 Kaplan survey said they thought the SAT was accepted by more schools, which isn't true. About a quarter of them took the SAT over the ACT because their friends took it, and 16 percent said they liked the SAT better. Guidance counselors urged one over the other in only 5 percent of cases.
The Future
The ACT has begun testing a digital version of its exam. About 4,000 students tried it last year, and the number is expected to rise this year. Right now, only a limited group of high schools that administer state and district ACT testing for all students have access to the online ACT. In 2016, this is expected to expand to all high schools that administer state and district testing. There's no timeline on when the online ACT option will open up to the public.
If you're chosen to take it, the online ACT will let you mark questions to come back to at the end of your section and strike out answer choices, according to U.S. News and World Report. Revising essays will also be easier.
The College Board has begun testing a digital version of the SAT, as well. The SAT is undergoing an overhaul that will affect students taking the test in 2016 and on. The redesigned SAT will, among other changes, include passages from documents, use more practical vocabulary and ban calculators on certain math sections. It will return to a 1,600-point scoring scale, the essay will become optional and deductions for wrong answers will be eliminated, Time reported.
Brown said the SAT makeover will likely drive more class of 2017 students to take the ACT next year. "The ACT is going to be much more of a known quantity," she said.
Taking Both/Neither
Brown recommended students focus on studying for one test, not both. It's hard to say which kind of student will do better on which test, so she said juniors should take practice tests online to see if they like the ACT or SAT better. In the event you do take them both, here's a handy score-conversion chart.
But -- surprise! -- you don't have to take either test in order to go to college. Wake Forest University, in Winston-Salem, N.C.; Colorado College, in Colorado Springs, Colorado; Bowdoin College, in Brunswick, Maine; Bryn Mawr College, in Bryn Mawr, Pennsylvania; Smith College, in Northampton, Massachusetts; and Wesleyan University, in Middletown, Connecticut, are among schools that don't require standardized tests for admission. Here's a full list.
Based on this information, you should take the SAT if you:
require lots of breaks

like moving between subjects

really hate science

love vocabulary and writing
That means you should take the ACT if you:
want a slightly shorter test

like science and trigonometry

tend to guess answers on tests

are trying to save money
© Copyright IBTimes 2023. All rights reserved.
FOLLOW MORE IBT NEWS ON THE BELOW CHANNELS