SAT Test 2014: Number Of International Students Taking College Admission Exam Doubles, Student Visa Applications Up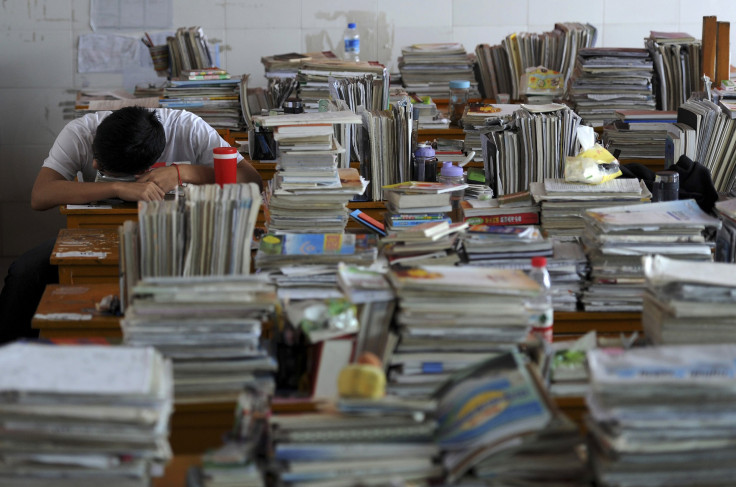 The number of international students taking the SAT doubled in the past eight years, falling in line with a growing trend that has seen a record number of students from abroad come to the United States for college. More than 300,000 international students took SATs in more than 175 countries last year, according to the College Board, which administers the test.
At the same time, student visa numbers have grown, signaling international students are increasingly flocking to the U.S. Last year, about 534,300 F-1 visas were issued, about 47,000 more than in 2012. Ten years ago, only about 219,000 F-1 visas were issued, according to data from the U.S. State Department.
The trend has proven especially profitable for test prep companies. The Princeton Review saw a steady growth in international students seeking assistance, said international Vice President Steven Chou, especially in China, India and South Korea. Often, the students sought help because the U.S. education system differed significantly from theirs. "U.S. education is still viewed as the most desirable and really in the forefront of education worldwide," Chou said.
Nearly a third of the 819,644 international students who came to study in the United States -- 235,597 -- were from China, making it the top place of origin for students during the 2012-13 school year. India followed with 12 percent and 96,754 students. South Korea came in third with 9 percent and 70,627 students, according to the Institute of International Education in New York. The most growth in recent years came from Kuwait, Saudi Arabia and Iran.
The top destinations for international students were New York, California and Texas. Those three states hosted 32 percent of all international students, according to the institute.
International students were following a global trend of more people overall taking both the SAT and ACT, The New York Times reported. With its science section, the ACT was often seen as the easier of the tests for international students, and the SAT's upcoming format changes, including the inclusion of U.S. history documents as reading material, could deepen that perception.
International SAT testing took place at about 1,000 test centers outside the U.S. Foreign students take the same exam as domestic students, College Board spokesman Zachary Goldberg wrote in an email to International Business Times. Questions and answers are in English.
Universities and colleges are also benefiting from the increase of foreign students, who often pay higher tuition fees. The Florida Institute of Technology in Melbourne, Florida, which had the second-highest percentage of international students in the U.S., has seen nearly quadruple the number of international applicants, admissions counselor Marivi Walker told International Business Times.
The New School in New York, where 31 percent of students are international, attributed the increase in international applications in part to ramped-up recruitment, said Heather Fomin, senior director for undergraduate enrollment. U.S. student enrollment in college declined while the economy recovered in recent years, so the school shifted its outreach strategies. "You have to find students somewhere," she told IBTimes. "We know we're not going to get them from the U.S. -- they don't exist. So you have to go and find students elsewhere."
Some international students may be taking the SAT unnecessarily. Education content provider Peterson's listed taking the SAT as the first thing an international student should do when thinking about applying to college in the states. "The SAT is integral to your dreams of studying abroad," according to StudyUSA.com.
This means when Florida Institute of Technology does outreach overseas, prospective students often ask about the SAT -- even though it's not required for admission. "Students take it because they believe they have to take it," Walker said.
The University of Tulsa in Oklahoma, where 26 percent of the student body is international, also does not require an SAT score as part of its application, said Pam Smith, dean of international student services. But many students include it anyway. "They think that it's going to strengthen their application," she said, and with some schools, "they could be right."
© Copyright IBTimes 2022. All rights reserved.
FOLLOW MORE IBT NEWS ON THE BELOW CHANNELS