Satya Nadella, Microsoft's CEO, Receives $84M Package In 2014, Says No Gender Pay Difference At Company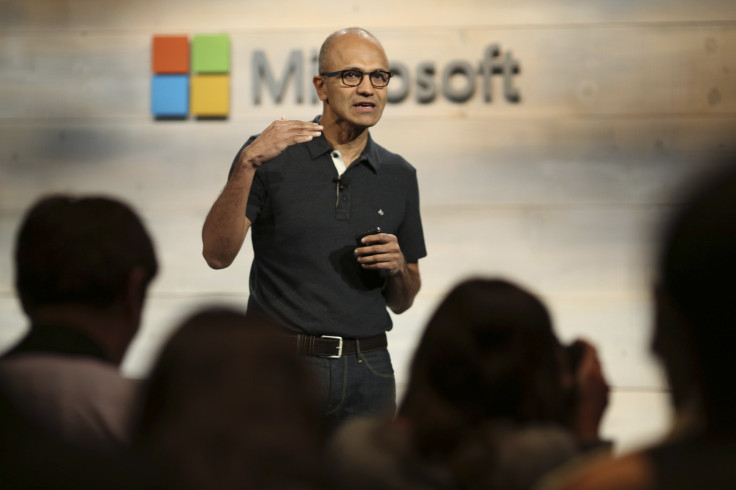 Microsoft CEO Satya Nadella, who recently courted controversy after advising women not to ask for a pay hike, received a compensation package worth over $80 million in 2014, making him one of the technology industry's top earners. The outsize number mostly includes the estimated value of one-time stock awards, valued at $79.8 million.
According to a document filed with regulators on Monday, Nadella received a package worth $84.3 million this year, Reuters reported. Nadella received the stock awards when he took over as Microsoft's CEO earlier this year, along with a basic salary of $919,000 and a $3.6 million bonus, The Telegraph reported. According to the report, the stock options include a "special retention award" worth $13.5 million and a long-term stock performance award worth up to $52.9 million. The latter two stock awards will be only paid to Nadella by 2021.
Nadella, who is still struggling to recover from the barrage of criticism generated by his comment earlier this month that women should rely on "karma" to be adequately compensated rather than ask for pay hikes, also said Monday that women were paid as much as men at his company.
"I checked that it is something that we are enforcing," Reuters quoted Nadella as saying. "We are in fact in good shape. Men and women get paid equally at Microsoft."
However, Nadella's latest statement is not supported by numbers provided by employer review website Glassdoor, which suggests that men apparently earn more than women at Microsoft while doing a similar job.
According to Glassdoor, a male senior software development engineer at Microsoft earns about $137,000 a year, compared with about $129,000 paid to women. Official figures, recently released by Microsoft, also suggest that only 29 percent of the company's more than 100,000 employees are female, highlighting the wide gender gap at technology companies.
"We have made some progress. We have a lot more to do," Nadella said Monday, referring to this gap that companies like Microsoft and others are working to narrow, according to Reuters.
© Copyright IBTimes 2023. All rights reserved.