Scotland's Portrait Gallery Fulfils 120-yr-Old Dream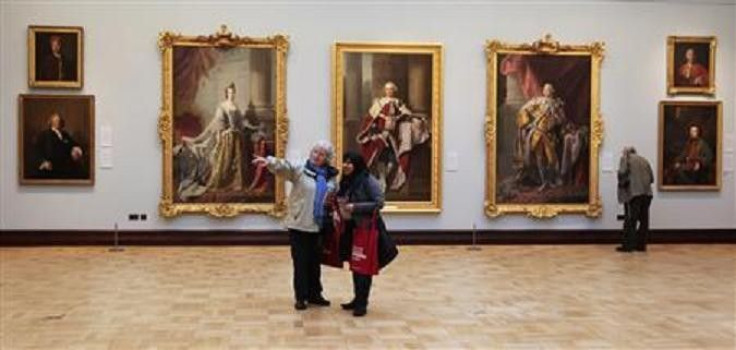 (Reuters) - Scotland's National Portrait Gallery reopens on Thursday after a 17.6 million-pound ($27 million) renovation that finally fulfils the dreams of its architect when it first opened its doors 120 years ago.
It is the second multi-million pound artistic project to be completed in the Scottish capital this year - both on budget and on time.
The National Museum of Scotland reopened its doors in July in all its Victorian glory after a 47-million-pound makeover gave it a spectacular boost into the 21st century. The museum said more than a million visitors have passed through its doors since they reopened.
Portrait Gallery Director James Holloway and museum chief Gordon Rintoul both said the successful completion of the renovations was down to careful prior planning and sticking strictly to the plans and budgets.
This is in stark contrast to two other huge projects in Edinburgh: the Scottish national parliament which was years late and many millions over budget before opening in 1999, and a curtailed tram system under construction, which is also running years late and hugely over budget.
Gallery officials said the neo-Gothic sandstone building was the world's first purpose-built portrait gallery when it opened on Queen Street in Edinburgh's New Town in 1889 to the design of architect Sir Robert Rowand Anderson. But for more than a century much of the space was taken up as a museum store-house and offices, with art displays crammed into only a third of the building.
National Galleries director John Leighton told Reuters at a preview that the renovation had changed this dramatically.
The portrait gallery now occupies the whole building for the first time, he said. We have opened the upper floors to provide 60 per cent more space.
Holloway said the building had been brought back to life... its life force is so exciting. The number of galleries, including beautifully arched top floor spaces with natural light from ceiling windows, has jumped to 10 from only three, providing space for an additional 606 works of art.
The gallery's collection comprises 3,000 paintings and sculptures and 25,000 prints and drawings. It also houses the national collection of photography with some 38,000 historic and modern photographs.
Seventeen new exhibitions run through the history of Scotland from the Reformation, the 18th century Enlightenment, Empire, modernity and the contemporary.
© Copyright Thomson Reuters 2023. All rights reserved.
FOLLOW MORE IBT NEWS ON THE BELOW CHANNELS