Severe Thunderstorms Threaten 17M People In Parts of Central And Southern US
KEY POINTS
Just a week ago, an EF-4 tornado destroyed buildings and left over 20 people dead in Putnam County
NWS predicted severe weather and called on the people in central and southern U.S. to take precautions.
People have been asked to stay alert and keep update with the weather news.
Ravaged by tornadoes just over a week ago, severe thunderstorms once again threaten 17 million people in parts of central and southern U.S., mainly Southeast Tennessee and Ohio Valleys, according to the National Weather Service's Storm Prediction Centre. Cities at risk include St. Louis, Nashville, Louisville, Memphis and Little Rock.
The Storm Prediction Centre warned that significant/EF2+ rated tornadoes may occur, with Nashville being the hotspot. The severe weather is expected to bring in heavy rainfall, which might cause flash flooding in parts of southern Oklahoma, Arkansas, northeast Texas, Tennessee, Mississippi and Kentucky.
Flood alert has also been issued by the NWS in parts of southeastern California, southern Nevada and central Arizona - including Las Vegas and Phoenix. According to Kathryn Prociv, a meteorologist and producer for NBC News, the storm system will kick in Friday into the Rockies and Plains bringing with it rain and some accumulating snow.
"Through Friday, rainfall totals of one-half to two inches will be possible across the Southwest region, with totals up to three inches especially across central Arizona," Prociv said.
The Centre has advised the public within the said areas to prepare themselves from severe thunderstorms with tornadoes, large hail and wind damage. Just a week ago, America witnessed a storm that destroyed buildings and killed people. On Mar. 4, the NWS confirmed that an EF-4 tornado had ravaged through Putnam County while an EF-3 tornado had devastated Davidson and Wilson counties. This left 24 people dead, several missing and destroyed hundreds of buildings.
People had reported tornadoes along the 145-mile stretch of Middle Tennessee, which is Camden to the Cookeville area. The NWS highlighted that this was the deadliest tornado since May 6, 2013, which struck Moore, Oklahoma.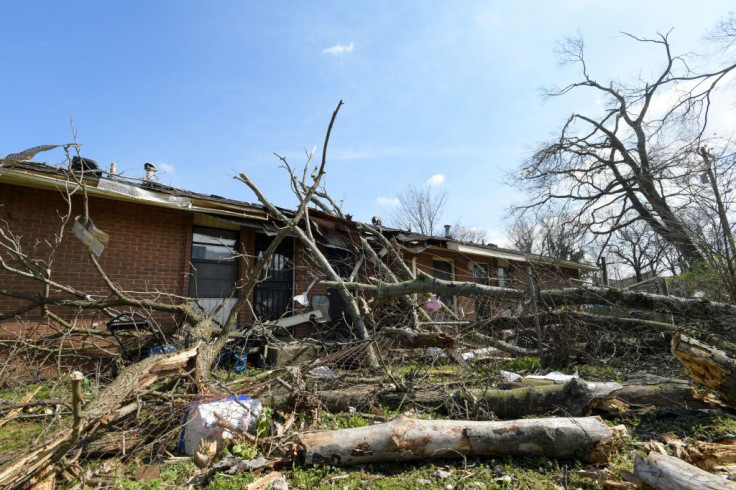 © Copyright IBTimes 2023. All rights reserved.