SHIB's Kusama Talks About 'Shiba Eternity' Tournaments, Legendary Cards, Other Exciting Details
KEY POINTS
'Shiba Eternity' is currently on its early test run in Vietnam
The game has no definite release date yet
SHIB was trading down 10.32% at $0.0000134
"Shiba Eternity," the first mobile CCG title from the Shiba Inu ecosystem, is not yet out but Shytoshi Kusama, the pseudonymous lead developer of the dog-themed altcoin, has a lot of plans for the game, including launching tournaments and giving rewards.
The early test run of "Shiba Eternity" is phenomenal, with the team needing to boost the gameplay server by 50-fold a few days after launch because of overwhelming demand. And while the game is yet to get its official release date and download day, Kusama shared some more interesting details about the game and the future of Shiba Inu Games as a whole.
Former Shiba Growth member and social media influencer GossipShib shared via Twitter on Thursday that Kusama, on Discord over the weekend, talked about "Shiba Eternity" and their dream of developing "more in the future." Kusama noted that they "want to be able to have tournaments where we give back."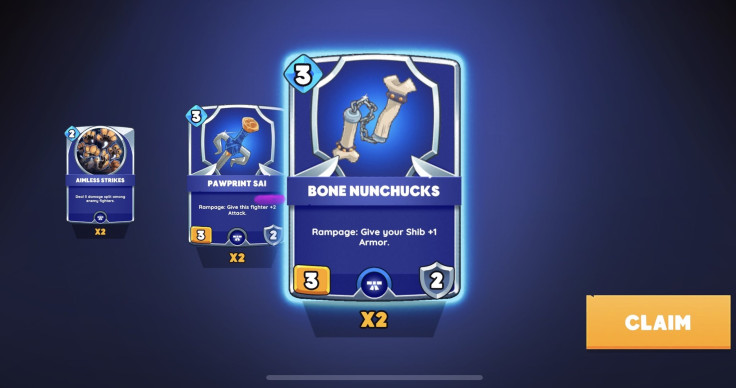 One Discord user inquired about rewards with Shiboshis or the Shiba Inu generated NFTs, to which Kusama promised to discuss rewards "at release," adding that "Shiboshi will essentially act as membership." Kusama also briefly discussed in the Shiba Inu official Discord about Legendary Cards and what makes them unique.
According to the lead developer, "Legendary Cards are the rarest cards" and what makes their trait legendary is not only their rarity score but because they are "actually based on actual Shiboshis."
As to whether the game will change from its early test version, Kusama said: "Not too much." However, they noted that the decision depends on the decentralized SHIB Team. "The cards should remain but there will have to be adjustments of this version (early test) to ANY OTHER DISTRIBUTOR that takes the game," they said in response to a fan.
"The difference between us and other companies is this: When they make $xxxM, they do things and profit. When we make $xxxM, we do things and burn SHIB and reward and research and develop, etc, etc," Kusama underlined. "Fandom will list the story behind the game. Its not JUST a game. Its a whole universe," the lead developer noted responding to a commenter who asked what a Fandom story is.
"Yes. Not that soon enough. Game first. Then Shibarium. Then game on Shibarium," Kusama answered when a commenter asked if "Shiba Eternity" would be available in Shibarium too. Shibarium is Shiba Inu's upcoming layer-2 solution.
Based on Kusama's answers, as well as on earlier reports, "Shiba Eternity" is just the first entry to a series of projects the development team is planning to launch. Since the initiative was announced in November 2021, it is known that the Shiba Inu Game features a couple of titles split into an NFT game and a classic mobile game.
So far, the team is focused on the mobile game aspect as testing is now live for Vietnamese players. However, it appears that when the game officially launches worldwide, Shiba Inu will introduce the NFT aspect of "Shiba Eternity," with Kusama making that clear in their response to one of the commenters who asked about potential changes from an early test to an official release.
"Shiba Eternity" is the latest initiative unveiled to expand the Shiba Inu ecosystem. Shibarium is also anticipated to launch this year and "Shib: The Metaverse," the community's version of the metaverse, sometime soon.
As of 2:36 a.m. ET Friday, SHIB, the native token of the Shiba Inu ecosystem, was trading down 10.32% at $0.0000134 with a 24-hour volume of $721,369,837, according to the latest data from CoinMarketCap.
© Copyright IBTimes 2023. All rights reserved.