Shuttle Atlantis Crew Greets International Space Station Crew [VIDEO & PHOTO]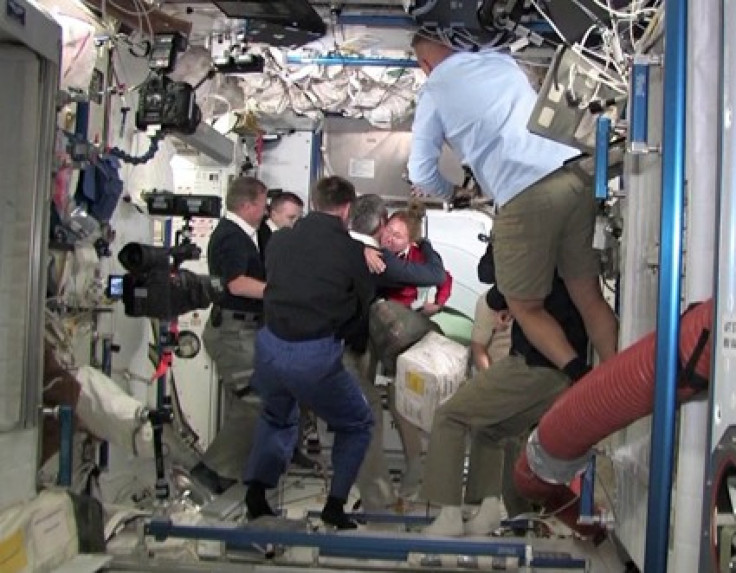 The Space Shuttle Atlantis Crew reached the International Space Station at 12:47 pm ET on Sunday, stated NASA. The crew of four - Chris Ferguson, Doug Hurley, Rex Walheim, Sandy Magnus - was warmly greeted by the crew residing in the International Space Station (pictured left).
Led by Commander Chris Ferguson, who first stepped in the space station, the Atlantis crew exchanged floating 'space hugs' with the space station crew.
The six-member International Space Station crew consists of Mike Fossum (US), Sergei Volko (Russia), Satoshi Furukawa (Japan), Alexander Samokutyaev (Russia), Ron Garan (US), and Andrey Borisenko (Russia).
The Atlantis crew, in addition to greetings and goodwill, are bringing crucial supplies and spare parts to the space station. They're also bringing back a broken pump to the earth for inspection.
The Atlantis shuttle, launched on July 8, is expected to return to earth on July 20.
After that, the US is retiring its low earth orbit-focused Space Shuttle program in lieu of deeper space robotic exploration. The responsibility of the International Space Station will then fall on the Russians and the private sector.
Below is a video of the arrival of the Atlantis crew to the International Space Station.
© Copyright IBTimes 2023. All rights reserved.