Sponsored Article
SideTrak Swivel Portable Monitor Review: Dual Monitor Laptops Made Easy
This article uses affiliate links, which means if you purchase products through these links, we may earn a commission. Click here to see our
T&C
. For licensing please click
here
.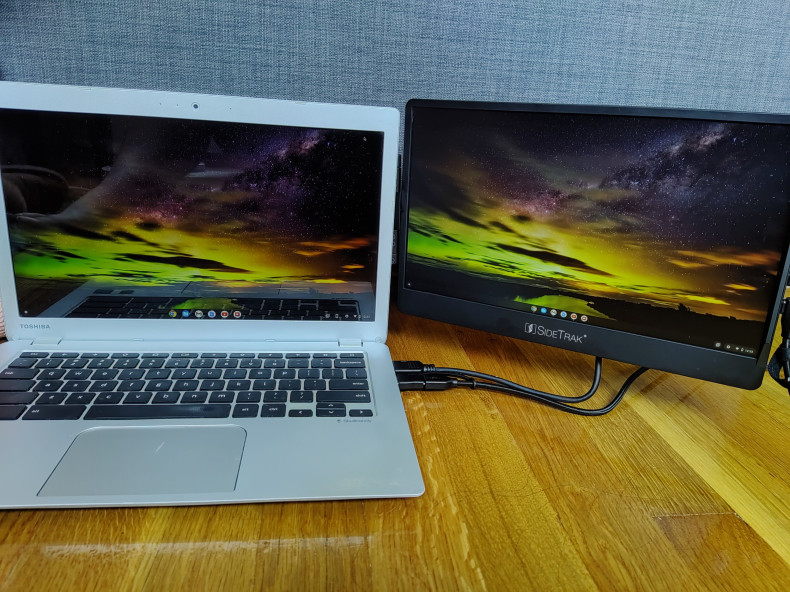 Who Is The SideTrak Swivel Portable Monitor For?
The SideTrak Swivel is an easy way to add a second screen to any laptop
The SideTrak Swivel monitor can be used both with a laptop and as a stand alone screen
The Swivel monitor can be repositioned in a large number of ways, making it easier to share your screen with others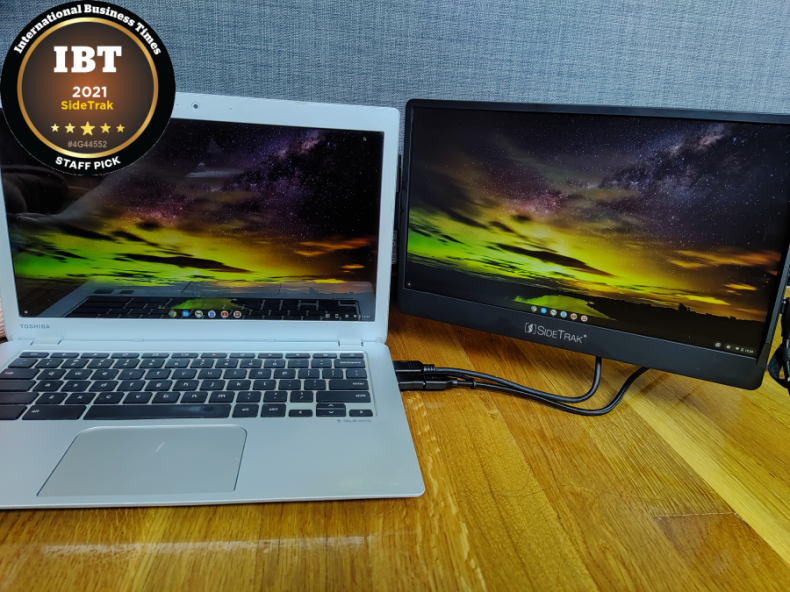 Laptops are a great way to stay productive without being tied to a desk, but there are some drawbacks to this portability. One of the biggest disadvantages is that a laptop typically only has one screen. However, SideTrak's latest monitor, the SideTrak Swivel, makes adding a second screen to any laptop easy, while also making it easier to work cooperatively with others.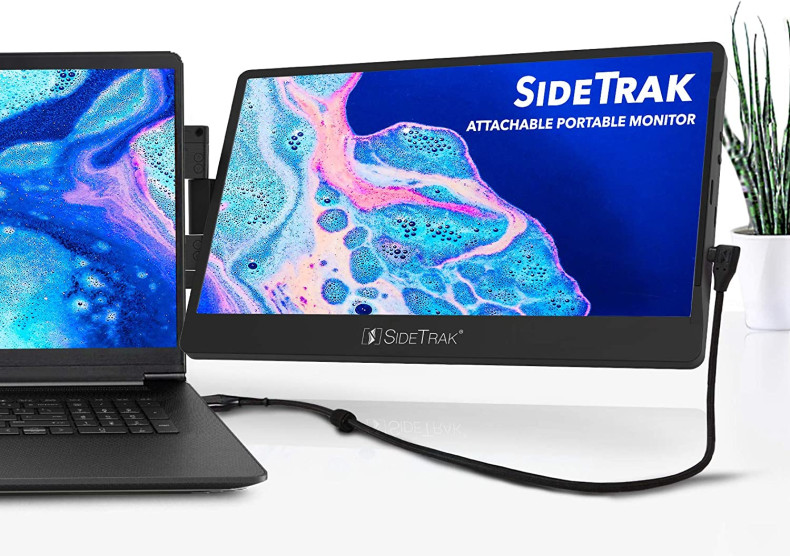 Semi-Permanent Installation
Perhaps the biggest downside to the SideTrak Swivel portable monitor is that it requires a semi-permanent installation to be mounted as a second laptop screen. To get the Swivel properly set up, a user needs to attach a strong magnet to the lid of their laptop. The magnet is held on with two very sticky 3M pads, which means it technically can be removed if wanted. That said, the instructions do recommend using a laptop case or skin instead of applying the magnet directly onto the laptop.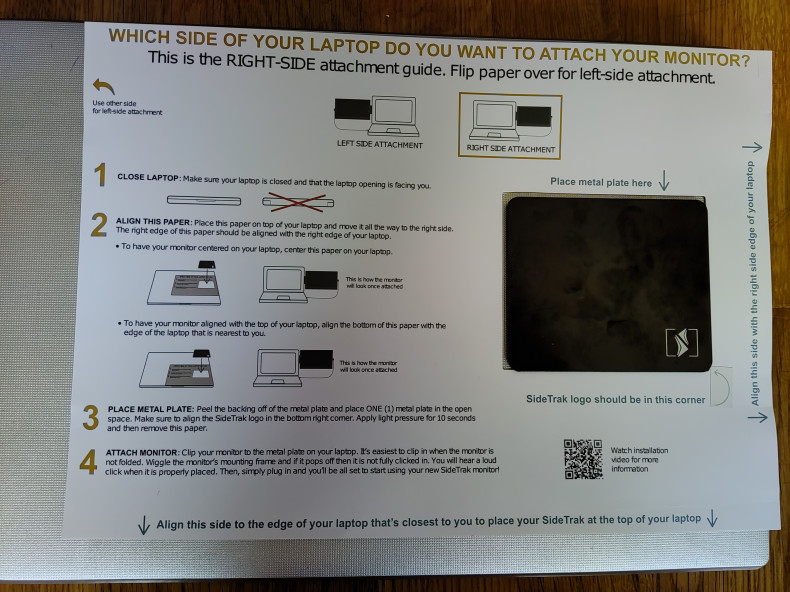 To make the installation a little easier, SideTrak included a helpful sheet of paper that can be used as a guide. Simply lay the paper on top of a laptop, and use the hole cut in the paper to mark where the magnetic plate needs to be attached. Make sure to note where the laptop's ports are before attaching the magnet, as that will determine which side of the laptop the SideTrak Swivel should be on.
Once the magnetic plate has been attached to a laptop, all that's required is to attach the monitor and plug it in. The SideTrak Swivel monitor has a metal plate built on it that only needs to get close to the magnetic plate on the laptop to create a tight bond. Once attached, the SideTrak Swivel comes with an HDMI to mini HDMI cable and a USB-C to USB-C cable. SideTrack also included a USB-C to USB-A converter if a laptop doesn't have a built-in USB-C port. Depending on a laptop's hardware, either just the USB-C cable is needed or both the USB-C and HDMI cables are required to get the monitor running.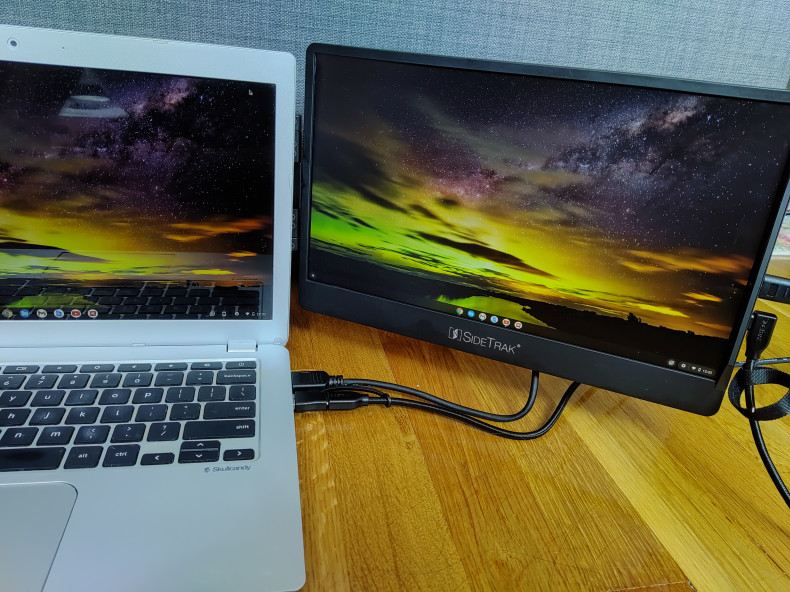 What's nice about the SideTrak Swivel is that the monitor does not require any digital set-up time. There aren't any drivers or other programs to install with the Swivel, and the monitor works across any operating system and a number of devices. All that's required is to plug the monitor into a laptop or other source and get to work.
Surprisingly Versatile
While the main function of the SideTrak Swivel monitor is to act as a second laptop screen, it can serve a number of other functions as well. Primarily, the Swivel can serve as a stand-alone monitor without a laptop required. This makes the Swivel a portable screen that can be used with things like game consoles, especially since the Swivel can be powered entirely by certain consoles. Sorry Nintendo Switch fans, but the Switch base does not provide enough power to keep the Swivel on. That said, the Swivel can still be used with a Switch if a different source of power is used. Keep in mind that the Swivel monitor does not have built-in speakers, so a different form of audio will be needed if using the Swivel as a primary screen.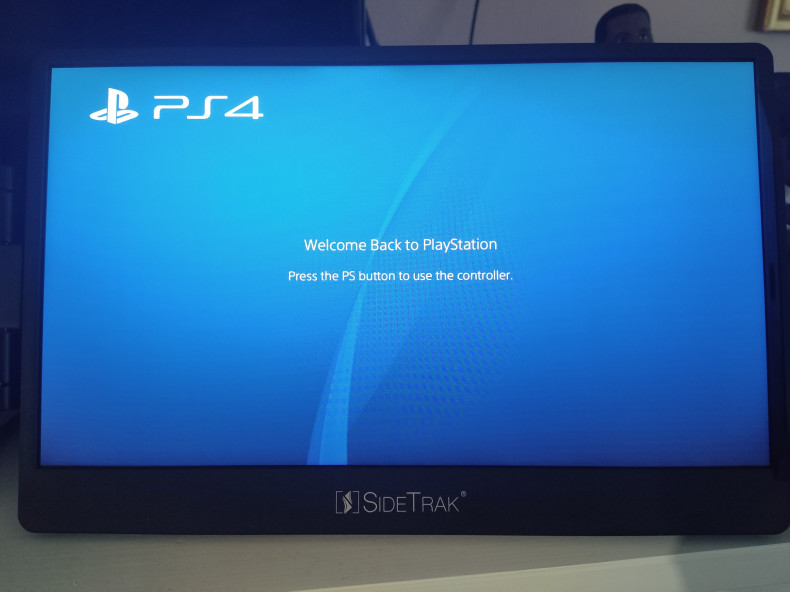 The arm attached to the SideTrak Swivel allows the monitor to rest on a flat surface, making it a viable portable monitor for any use. In fact, the Swivel can be used without properly attaching the magnet to a laptop lid at all. Additionally, that same arm allows the Swivel to stand upright in a vertical orientation. This is great for those that code, keep a running Twitter feed, want a screen for video calls or FaceTiming, or otherwise have use for a vertical monitor.
Because the SideTrak Swivel attaches to laptops via a magnet, that means the screen can be popped off of a laptop in seconds. This allows the Swivel to be used in multiple ways with only a few moments of downtime. SideTrak also included two magnetic plates, so it's possible to quickly move the Swivel monitor from one laptop to another as well.
SideTrak Swivel Lives Up To Its Name
SideTrak has a few portable monitors available, but the Swivel's special feature that makes it stand out from the others is right there in its name. The monitor's arm has two areas of motion: it can spin a full 360 degrees, and can swivel 270 degrees. This really opens up possibilities for working more efficiently.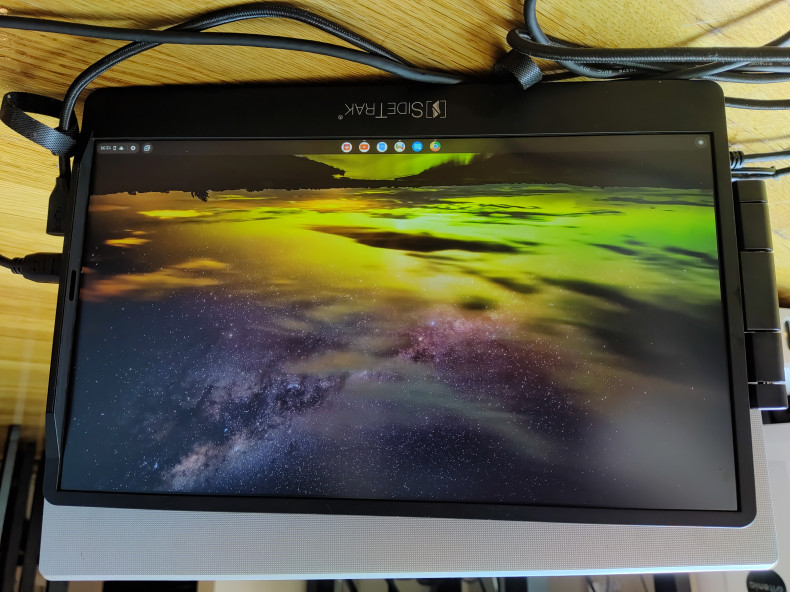 The main purpose of the SideTrak Swivel is to act as a second screen for a laptop, but the Swivel can also act as a mirrored screen to share work with others. If someone is sitting on the other side of a table, the Swivel can rotate around to create a useful viewing angle. The Swivel even has built-in auto-rotation features, so users don't need to fiddle with screen orientation settings when moving the Swivel around.
Performance
The SideTrak Swivel has a 1920x1080 resolution, meaning it is 1080p. The monitor also has a 50 Hz refresh rate, which may seem a little low for modern screens. That said, the Swivel wasn't exactly designed for hardcore gamers or media consumers. These specs are more than fine enough for work.
The screen size on the SideTrak Swivel is 12.5 inches, which is pretty tiny. Heck, that's even smaller than an iPad Pro. Text is very small on the SideTrak Swivel, so expect to have to do some zooming in on the second screen, even when using the monitor with a laptop up close.
There are only two buttons on the SideTrak Swivel. One raises the screen's brightness, while the other lowers the brightness. That's it. There aren't any other display options included with the Swivel. For the most part, that's perfectly fine. This screen was made to help boost productivity, not be the central part of anyone's office. The majority of work will look perfectly fine on the Swivel, so things like color correction and gamma adjustments aren't really needed here. Instead of a power button, the Swivel just needs to be unplugged to be turned off.
Swivel Stability
I'm sure many out there are saying to themselves "wow, that SideTrak Swivel looks impressive, but how stable is it? Is this thing going to shake around every time I press a key on my laptop?" Seeing as how the monitor is supported by a laptop's screen, the hinge holding up said laptop screen does the most work to stabilize things. If a laptop's hinge is already shaky, don't expect the Swivel to be rock solid.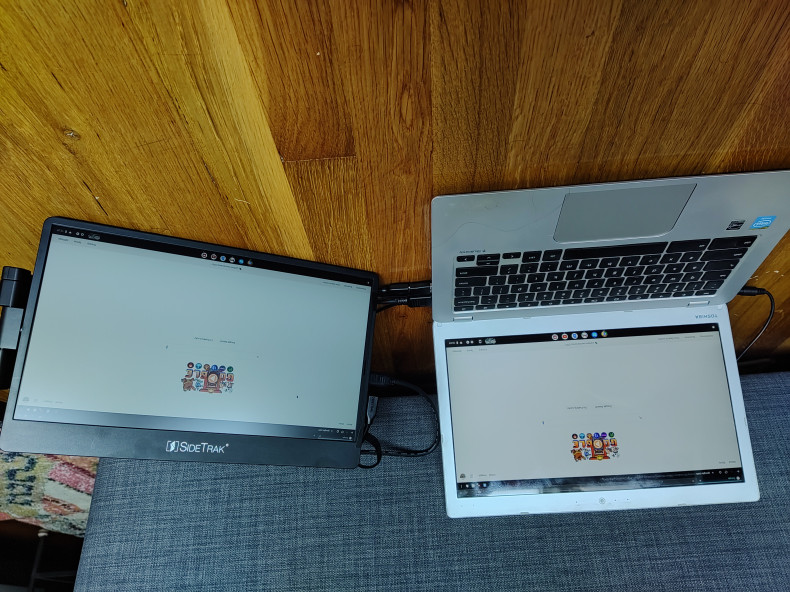 If a laptop hinge is nice and sturdy, the SideTrak Swivel should also be stable. After all, the hinge on the Swivel arm is strong enough to hold the monitor up vertically. What's more annoying than the screen shaking, however, are the included cables. They're both pretty thick and stiff cables, so expect them to get in the way frequently.
Final Thoughts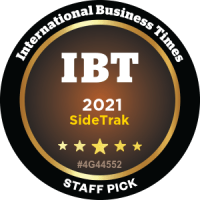 I've used other less expensive portable monitors in the past that do offer more than the SideTrak Swivel, like a bigger screen, included speakers and a smaller price tag. However, none of those monitors had the ability to outright connect to a laptop and really offer that desktop-style second screen experience quite like the SideTrak Swivel.
The Swivel makes it easy to work with a second screen while on the go. It's easy to move around to provide easier viewing for others, and can be quickly popped off if no longer in use or wanted elsewhere. I do wish there was some way to use the Swivel without having to adhere a metal plate to the back of a laptop, but this isn't so bad if using a laptop case or skin.
The SideTrak Swivel portable monitor is available right now from Amazon, the official SideTrak website and other retailers.
© Copyright IBTimes 2022. All rights reserved.