Silicon Valley Tech Shuttle Drivers Vote To Unionize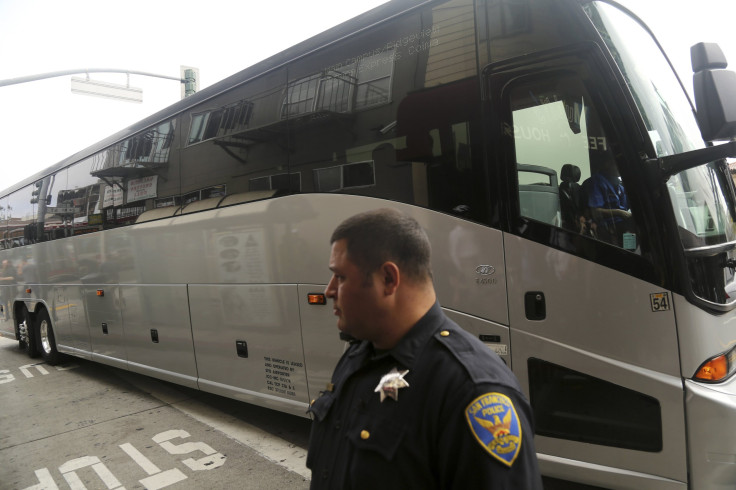 Shuttle drivers who transport tech workers to their offices at Apple, eBay, Yahoo, Zynga and Genentech voted this week to unionize, results showed Saturday. The drivers, employees of Compass Transportation, will join the International Brotherhood of Teamsters labor union to lobby for higher wages and better benefits.
The drivers voted 104-38 Friday to unionize, following mounting complaints that employees were underpaid and denied sufficient rest breaks during shifts. Many also had criticized a policy in which drivers would drive split shifts -- one in the morning and one in the evening -- with no pay for the time between.
The vote follows a similar move in November by shuttle drivers contracted with Facebook. The Facebook drivers approved their first union contract last week for higher pay -- around $25 an hour up from their previous rate of $18 -- five weeks of paid vacation and more accommodating pay for split shifts. That contract is still awaiting approval from their employer, Loop Transportation, but if it is successful it will be an encouraging move for the other newly unionized drivers.
"We need wages commensurate with what it costs to live in this area, but it's not just about wages," said Compass driver Tracy Kelley in a statement, according to the San Francisco Chronicle. "It's about having better working conditions."
The vote represents "systemic change to what is happening in the tech industry," Rome Aloise, international vice president of Teamsters Local 853, told the San Jose Mercury News. "Our next step now is to move forward and pick up the rest of the drivers."
Google was the first of the Silicon Valley tech companies to use shuttle buses to ferry its employees to and from the campus. In 2004, when the buses first started operating, they carried around 155 passengers and made two stops, but now they transport around a third of the employees working at Google's Mountan View headquarters.
The tech industry shuttle buses have become a symbol of widening income disparity in the Bay Area in recent years. Last year, protesters in San Francisco lashed out against Google's shuttle buses to express their wider discontent with the rising cost of living in the wake of the tech boom.
© Copyright IBTimes 2022. All rights reserved.
FOLLOW MORE IBT NEWS ON THE BELOW CHANNELS