Silver up 4 pct, gold rises 1.7 pct on day; analysts say short-covering helps white metal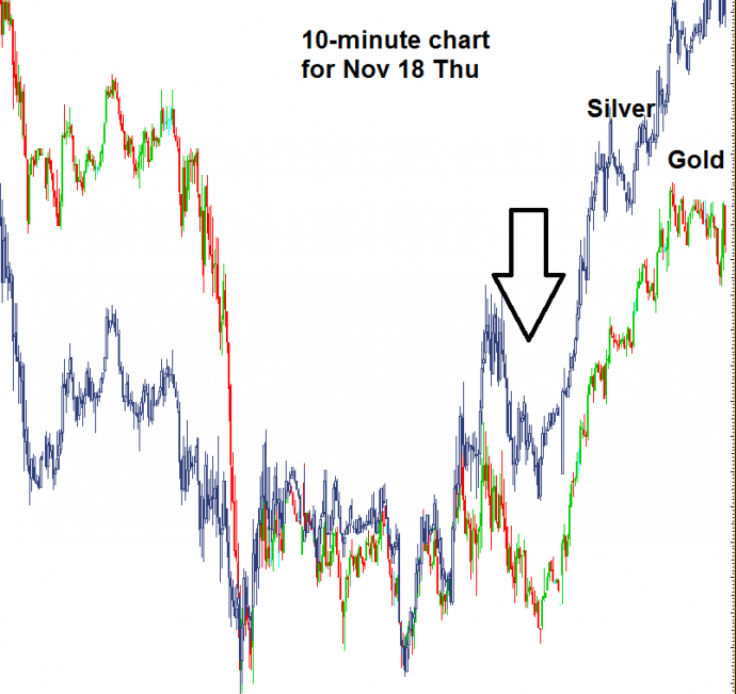 Silver rallied sharper than gold on Thursday and some analysts see the trend to continue as many big players are yet to cover their huge short positions in the white metal.
Commodities rose across the board on the day, helped by a broadly weak US dollar and growing expectations that Ireland will soon be bailed out by the EMU and also in the absence of fresh cues from China about it raising the policy rates.
The white metal rose 4.1 percent to a near 1-week high of $26.665 per ounce on Thursday compared with 1.7 percent jump to $1,358.40 an ounce by gold. At its day's high, silver was up 6.7 percent from its 11-day low of $24.985 hit on Tuesday, while gold has rallied only 2.2 percent from Tuesday's near two-week low of $1,329.40.
At around 0912 GMT, the dollar was at 1.3642 against the euro, down more than o.8 percent on the day. The greenback was at 1.6003 per pound, falling 0.6 percent from Wednesday's close.
Silver retained its status as better alternative over gold despite a recent CFTC (Commodities Futures Trading Commission) move to raise margin requirements for purchasing silver futures.
Traders mostly attribute the 'silver smartness' to higher rate of short covering in the metal. Analyst Robert Lenzer has bought the arguments of Ananthan Thangavel of Laxmi Capital that huge shorts of major players in the market has the potential to take silver to the $50 mark.
The percentage of gross short positions from the four largest traders has risen to 45.4 percent from 44.19 percent, suggesting that they didn't cover yet, Lenzer quoted Thangavel in his Forbes column.
Another major support for silver is its industry demand. Only 116.1 million ounces of silver out of 2009 production of 709 million ounces were available to satisfy investment demand, as per estimates given by Thangavel.
Monday afternoon's CFTC Commitment of Traders Report showed that the short position in silver contracted negligibly, from 54,811 contracts to 52,398 contracts. This comes despite the sharp run-up in silver prices that preceded the latest two-day slide.
That said, upward journey of the metals and any of its commodity colleagues is not expected to be that smooth with China expected to raise rates any time now and more bad news are still expected from Europe's so-called peripheral debt issues. Overall, as of now, the risk appetite has no strong fundamental reason to build on.
An IB Times technical study titled Silver outshining gold is old story; technicals project on gold/silver ratio and silver prices last week found that silver could suffer sharper losses compared with gold on a southward track, the same way it outshined when the metals were rising.
© Copyright IBTimes 2023. All rights reserved.