Silver Rebounds As Gold Stays Wobbly, With Markets Anticipating Reduced Monetary Stimulus Or 'Tapering:' US Mint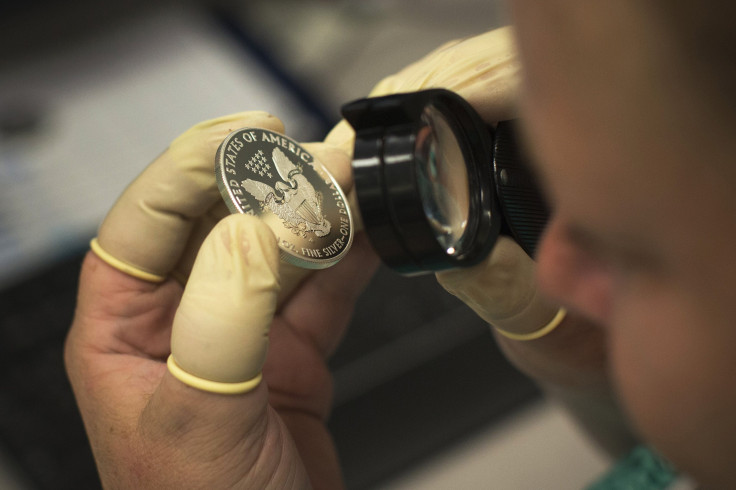 U.S. interest in silver has apparently rebounded, even as investors remain mostly skittish over the fate of its more prominent and dominant cousin, gold.

The U.S. Mint reported on Wednesday that 33.75 million ounces of silver coins have been sold to consumers so far this year, with sales already outstripping the 33.74 million ounces sold in all of 2012.
Total silver held in exchange-traded funds also advanced by about 12.3 million ounces during August of this year, according to a recent UBS AG (VTX:UBSN) research note.
Silver prices, which tend to be more volatile than gold prices, have fluctuated considerably over the past two years, said Anthem Blanchard, CEO of Anthem Vault, which sells gold and silver bullion to U.S. consumers.

He contrasted highs of $49 per troy ounce in April 2011, mirroring gold's peak within months of about $1,900 per ounce, with recent lows of about $8 per ounce. Silver opened at $22 per ounce on Thursday.

The relative tightness of silver's supply, at least in comparison to gold, contributes to the white metal's comparative price volatility, said Blanchard. Part of the reason for that tight supply is that industrial uses of silver are much greater than those for gold.

The recent U.S. Mint coin sales figures will likely act as a strong catalyst for silver prices, said Blanchard, who is bullish on both silver and gold.

Geopolitical uncertainty over a U.S.-led intervention in Syria has pulled both gold and silver up last week, though price peaks have faded since then.

That, and negative real interest rate environments, are short-term drivers for silver, said Blanchard. Still, total global physical demand for silver slipped in 2012, according to the most recent data from the trade association the Silver Institute.

The institute reported that growing demand in India and China has offset weaker Western purchases, much as has happened with gold investors so far this year. China, along with Mexico and Peru, produced by far the most silver in 2012, according to the institute.

In January 2013, the Mint's silver sales reached an all-time monthly high of 7.4 million ounces sold. The nearest recent figure since 2008, prior to that record, came with 6.4 million ounces of silver sold in January 2011.

Silver is expected to follow the gold market as investors head with trepidation into September, when many economists expect the Federal Reserve to begin reducing its $85 billion per month bond purchases, representing a key market-moving event for the two precious metals.

Silver officially entered a bull market in mid-August, reported the Wall Street Journal at the time, as a weak stock market encouraged risk-averse investors.
© Copyright IBTimes 2022. All rights reserved.
FOLLOW MORE IBT NEWS ON THE BELOW CHANNELS