International Business Times offers links to items to help our readers find interesting products. When you buy through links on our site, we may earn an affiliate commission. Here are our
T&C
. For licensing please
click here
.
Who Is The Skyroam Solis Lite For?
The Skyroam Solis Lite is a great way to access the internet from almost anywhere in the world
The Solis Lite is an ideal travel companion both in the US and internationally
There are a number of subscription options for the Solis Lite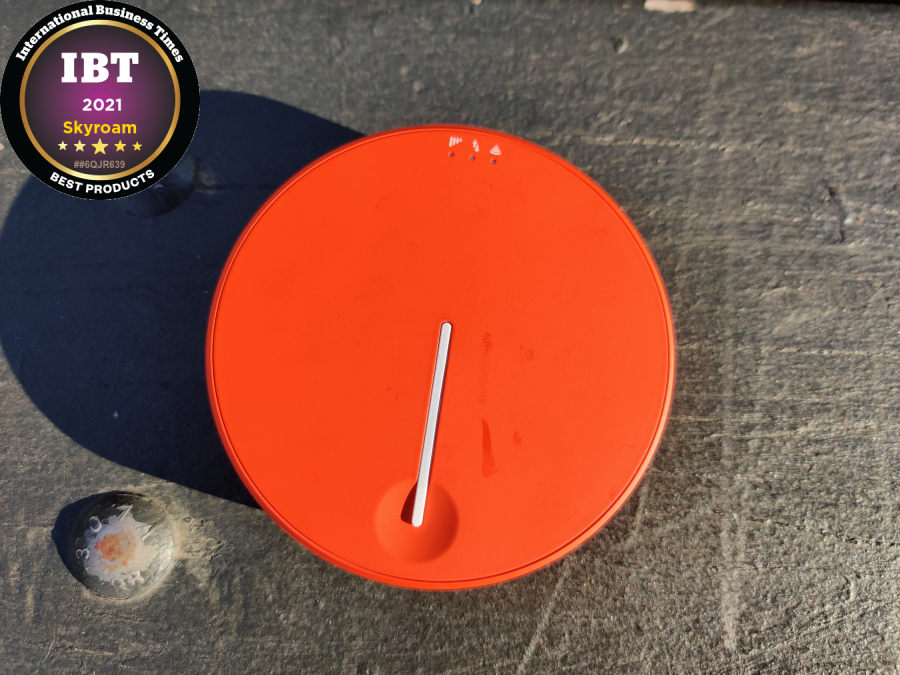 At this point, WiFi is expected practically everywhere in the world. In addition, there are few greater struggles for the modern human than slow WiFi. That's where the Skyroam Solis Lite comes in. Thanks to its "virtual SIM" technology, the Solis Lite is capable of connecting multiple devices to the internet from all over the world at speeds that pleasantly surprise.
A Fun, Little Device
It may seem a little weird to describe a WiFi hotspot as "fun", but it's accurate here. The Solis Lite is a small, orange puck that can easily fit in a pocket, pouch of a bag or purse. It's also pretty lightweight at only 5.5 ounces, meaning it isn't going to weigh anyone down. It perfectly fits in my hand, and offers satisfying rumble action when turning on. Even the charging indicator light is pretty fun with the way it bounces back and forth on the Solis Lite's power button.
A Little Slow, But Works Like A Charm
The Skyroam Solis Lite works exactly like it should. Once activated and fully powered on, simply connect to the Solis Lite like you would any WiFi network. Each Solis device has its own network ID and password, which can easily be found on the bottom of the Solis itself. There's even a QR code so you don't have to type everything in if you don't want to.
Up to 10 devices can be connected to a single Solis Lite, allowing you to get a laptop, phone, tablet, and whatever else you may want online. I ran a speed test from my Chromebook when connected to the Solis Lite. During the test, I had nothing else connected to the Solis Lite, and wasn't running anything in the background on my Chromebook. I ended with a download speed of 20.62 Mbps and an upload speed of 8.41 Mbps. I also had a ping of 29 ms.
Of course this is slower than what I have at home, but it is fine enough for basic use. I was able to watch YouTube videos in HD without any lag or stuttering and didn't notice any slowdowns once I had three devices connected at the same time. While I wouldn't use a Solis Lite to host an esports tournament, accessing the internet for basic work and personal use is easy and quick.
Pretty much the only drawback is that the Solis Lite took a couple of minutes to get fully powered on. In the grand scheme of things it really didn't slow me down or limit my productivity, but don't expect the Solis to immediately start pumping out WiFi the second it is turned on.
Decent Enough Battery Life
The Skyroam Solis Lite has a battery life of around 16 hours, which is decent. A nice feature is that the Solis Lite can be used while plugged in and charging, so as long as there is some source of electricity the hotspot can be used indefinitely. The Solis Lite uses a USB-C connection to charge, and can be charged by a portable charger as well as any wall socket or computer USB port.
International Use
Skyroam says its products can be used in over 135 countries around the world, which is great. Even more impressively, Skyroam's products don't require any SIM cards or special configurations. That means the Solis Lite theoretically can connect to any cell network to provide WiFi without hassle. However, with the world being how it is right now, I can't exactly cross borders to test this out. We'll have to take Skyroam for its word on this one.
In fact, I was only capable of testing out the Solis Lite in New York City. While it performed flawlessly, New York City is probably an area where getting a stable connection is easier than more remote locations. I can't confirm how well the Solis Lite works when further away from major cities.
WiFi Plans
There are four major WiFi plan options when using the Solis Lite internationally. There is a single-day pass, a monthly unlimited option and two pay-as-you-go options. The single-day pass is what it sounds like, with unlimited access granted for one 24-hour period. Single-day passes cost $9 per day.
For those who know they will be using their Solis Lite regularly, the monthly deal is the best bet. This option grants unlimited access for a 30-day period for $99 per month. It should be noted that with this plan, data is delivered at fast speeds for the first 20GB, but then connection speeds drop after that.
One of the two pay-as-you-go options is ideal for those who don't know how long they will be away, while the other is great for those who don't want to have to deal with monthly fees. The first pay-as-you-go choice is purely based on how much data is used, and is charged at $12 per GB. The second is a monthly subscription that charges $9 per month and gives one GB of data per month. Extra data can then be bought for $9 per GB.
All of that pricing is for global use of the Solis Lite. If users are staying in the United States, rates are less expensive. In the United States, the pay-as-you-go rate is $8 per GB, and the pay-as-you-go subscription is offered for $6 per month and $6 per GB for additional data. Finally, the unlimited monthly plan is available in the United States for $49 per month. There are no day passes offered at US rates, though the global day pass should still work in the US.
Final Thoughts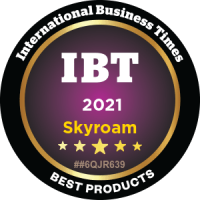 In an age where working from home is the new normal, the Skyroam Solis Lite allows employees to really test the definition of what "home" is. By providing the ability to access the internet from just about anywhere in the world, the Solis Lite can let people spread their wings to the park down the street or a completely different country while still staying productive.
Of course, once international travel returns, the Solis Lite will be any travel companion's best friend. Since the device doesn't require any SIM cards it can provide a reliable internet connection while abroad, giving easy answers to the "can I use my cellphone in that country?" and "how much will it cost?" questions.
The Solis Lite isn't too expensive at $120, but if anyone is unsure about making a purchase Skyroam offers rentals for Solis devices. Try out the Solis Lite for yourself without having to buy one outright, or take one on your next trip to see if it's worth the investment. Rentals are available through the Skyroam website.
There are virtually no downsides to the Solis Lite. Decent WiFi speeds at reasonable prices from virtually anywhere in the world. What's not to like? The only thing left to decide is where to travel.