Snapchat Fights Ballot Selfie Ban With Its First Standalone Amicus Brief To New Hampshire Court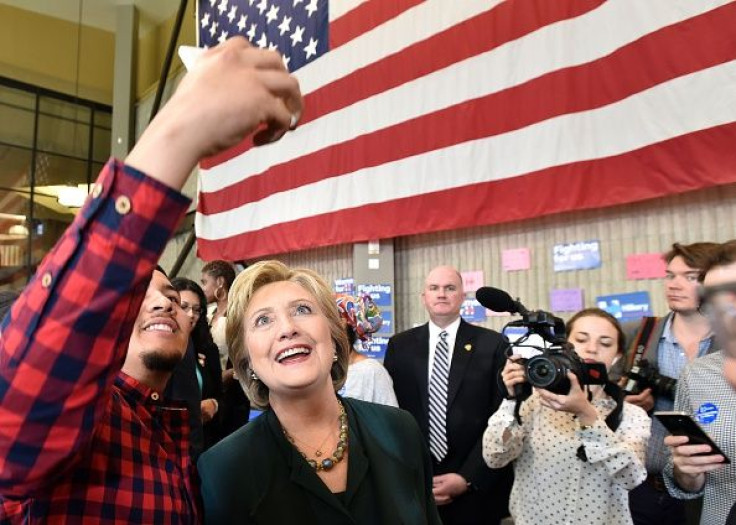 WASHINGTON — Snapchat is fighting for your right to take a selfie, specifically when you're exercising your right to vote.
The mobile storytelling app filed an amicus brief Friday for a New Hampshire case surrounding a would-be ban on taking and disclosing selfies and other images in voting booths. The case is currently on appeal in the First Circuit. A federal judge struck down a New Hampshire state law that had made the act illegal, ruling in August 2015 that it violated the First Amendment's guarantee of free speech. Now, Snapchat is trying to make sure it stays that way.
The filing is Snapchat's first stand-alone brief. The 5-year-old company — which is based in Venice, California, and boasts more than 100 million daily active users — has participated only in joint briefs, such as one on Apple's encryption case against the FBI in March, until now.
For Snapchat, taking a selfie — including at the voting booth — and sharing it to friends and to the world is a core experience of the app, which is loved by millennials. More than 60 percent of 13- to-34-year-old smartphone owners use Snapchat, according to the company.
The app has received thousands of photos and videos from inside voting booths during the U.S. presidential primaries, as stated in the amicus brief. Snapchat can see these images when users choose to submit them for Live Stories, a curated feed around events.
For instance, Snapchat had a feed on Tuesday called "Voter Day New York" for the New York primary. Users could see Donald Trump exercise his right to vote as well as see completed ballots.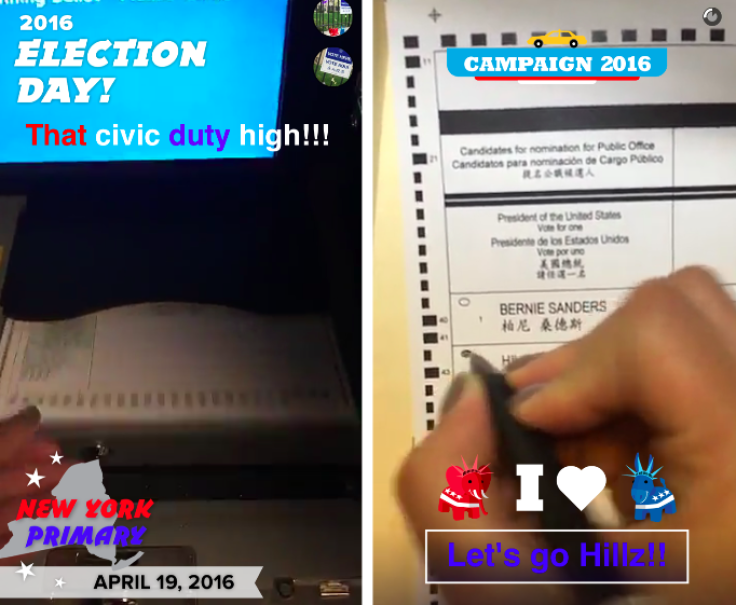 Supporters of the ban have argued that the law prevented illegal voting practices, such as vote buying and voter intimidation. "It's about vote selling. How can you get proof without taking a photo?" said Laura Packard, a digital strategist for nonprofits and Democratic political campaigns.
The state previously argued in the case against New Hampshire that at least completed ballots should not be shown. But Packard argues that in this day and age — and especially at the scale of a presidential election — buying votes is no longer practical. Additionally, she said, preventing people from taking pictures at a time when nearly everyone has a smartphone is impractical.
"It's a completely different era now. We just have a culture shift where people are used to taking selfies and photographing their lives as they live them. Even if there's a law on the books saying selfies are illegal, they're not going to stop," Packard said.
In the 26-page amicus brief, Snapchat argues that banning selfies violates voters' First Amendment rights. "Whether it's a campaign button or a selfie from the ballot box, Snapchat believes that expressing participation in the democratic process is an important part of free speech and civic engagement that the First Amendment roundly protects," Noah Edwardsen, a member of Snapchat's corporate communications, said in a statement.
Snapchat recruited top talent for the occasion. Neal Katyal, who now teaches constitutional law at Georgetown University, was the former Acting Solicitor General of the United States and is one on the brief's authors. He has argued several cases in front of the Supreme Court, including about the issues of voting rights.
Taking a selfie is a modern and arguably even more impactful way to exercise the right to vote and encourage others to do than solely wearing a campaign button. "[B]allot selfies and other digital expressions of civic engagement encourage others to vote — particularly younger voters, who have historically low turnout rates," the amicus brief reads.
These selfies, when posted to Snapchat or shared on other social networks like Facebook and Twitter, can be seen by millions of others who use the apps. Snapchat argues that such an act generates more enthusiasm and could increase voter turnout, citing a 2012 study that found Facebook's "I Voted" button had led 340,000 extra voters to the polls during the 2010 congressional elections.
Presidential candidates themselves have taken to using the app to spread their campaign messages. The White House launched an account this year ahead of President Barack Obama's final State of the Union address.
"Snapchat is how people are engaging now. If you want to engage your constituents, you need to be where they are," Congressman Will Hurd, R-Texas, told IBT last summer prior to Snapchat's first debate-related Live Story.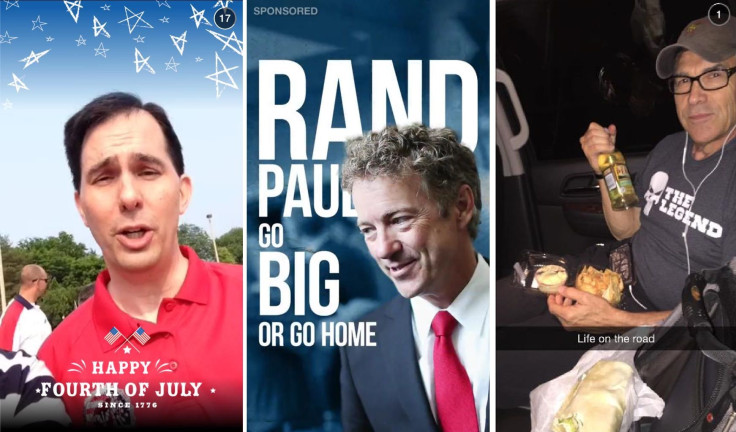 Beyond noting the effect on voter turnout, the amicus brief also details that the law violates Snapchat's rights as a news-gathering organization. Snapchat touts a team of six journalists, led by former CNN political reporter Peter Hamby. Its staffers have covered every presidential debate, primary elections and other political events this campaign season.
Despite a history of only two years with Live Stories, Snapchat touts its representation and influence. Indeed, other legacy media have dedicated their limited resources to the app.
As a news organization receiving millions of photos per day, Snapchat could be empowered to see and act on illegalities. The amicus brief notes that photos from inside the booth could provide evidence of "ballot-design problems" such as the case of the butterfly ballot in Palm Beach, Florida, during the 2000 election. Indeed, this election has come with its own varieties of potential voter fraud — with or without the selfie.
© Copyright IBTimes 2023. All rights reserved.