SoftBank President Nikesh Arora Steps Down, Masayoshi Son To Stay On
SoftBank Group Corp. President Nikesh Arora announced his resignation Tuesday, two years after he joined the Japanese internet and telecommunications giant from Google Inc. and emerged as its heir apparent.
Founder and CEO Masayoshi Son, 58, had handpicked Arora to be his successor. However, the departure was tied to Son's decision to extend his stay at the helm of the company by another five or 10 years, rather than handing over the reins, as Arora expected.
"I was thinking of handing over my job as CEO when I turn 60, but thought maybe I'm still a bit too young, and still have energy to continue," Son reportedly said.
"Nikesh and I have decided that he would move to an advisory role and continue to support SoftBank, while he zeroes in on his next challenge. He will continue to be friend of SoftBank, and I will have my hand on his shoulder," he said in a statement, signaling at an amicable departure.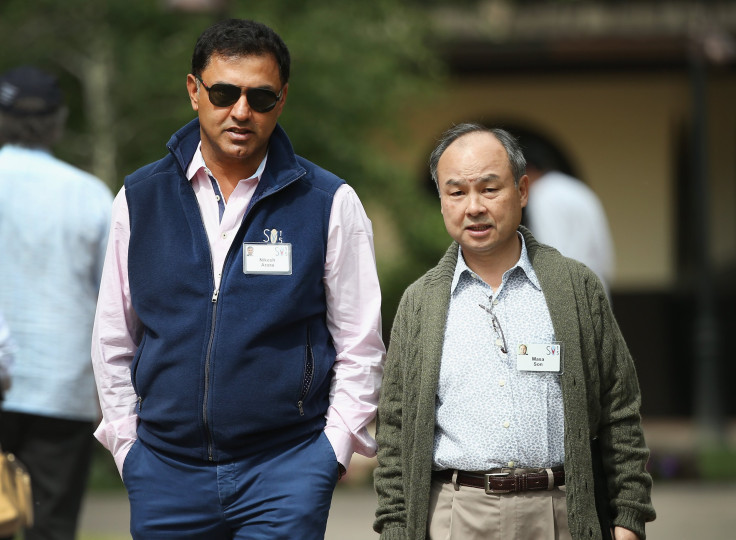 Arora took to Twitter to clear any misunderstandings and answer questions regarding his abrupt exit.
Some SoftBank shareholders had accused Arora of making poor deals and a probe was requested into Arora, including allegations of conflicts of interest over his role as an adviser to U.S. private equity firm Silver Lake. He repeatedly dismissed the claims and on Monday a special SoftBank internal committee investigating the allegations said it found the group's accusations were "without merit," the Wall Street Journal reported.
Arora, 48, is expected to make his departure official at the group's annual general meeting Wednesday. However, he will remain as an advisor with SoftBank for another year.
SoftBank Director Ron Fisher and Baer Capital Partners founder Alok Sama will fill Arora's role in directing overseas investments, Son said, according to the Journal.
SoftBank was Alibaba Group Holding's largest shareholder until it announced three major asset reshuffles this month. This included the sale of $10 billion worth of shares in the Chinese e-commerce giant.
Through the sale, SoftBank hopes to boost liquidity and improve its leverage ratio. It will cut the firm's debt in relation to the losses incurred by its U.S. telecom unit Sprint Corp. Earlier this year, SoftBank reported a 27 percent drop in net profit for the fiscal year ending March 31.
SoftBank also announced Tuesday the sale of its stake in "Clash of Clans" maker Supercell to Chinese technology firm Tencent. The deal values the Finnish company at about $10.2 billion.
© Copyright IBTimes 2023. All rights reserved.