'Sons Of Anarchy' Season 7 Spoilers: Episode 8 Synopsis Released; What Will Happen In 'The Separation Of Crows'?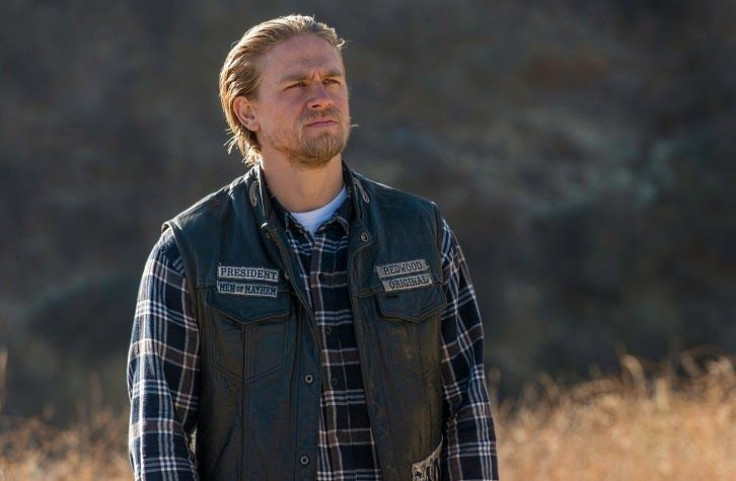 "Sons of Anarchy" will return with more bloodshed when episode 8 of Season 7 airs Tuesday, Oct. 28. So what's next for the Charming motorcycle club when "The Separation of Crows" debuts? Well, considering how episode 7 ended, it's only fair to assume SAMCRO will be sleeping with one eye open for the remainder of the final season. (Is it too soon for puns?)
The final moments of episode 7 were the most intense as Kurt Sutter, creator of the hit FX drama, took an English folksong like "Greensleeves" (which was the episode title) and turned it into a tune more haunting than the "Friday the 13th" theme song. And that's because the mad man with a vision paired the tune (sung by Katey Sagal who plays Gemma on "SoA") with scenes so terrifying that fans of the show will be biting their nails until episode 8 airs next week.
In a nutshell, Jax (Charlie Hunnam) had been so preoccupied seeking vengeance against Lin (Kenneth Choi) for allegedly murdering his wife that he neglected to secure a stable plan to protect himself and his club from the wrath of August Marks (Billy Brown). Marks is one of the meanest men in "SoA" history and the big crime boss spiffed up his title when he sent his boys to capture a SAMCRO member to show the Sons just who the men in town are.
As the melody of "Greensleeves" played, Jax and the gang watched a video of Bobby (Mark Boone Junior), an original SAMCRO member and fan favorite, get his eye gouged out by Marks' crew. After stomaching the clip, Jax opened the box sent by Marks only to come eye-to-eye (Sorry! We had to!) with Bobby's brown iris. Let's just hope the Sons will be able to get to Bobby before they're sent another care package full of Bob's mutilated body parts.
For the first time since Season 7 aired, SAMCRO will spend an episode doing something other than seeking revenge for Tara's (Maggie Siff)death. Instead of cultivating a plan to take down the Triad, SAMCRO will be using all their wits to search for Bobby in episode 8. But according to the synopsis for "The Separation of Crows," the hunt for their missing brother will come to a dead end, which suggests that maybe Bobby's fate will end up a bit dimmer than fans originally predicted.

Prior to the Season 7 premiere, the International Business Times asked fans through a poll which SAMCRO club member they thought wouldn't make it to the series final. A large percentage of voters predicted Juice (Theo Rossi) would be the one killed off while only a handful guessed Bobby would be the one to ultimately get the axe. Looks like fans may want to reinstate their theories.
But searching for Bobby by following a trail of body parts won't be the only drama occurring in episode 8. The summary continued to tease that the club will focus a large percentage of their energy attempting to "weed out a rat."
Do you think Bobby will end up dead in episode 8 of "Sons of Anarchy"? Sound off in the comments section below with your Season 7 predictions before "The Separation of Crows" airs Tuesday, Oct. 28, at 10 p.m. EDT
© Copyright IBTimes 2023. All rights reserved.