Sony's Project Morpheus To Support First Game, 'Project Cars'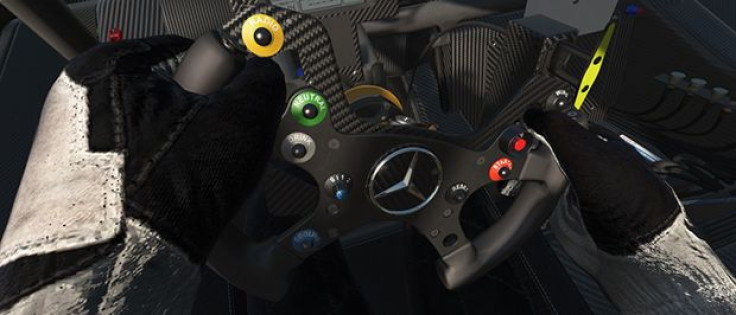 Excited for Sony's virtual reality endeavor, Project Morpheus? So are we. And we're really stoked to learn that one of the first games to be supported with the device will be London-based Slightly Mad Studios' "Project Cars."
"Virtual reality is a perfect fit for racing games since the game world literally comes rushing towards you from the distance and the increased sense of depth and speed that stereoscopic vision affords you makes this incredibly real and tangible," the game developer stated on its website Wednesday. "So when you're racing you get a much better perception of distances and position and you feel far more enveloped by that world rather than just looking through a window at it."
Slightly Mad added that Sony's VR device will give players a realistic racing experience. "Project Morpheus also allows you to see detail you might have otherwise missed. … Via our interior cameras not only can you look around the cockpit and see everything from a first-person perspective, but using head-tracking via the PlayStation®Camera you can also now move around the cockpit too – peer closer at some intricate detail or turn around and look out of the back window."
On March 18, Sony announced the development of Project Morpheus, its latest VR project, at the Game Developers Conference in San Francisco. "The industry has grown by creating technological advancements for video game players," President of Sony Computer Entertainment Shuhei Yoshida told attendees at GDC 2014. "Advancements that people maybe weren't expecting or thought was possible."
"We believe Morpheus will further enhance the world of PlayStation 4, with seamless integration with PlayStation Camera and PlayStation Move," Yoshida told the audience. "We will continue to improve on this prototype by gathering feedback from developers. That's why we unveiled it at GDC."
"The thing that makes VR special is really the feeling of being in another place ... there's no way to explain it to you that will make sense, but it's that feeling of presence," Sony Magic Lab Head of Development Richard Marks added during the demo. "VR is going to be pervasive, and what I mean by that is it's going to be used for all sorts of things you might not think it would be used for."
"We think players are going to be blown away by Project Morpheus when they get their hands on it," Slightly Mad Studios excitedly added. "'Project Cars' is all about stepping into the shoes of a race driver and taking that ultimate journey towards the hall of fame. Virtual reality and Project Morpheus are going to allow you to experience every start light, every corner, every finish line now through the driver's eyes like never before."
Are you excited for "Project Cars?" Leave a comment or tweet me!
© Copyright IBTimes 2022. All rights reserved.
FOLLOW MORE IBT NEWS ON THE BELOW CHANNELS